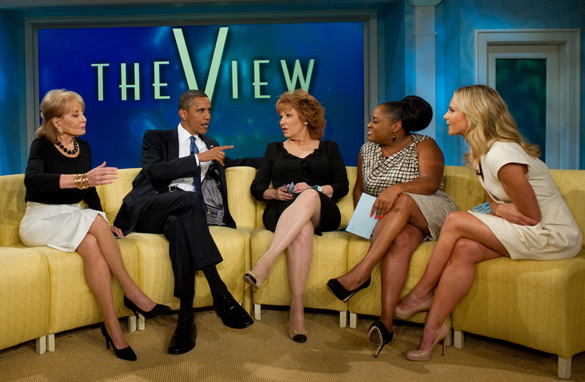 President Obama appeared on the daytime talk show 'The View' on Thursday. (PHOTO CREDIT: Getty Images)

(CNN) - President Obama wasted no time in an interview on ABC's The View to pounce on the media for providing a culture that "loves conflict."
"The things that the media may focus on are not necessarily the things I focus on," Obama, the first sitting president to visit a daytime television show, said. "I have to sign letters to parents of children who have been killed in Afghanistan or the husbands or wives of people who have been killed in battle and that gives you a sense of perspective that is just different from what is going on on cable TV on any given day."
The president highlighted the recent Shirley Sherrod controversy, which seemingly drown out his major legislative accomplishments such as the Wall Street reform bill becoming law.
Sherrod, a former U.S. Agriculture Department employee, was forced to resign after a right-wing blogger showed an edited video clip of her making controversial remarks on race. However, it was later determined that her speech focused on how the incident changed her mind about racial relations.
The president, who has spoken with Sherrod by phone, hit back at how the story was covered.
"What I do think happened in that situation is that a 24/7 media cycle that's always looking for controversy and often times doesn't get to the facts first, generated a phony controversy," he said. "A lot of people overreacted, including people in my administration."
The lesson to be drawn from all of this? "Let's not assume the worst about other people; let's make sure we get the facts straight," Obama said.