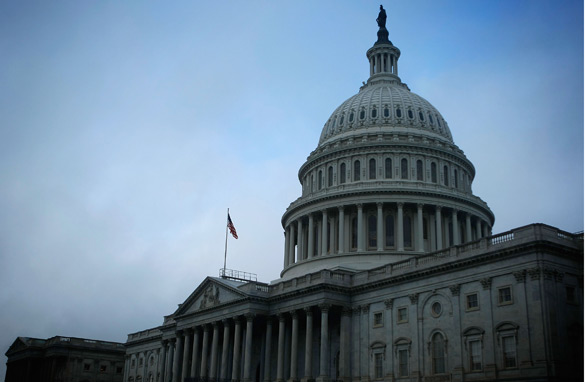 A new CNN poll explores how Americans view political parties. (PHOTO CREDIT: Getty Images)

Washington (CNN) - With just over three months until November's midterm elections, a new national poll gives a picture of how Americans view the two political parties battling for control of Congress.
According to a CNN/Opinion Research Corporation survey released Friday, Democrats hold a 46 to 39 percent advantage over the Republican party on the question of which party cares more about the needs of people like you, with the Democrats and the GOP tied on which party can bring the kind of change the country needs.
But the poll indicates that the Republicans have a small to significant edge on several other measures.
The GOP is slightly ahead when it comes to which party agrees with you on the issues (a two point advantage) and on which party can improve the economy (a three point advantage). The Republicans hold an eight point margin over the Democrats on which party shares your view of the government and which party can effectively manage the government.
According to the survey, the GOP is 14 points ahead of the Democrats on which party can protect the country from terrorism and which party is patriotic.
The survey also indicates that six in ten Americans say the government is now doing too much, and a majority say that the government should promote traditional values.
"These results illustrate the reasons why the Democrats are now behind on the so-called 'generic ballot' question," says CNN Polling Director Keating Holland. "The Democrats manage no better than a virtual tie on issues, but they are behind when it comes to handling the government. And when the presidency is not at stake, the congressional elections are the only way that voters can do something about the direction the government will take."
The CNN/Opinion Research Corporation poll was conducted July 16-21, with 1,018 adult Americans questioned by telephone. The survey's overall sampling error is plus or minus three percentage points.
–CNN Deputy Political Director Paul Steinhauser contributed to this report