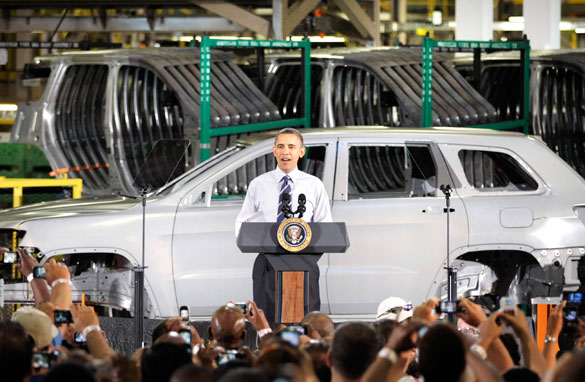 President Obama speaks at a Chrysler plant in Detroit, Michigan on Friday. (PHOTO CREDIT: Getty Images/AFP)
Detroit, Michigan (CNN) - President Barack Obama, speaking at a Chrysler plant here Friday, praised the recovery of the embattled U.S. auto industry and celebrated the tough choices he says made a comeback possible.
"Last year, many thought this industry would keep losing jobs, as it had for the better part of the past decade. Today, U.S. automakers have added more than 55,000 jobs since last June," said Obama.
He said both Chrysler Group LLC and General Motors Corp. have rebounded from the depths of their government-brokered bankruptcies and are back on track to grow.

Obama was scheduled to tour a GM plant later in the day, where he will also likely make the case for why the federal government's investment in the auto industry was a wise move.
In the 12 months before he took office, he said the U.S. auto industry had lost hundreds of thousands of jobs and had seen its sales drop 40 percent.
Obama cited estimates that suggest more than 1 million people would have lost their jobs if Chrysler and GM, two of the three big U.S. automakers, had been allowed to liquidate.
Ford Motor Co. was the only one of the so-called "Big 3" that did not take a government bailout.
"Today, this industry is growing strong. It's creating new jobs. It's manufacturing the fuel-efficient cars and trucks that will carry us toward an energy independent future," said Obama.