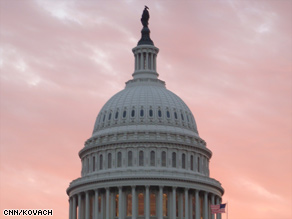 The CNN Washington Bureau's morning speed read of the top stories making news from around the country and the world.
WASHINGTON/POLITICAL
For the latest political news: www.CNNPolitics.com
CNN: Ethics panel charges Rangel with conduct discrediting the House
The House ethics committee on Thursday accused veteran Rep. Charles Rangel of 13 violations of House rules involving alleged financial wrongdoing and harming the credibility of Congress. The charges accused the 20-term Democrat from New York of using his influence to solicit donations for a college policy center in his name from corporate heads and others with business before the powerful House Ways and Means Committee that Rangel chaired until forced to give up the leadership position earlier this year. Other charges involve alleged income tax and financial disclosure violations, as well as improper use of government mail service and letterhead.
CNNMoney: Senator demands probe of BP tax break
Two days after BP said it will write off the cost of the oil spill cleanup against its income taxes, a U.S. senator is calling for a Congressional probe into the company's tax plans. Sen. Bill Nelson, D-Fla. sent a letter to the Senate Finance Committee Thursday, requesting a series of hearings on the matter and calling BP's plans to take a tax write-off "unacceptable." On Tuesday, BP said it took a $32 billion charge in the second quarter for clean-up costs, resulting in tax savings of about $10 billion. That's half the value of the $20 billion fund that BP set up to aid Gulf coast victims, Nelson pointed out.
CNN Poll: Should illegal immigrants be allowed to stay?
The vast majority of Americans say they favor allowing illegal immigrants to stay in the U.S. if they have a job and pay their taxes, according to a new national poll. But a CNN/Opinion Research Corporation survey also indicates that a majority of the public says such a plan takes a back seat to stopping the flow of illegal immigrants into the country. Eighty-one percent of people questioned in the poll say they support creating a program that would allow illegal immigrants already living in the U.S. for a number of years to stay here and apply to legally remain in this country permanently if they had a job and paid back taxes, with 19 percent opposed to such a plan. According to the poll 78 percent of white respondents favor the program, 16 points lower than the 94 percent of Hispanics questioned who back a plan that would provide a pathway to legal status for some illegal immigrants.
CNN: Axelrod to Democrats: Blame the GOP
Senior White House adviser David Axelrod told Democratic senators behind closed doors on Thursday that if they want to win re-election they need to go on offense and stress to voters that it's Republicans who are to blame for the economic mess the country is in today. "We're not interested in re-litigating the past but we don't want to relive it either," Axelrod said after the closed-door strategy session with Senate Democrats in the Capitol. "People need to know that when they cast that Republican vote they're casting that vote for those same discredited policies that punished the middle class and created this crisis in the first place." A senior administration official added to CNN that President Obama will be "ramping up" his personal campaign schedule in a major way in September in order to make that very case, that his administration is moving the country forward after passage of key parts of his agenda – including the stimulus package, health care reform, and Wall Street reform.
Wall Street Journal: Fight for Control of House Pits Money vs. Momentum
In a political campaign, money and momentum are both nice to have. In this year's race for control of the House of Representatives, we'll find out which is more important. Heading into the fall campaign season, most would agree that Republicans have momentum on their side. They are benefiting from economic and deficit anxiety, as well as diminished approval ratings for President Barack Obama and the Democratic-controlled Congress. Most importantly, their party's base seems highly motivated to show up at the polls in November. But to a surprising extent, Democrats enter the campaign season with a distinct money advantage in the battle for the House.
Washington Post: Democrats' ad spending reflects election anxieties
So Robert Gibbs was right. Remember the uproar the White House press secretary created when he said on national television that there were certainly enough seats in play for Republicans to take control of the House in November? House Democratic leaders upbraided him and expressed their anger to the White House. Now the Democratic Congressional Campaign Committee has confirmed the accuracy of Gibbs's assessment by reserving tens of millions of dollars in television advertising time this fall in about five dozen congressional districts.
CNN: Tancredo to formally kickoff independent bid for Colorado governor
Former Rep. Tom Tancredo officially jumps into Colorado's gubernatorial race Thursday. The long time conservative Republican is scheduled to formally announce his bid for governor as the nominee of the American Constitution Party. An event is planned for later Thursday in Lakewood, Colorado. Tancredo says he is launching a third party candidacy because he doesn't believe that either of the two current GOP gubernatorial candidates can beat Denver Mayor John Hickenlooper, the likely Democrat nominee.
Washington Post: Lisa Murkowski battles for GOP hearts as Palin grows louder in Alaskan expanse
In the perpetual daylight of Alaskan summer, Sen. Lisa Murkowski spotted Rich Doran tying one of her campaign signs to a tree on the bank of the Chena River. For all Sarah Palin's nationwide recognition, the first name in Alaskan Republican politics is still Murkowski. Actually, it's Lisa.
CNN: Handel touts 'purse' and 'Palin' in new ad
Less than two weeks before Georgia's Republican gubernatorial runoff, a rough campaign is getting tougher. Former Georgia Secretary of State Karen Handel's up with a new television commercial highlighting her gender and touting her conservative credentials while attacking her opponent, former Rep. Nathan Deal. And Deal's campaign is firing back.
Cincinnati Enquirer: Is Lee Fisher's campaign in disarray?
Democrat Lee Fisher's campaign for Ohio's open U.S. Senate seat has gone through three campaign managers this year, lost its press secretary this week, and continues to trail in polling and fundraising. But Ohio Democratic leaders say none of that really matters. Republicans have been crowing that the troubles Fisher, Ohio's lieutenant governor, has faced are signs of a campaign in disarray with only two months to go before early voting starts on Sept. 28.
Las Vegas Sun: Rory Reid struggles to stand out in bid for governor
With this campaign season dominated by Senate Majority Leader Harry Reid's re-election bid, his son Rory Reid, the Democratic candidate for governor, has resorted to aggressive, sometimes quirky advertisements to change the dynamics of his race. Since winning the primary, the younger Reid has languished, trailing by double digits his Republican opponent, former federal Judge Brian Sandoval.
CNN: Pawlenty outlines life story, political philosophy
Potential Republican presidential candidate Tim Pawlenty posted a video Thursday on his website that offers a biographical snapshot and emphasizes his conservative credentials a full year before the first test of the GOP presidential primary. At no point in the 3 minute and 34 second video does Pawlenty mention his interest in running for the White House, but based upon his political travel and organizing activities the retiring governor is taking the necessary steps to launch a campaign for the GOP nomination.
Politico: McMahon fires 'Jewish money' aide
Staten Island Rep. Mike McMahon (D-NY) moved into damage-control mode Thursday, firing the communications director for his re-election bid Thursday night after she gave a reporter a breakdown of a Republican rival's "Jewish money" contributions. McMahon announced he was firing spokeswoman Jennifer Nelson after she provided a New York Observer reporter with a breakdown of Republican rival Michael Grimm's second-quarter financial haul donations from Jewish donors, in an apparent effort to show the former FBI agent has little financial support within the district. In an astonishing move – putting such a statement on paper – the file the reporter was given was titled "Grimm Jewish Money Q2."
Denver Post: Learning from family, Norton well-prepared, always on-message
Jane Norton is not the kind of U.S. Senate candidate who has spent a lifetime waiting for her moment to run. At least twice before, the former lieutenant governor had been pushed to seek higher office — for the Senate in 2004, and then for governor in 2006 — and declined. "I hope you don't think that I've been sitting around for six months planning to run for the U.S. Senate, because I haven't," Walt Klein recounted her saying to her now Republican primary opponent, Ken Buck, last summer. Klein is managing Buck's campaign. Last summer, Norton began receiving calls from all across the country — including from Sen. John McCain — urging her to toss in her name in 2010.
Lexington Herald Leader: Louisville businessman running for governor
Hoping to win support within the Tea Party movement, a Louisville businessman who advocates for charter schools and a state lawmaker are forming a Republican slate to run for governor and lieutenant governor next year. Phil Moffett, managing partner of the telecommunications management company CCS Partners, is the first GOP candidate to enter the race for governor. The first-time candidate's running mate is state Rep. Mike Harmon of Danville, who has been in the House since 2003.
CNN: Senate panel approves Clapper's nomination as intelligence chief
James Clapper is one Senate vote away from becoming the nation's next intelligence chief. The Senate Intelligence Committee on Thursday unanimously approved President Barack Obama's choice of Clapper to be the Director of National Intelligence. The full Senate is expected to take up the nomination before it leaves on its August recess at the end of next week.
NATIONAL
For the latest national news: www.CNN.com
CNN: Arizona governor files appeal to immigration law injunction
The legal battle over a tough Arizona immigration law entered its next stage Thursday when Gov. Jan Brewer filed an expedited appeal to the 9th Circuit Court of Appeals. The appeal asks the court to lift a preliminary injunction granted by a federal judge that blocked the most controversial parts of the law. The court document suggests a fast-track timetable that would have oral arguments on the appeal on September 13.
CNN Poll: Hispanics more optimistic than blacks over race
Two-thirds of Hispanics indicate they've been victims of racial discrimination, but a majority say that a solution to their problems with whites will eventually be found, according to a new national poll. A CNN/Opinion Research Corporation survey released Thursday indicates that 66 percent of Hispanics say they've been a victim of discrimination because of their race or ethnic background. Almost as many African-Americans said the same thing, but only 31 percent of white respondents who said they've been the victim of racial discrimination.
CNN: Top military official: WikiLeaks founder may have 'blood' on his hands
The top U.S. military officer said Thursday that Julian Assange, founder of WikiLeaks, was risking lives to make a political point by publishing thousands of military reports from Afghanistan. "Mr. Assange can say whatever he likes about the greater good he thinks he and his source are doing, but the truth is they might already have on their hands the blood of some young soldier or that of an Afghan family," Adm. Mike Mullen, chairman of the U.S. Joint Chiefs of Staff, said at a news conference at the Pentagon. In equally stern comments and at the same session, Secretary of Defense Robert Gates said the massive leak will have significant impact on troops and allies, giving away techniques and procedures.
INTERNATIONAL
For the latest international news: http://edition.cnn.com
CNN: At least 90 people dead in Pakistan flooding
The U.N. Refugee Agency dispatched the first shipment of aid for flood victims in northwest Pakistan on Thursday, the state-run Associated Press of Pakistan reported. APP said the supplies include 585 tents, 2,700 plastic sheets, 1,760 kitchen sets and 4,000 plastic mats. At the same time, a top official in Khyber-Pakhtunkhawa province pressed Pakistan's president for help, according to APP.
CNN: Discussions to resume Friday with North Korea over warship sinking
The U.S.-led United Nations Command will meet again Friday with North Korea to discuss the sinking of a South Korean warship, according to the U.S. Forces Korea website. The meeting is to get under way at 10 a.m. (9 p.m. Thursday ET) in Panmunjom, a village that sits in the middle of the demilitarized zone on the border between the two countries. It represents a continuation of talks held July 23, when conditions were discussed for talks about the sinking of the South Korean ship Cheonan on March 26, the website said.
CNN: Officials: Mexican drug lord killed in raid
Ignacio "Nacho" Coronel Villareal, a principal leader of the Sinaloa drug cartel, was killed during a military raid in a suburb of Guadalajara, Mexico's defense department said. Military intelligence located Coronel in the city of Guadalajara, Jalisco state, Brig. Gen. Edgar Luis Villegas told reporters. During the operation Thursday, Coronel tried to avoid arrest, firing on the military personnel, killing one and wounding another before he himself was killed, Villegas said.
Wall Street Journal: Germany Regains Jobs Lost in Recession
German unemployment fell in July for the 13th consecutive month, putting Europe's largest economy on the brink of a milestone: regaining all the jobs lost during the recession far faster than many economists expected. Germany's labor market—aided by government subsidies aimed at keeping workers on payrolls at reduced hours—is a contrast with the U.S. where, despite a much more rapid recovery in output so far, unemployment remains stuck near its recessionary peak.
CNN: Arab leaders give OK for direct Palestinian talks with Israel
Arab leaders gave the Palestinian Authority on Thursday the green light for direct talks with Israel, a move that prompted the Israeli prime minister to say his country is ready for the face-to-face talks as well. "In response to the decisions of the Arab League, PM Benjamin Netanyahu says that he is willing to commence direct and honest talks with the Palestinian Authority within the next few days," the Israeli prime minister's office said. "Through direct negotiations it will become possible to quickly reach a peace agreement between the two nations." The Arab League made it clear it is now up to Palestinian Authority President Mahmoud Abbas whether to enter direct talks with Israel.
New York Times: Taliban Exploit Openings in Neglected Province
Almost unnoticed, this strategic northern province is slipping away from government control. Baghlan Province contains two of the crucial north-south routes in Afghanistan. As night falls on this provincial capital, the city turns dark and silent. The Taliban have decreed that the cellphone signals go down at night so the main cellphone companies switch off the signals from dusk to dawn. Even 15 months ago Baghlan was not like this. It had a few trouble spots, according to Afghans and Americans working on development projects, but for the most part it seemed safe. Afghan politicians, local leaders and local citizens all said they felt that the Afghan government, coalition forces and development groups had focused so intensively on the south, funneling tens of thousands of troops and billions of dollars to communities there, that they had missed the danger signs.
BBC News: Syrian and Saudi leaders visit Beirut to defuse tension
Syrian President Bashar al-Assad and King Abdullah of Saudi Arabia are set to pay a joint visit to Lebanon. It is the first visit to the country by Mr. Assad since 2005, when Syria was forced to withdraw its troops after the killing of Prime Minister Rafik Hariri. The two men are concerned that tensions may rise if, as rumoured, a UN tribunal indicts members of the Hezbollah movement for Mr. Hariri's assassination. On Thursday, they pledged to work together to help stabilise Lebanon.
New York Times: Questions Swirl About Damaged Japanese Tanker
Shipping officials said Thursday that they were examining the hull of a Japanese oil tanker that was mysteriously damaged this week as it traversed a strategically vital waterway between Iran and the Arabian Peninsula. The ship's owner has said that it may have been attacked. With the tanker docked in the United Arab Emirates, the owner, Mitsui O.S.K. Lines, and port officials puzzled over what had shattered windows on the vessel, knocked off a lifeboat and punched a dent into its hull. The damage was apparently inflicted early Wednesday morning in the Strait of Hormuz, a passageway for shipping much of the world's oil from the Middle East.
Washington Post: U.S. takes a tougher tone with China
The Obama administration has adopted a tougher tone with China in recent weeks as part of a diplomatic balancing act in which the United States welcomes China's rise in some areas but also confronts Beijing when it butts up against American interests. Faced with a Chinese government increasingly intent on testing U.S. strength and capabilities, the United States unveiled a new policy that rejected China's claims to sovereignty over the whole South China Sea.
Der Spiegel: David Cameron's Remarks Arouse Fury in Pakistan
British Prime Minister David Cameron has caused a furor in Pakistan by claiming it supports terrorists. Islamabad vehemently rejects the charge and accuses the West of blindly believing the WikiLeaks war logs. British Prime Minister David Cameron has not been afraid to say what he thinks during a string of recent foreign trips, including calling Gaza a "prison camp" during a visit to Turkey. Now, his latest bit of plain speaking has sparked something of a diplomatic spat with Pakistan.
BUSINESS
For the latest business news: www.CNNMoney.com
CNNMoney: Google search working again in China
Google users in China were temporary blocked from accessing the search engine, the company said Thursday, but the site was was once again working a few hours later. A notice posted on Google's site had said all services other than Gmail were partially or fully blocked in mainland China. No further details were posted.
Wall Street Journal: From Tiananmen Square to Possible Buffett Successor
Twenty-one years ago, Li Lu was a student leader of the Tiananmen Square protests. Now a hedge-fund manager, he is in line to become a successor to Warren Buffett at Berkshire Hathaway Inc. Mr. Li, 44 years old, has emerged as a leading candidate to run a chunk of Berkshire's $100 billion portfolio, stemming from a close friendship with Charlie Munger, Berkshire's 86-year-old vice chairman. In an interview, Mr. Munger revealed that Mr. Li was likely to become one of the top Berkshire investment officials. "In my mind, it's a foregone conclusion," Mr. Munger said.
CNNMoney: Ballmer: Microsoft feels tablet 'urgency'
Microsoft Chief Executive Steve Ballmer said Thursday that the software giant is urgently working with its partners to unveil a host of tablet computers running Windows 7, to compete with Apple's fast-selling iPad. At a meeting with financial analysts on Thursday, Ballmer outlined the company's strategy to catch up to Apple and Google in the consumer space. He said Apple is doing an "interesting" job with the iPad and has "sold certainly more than I'd like them to sell." As a result, Ballmer said his company's "job one urgency" is bringing Windows-based tablet computers to the market.
Washington Post: Few in U.S. move for new jobs, fueling fear the economy might get stuck, too
The recession is claiming yet another victim: Americans' near-constitutional right to pick up and move to a better job. Labor mobility has nearly ground to a halt in the past two years, and policymakers are increasingly worried that the slowdown is not just a symptom of the nation's economic struggles but also a barrier to overcoming them.
New York Times: S.E.C. Charges Brothers With $550 Million Fraud
Samuel and Charles Wyly, the billionaire brothers from Dallas who are large donors to philanthropies and to conservative causes, were charged Thursday with conducting an extensive securities fraud that the Securities and Exchange Commission said reaped $550 million in undisclosed gains. The brothers, who founded Sterling Software, a business software and services company that they sold for $4 billion in stock to the software company CA in 2000, were also charged with insider trading violations from which they profited by more than $31 million, the S.E.C. said.
CNNMoney: Citi to pay $73 million for misleading investors
Citigroup said Thursday it would pay $73 million to settle charges by the Securities and Exchange Commission that the bank, as well as two of its executives, misled investors about the company's exposure to the subprime mortgage market. Wall Street's top regulator said Citigroup repeatedly made misleading statements in investor presentations and in public filings about the actual size of assets it controlled that were backed by subprime mortgages.
Bloomberg: Japan GDP to Slow as Unemployment Rises, Output Drops
Japan's unemployment unexpectedly rose for a fourth straight month and industrial production fell the most in more than a year, signaling the economic expansion is poised to slow. The jobless rate climbed to a seven-month high of 5.3 percent in June, a statistics bureau report showed today in Tokyo. Factory output slid 1.5 percent from May, compared with the median forecast in a Bloomberg News survey of economists for a 0.2 percent gain. Meantime, consumer prices excluding fresh food declined 1 percent from a year before.
CNNMoney: Is Kindle 3 a game-ender for e-reader wars?
Amazon unveiled its long-awaited Kindle 3 on Thursday, slashing the price to $139 and setting the tech world abuzz about what the move means for the ongoing e-reader wars. The Kindle 3 has the same six-inch screen as previous generations, but it's smaller, lighter, turns pages faster, has a longer battery life, holds more memory and includes more software features.
CNNMoney: Hugo Chavez hurts toothpaste, makeup sales
The world's largest toothpaste maker reported disappointing sales Thursday, and who's to blame? None other than the country of Venezuela, the company said. In reporting its second-quarter results Thursday, Colgate-Palmolive's (CL, Fortune 500) net income of $603 million beat the Street, but its worldwide sales of $3.8 billion - a 2% increase over the year-ago quarter - disappointed nevertheless. Analysts polled by Thomson Reuters had expected revenue of $3.9 billion for the company.
In Case You Missed It
Rep. Charlie Rangel reacts to charges of ethics violations, saying he may have been "overzealous" in serving the public.
CNN's Rick Sanchez talks to Rep. Rick Murphy about his beef with illegal immigrants in Arizona.
Subscribe to the CNN=Politics DAILY podcast at http://www.cnn.com/politicalpodcast
And now stay posted on the latest from the campaign trail by downloading the CNN=Politics SCREENSAVER at http://www.CNN.com/situationroom