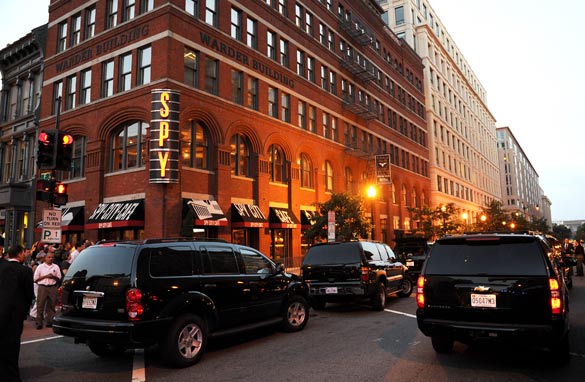 The presidential motorcade filled a D.C. street Friday night as the president and his family visited the International Spy Museum. (Photo Credit: Getty Images)
Washington (CNN) – Well, it seems that sometimes even the first family wants to take in Washington's tourist attractions.
President Obama, the first lady, daughter Sasha, and an unidentified friend of Sasha's made an impromptu visit Friday night to Washington's International Spy Museum.

The museum "is the first and only public museum in the United States solely dedicated to espionage and the only one in the world to provide a global perspective on this all-but-invisible profession," the museum's website says. "It features the largest collection of international spy-related artifacts ever placed on public display. The stories of individual spies, told through film, interactives, and state-of-the-art exhibits, provide a dynamic context to foster an understanding of espionage and its impact on current and historic events."
The nation's commander-in-chief was dressed casually for the outing, sporting jeans, a button-down shirt, and sandals.
There was no word on exactly what the president saw inside the museum but Obama's jaunt lasted about an hour, according to a White House pool report.