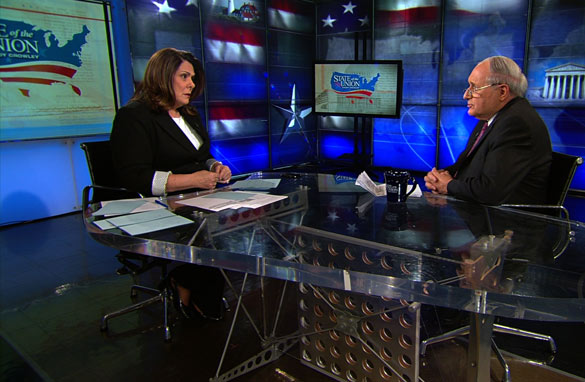 "[W]e're taking the fight to the Taliban right in the heart of the Taliban heartland," Sen. Carl Levin told CNN Sunday. (Photo Credit: CNN)
Washington (CNN) – The Democratic chairman of the Senate Armed Services Committee emphasized Sunday that Afghans are beginning to take the lead in the fight against Taliban.
"What I see is a mixed picture with some signs of progress," Sen. Carl Levin, D-Michigan, said on CNN's State of the Union.
Watch: Levin on Afghanistan
Levin told CNN Chief Political Correspondent Candy Crowley that while a "negative picture" of the situation in Afghanistan is the one that predominates, "but there actually is some positive indicators too" including U.S. Special Forces "doing a very good job" at capturing Taliban leaders.
Levin added that the number of American and Afghan casualties has increased because "we're taking the fight to the Taliban right in the heart of the Taliban heartland."
In the long troubled Kandahar region of the country, Levin said that the U.S. was "gradually" removing Taliban control "but it is being done as we speak now with the Afghan troops taking the major lead and with more Afghan troops finally than American troops there.
"So this transition to Afghan control of their own destiny is gradually taking place," he said.
Levin also spotlighted President Obama's July 2011 target date for beginning to draw down the additional troops that have been sent to Afghanistan.

"That date is very visible now. The American people understand it. It's critical that, that date was set to show that it isn't a blank check. It's not an open-ended commitment of American troops in the same numbers that we're going to have there. We're going to begin to reduce our military presence; the pace will be determined by the conditions. But the beginning point is July of 2011 and the Afghan leaders know it.
"This has been a really strong message to the Afghan leaders that they must accept responsibility – major responsibility – for their own security."
While support for the Afghan war effort has waned in the House with fewer Democrats voting in favor of a recent war funding bill, Levin also said Sunday that he did see a similar loss of support among Senate Democrats.