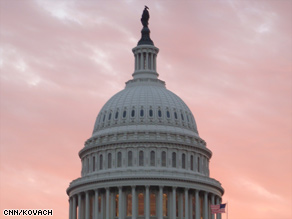 The CNN Washington Bureau's morning speed read of the top stories making news from around the country and the world.
WASHINGTON/POLITICAL
For the latest political news: www.CNNPolitics.com
CNN: Key contests in primaries, and a referendum on health care reform
U.S. Senate races in Kansas and Missouri and a ballot measure seen as a referendum on President Obama's health care reform are among Tuesday's primary elections. Missouri's Proposition C is a test of support for part of the new federal health care law, as voters decide if Missouri residents should be allowed to opt out of mandatory health insurance. Early returns show the measure succeeding handily, with more than 70 percent voting to allow residents to opt out.
CNN: Democrats shying away from Obama?
While Democratic candidates have not openly said President Obama is not welcome on the campaign trail, actions speak louder than words. On Monday, former Georgia Gov. Roy Barnes, who is running for his old job, was more than 100 miles away when the president was raising funds in Atlanta, Georgia. Barnes' campaign said, according to reports, that he wanted to honor previous obligations to attend campaign events. Recent polling indicates a majority of Georgia voters disapprove of Obama's presidency so far. His approval ratings nationwide, and his handling of the economy, have also dropped. But it's not just in Georgia where Democratic candidates are failing to work the president into their schedules.
CNN: Facing unified GOP opposition, Senate Dems shelve vote on energy bill
Senate Majority Leader Harry Reid shelved plans to vote Wednesday on a slimmed-down energy bill that Democrats had hoped to pass before the August recess. Citing unified Republican opposition to the proposal, Reid said, "It's a sad day when you can't find a handful of Republicans to support a bill that would create 70,000 clean-energy jobs, hold BP accountable, and look at a future as it relates to what BP did." However, Republicans blamed Reid for rushing through his bill and not first shoring up support across the aisle.
CNN Poll: 54 percent say confirm Kagan
A majority of Americans want the Senate to confirm Elena Kagan to the Supreme Court, according to a new poll. But a CNN/Opinion Research Corporation national survey also indicates that there is a large partisan divide over Kagan's nomination. Fifty-four percent of people questioned say they would like to see senators vote in favor of Kagan serving on the high court, with 34 percent opposed.
Washington Post: New Democratic strategy for creating jobs focuses on a boost in manufacturing
President Obama and congressional Democrats - out of options for another quick shot of stimulus spending to revive the sluggish economy - are shifting toward a longer-term strategy that promises to tackle persistently high unemployment by engineering a renaissance in American manufacturing. That approach, heralded by Obama last week in Detroit and sketched out in a memo to House Democrats as they headed home for the August break, is still evolving and so far focuses primarily on raising taxes on multinational corporations that Democrats accuse of shipping jobs overseas.
CNN: Bilbray, Moran stake out positions on 14th amendment
Rep. Brian Bilbray, R-California, joined a growing crowd of Republican lawmakers calling for a review of the 14th Amendment Tuesday. Bilbray stopped short of calling for a constitutional amendment that would change the provision, which grants 'birthright' citizenship to anyone born in the Unites States, but told CNN National Political Correspondent Jessica Yellin that the law should be clarified.
Detroit Free Press: It's Snyder vs. Bernero in November showdown for Michigan governor
The Republican primary for governor goes to Ann Arbor businessman Rick Snyder, whose "tough nerd" campaign drew interest across the political spectrum. Snyder held a 10-point lead over U.S. Rep Pete Hoekstra, 37% to 27%, in the five-way GOP race, according to statewide returns with over 80% of precincts counted. Attorney General Mike Cox had 23%, Oakland County Sheriff Mike Bouchard had 12% and Sen. Tom George had 2%. Snyder will face Democrat Virg Bernero, who topped Andy Dillon in the Democratic primary. Bernero led Dillon, 59% to 41%, with over 80% of precincts reporting.
CNN: Coleman cancels trip to RNC meeting
Norm Coleman will no longer be attending the Republican National Committee's summer meeting in Kansas City, an aide to the former Minnesota Senator told CNN Tuesday. Coleman spokeswoman Liz Maruggi did not cite a reason for the change in plans. His decision to stay away from the meeting could be a sign that Coleman is trying to tamp down chatter about a possible challenge to chairman Michael Steele, after his early jockeying irked some RNC members.
Cleveland Plain Dealer: Republican Governors Association says Ohio lost 400,000 jobs on Gov. Ted Strickland's watch
Like the refrain of a ubiquitous pop song, the phrase - "Ohio lost 400,000 jobs on his watch" - is playing over and over on the airwaves. And like any good lyric, the phrase is catchy. Republican U.S. Senate candidate Rob Portman sings it about his Democratic challenger Lee Fisher, who is Ohio's lieutenant governor and former head of the state's economic development department. Republican gubernatorial candidate John Kasich sings it about incumbent governor Ted Strickland. Now the Republican Governors Association has made the phrase the central theme of three commercials attacking Strickland on behalf of Kasich.
CNN: Poll: Nevada Republicans more energized than Democrats
Voter turnout could be crucial in the battle between Senate Majority Leader Harry Reid and his Republican challenger, Sharron Angle, and a new poll indicates that Republican voters in the state are more energized than their Democratic counterparts. According to a Reuters/Ipsos survey of Nevada voters released Tuesday, 81 percent of Republicans say they are certain to vote on November 2, 17 points higher than the 64 percent of Democrats who say they'll vote in the midterm elections.
Politico: Maxine Waters wants charges made public
Rep. Maxine Waters will make two demands of the House ethics committee Wednesday, according to a source close to her: Release the full document charging her with breaking House rules and finish her trial before the November elections. The California Democrat's aggressive maneuver telegraphs a search-and-destroy strategy aimed at picking apart the ethics committee's findings and methods.
CNN: Obama to dial into Colorado Democratic Senate battle
With a week to go until Colorado's primary, Sen. Michael Bennet is getting a helping hand from the nation's top Democrat. Bennett, who faces a very competitive primary challenge from former Colorado House Speaker Andrew Romanoff, teams up Tuesday night with President Barack Obama. The president is scheduled to join a tele-town hall of Colorado residents hosted by Bennet. The White House sent out an email Tuesday afternoon adding the event to Obama's schedule. A Bennett campaign spokesman describes the tele-townhall as a political event.
Politico: GOP puzzled as Steele courts ambassadors
The Republican National Committee is trying to set up meetings between Chairman Michael Steele and foreign ambassadors to the United States, according to an email obtained by POLITICO – an effort that has puzzled diplomats as well as fellow Republicans. An RNC intern sent a message late last month to at least one ambassador on behalf of Neil Alpert, a senior finance aide, with little explanation.
RNC spokesman Doug Heye declined to comment on why Steele would want to set up individual meetings with the foreign diplomats, whether he's had any meetings with them, and whether if he would continue to pursue such get-togethers.
CNN: Angle wants journalists 'to ask the questions we want to answer'
It's what all political candidates probably want but few will actually admit: if they could control the press, they would. But Sharron Angle is openly saying that she prefers talking to journalists that "ask the questions we want to answer," prompting one conservative publication to ask, "Did she just say that out loud?" The criticism is in response to comments that the Republican Nevada Senate candidate made in an interview that aired on Sunday. Angle hopes to oust the most powerful Democrat in the Senate, Majority Leader Harry Reid, in an increasingly brutal race. A fresh poll shows Reid with a slim lead.
CQ Politics: NRSC Seeking Rare Infusion From Senators
Sen. John Cornyn has begun urging his colleagues to step up their giving to the National Republican Senatorial Committee, saying he needs an influx of high-dollar campaign donations to compete with Democrats and capitalize on the most favorable political environment in years. Upon assuming the NRSC chairmanship in 2008, the Texas Republican made a strategic decision to avoid asking GOP Senators to make major transfers from their personal campaign accounts, something they have historically declined to do. Instead, he asked them to help the NRSC raise money, including donating the maximum allowed from their leadership political action committees and transferring the individual donor limit of $30,400 annually from their campaign accounts.
Wall Street Journal: Senate Panel Delays Vote on Nuclear Treaty
A key Senate committee postponed until September a vote on the revamped Start arms-control treaty with Russia, buying time for its backers to try to line up enough Republicans to pass one of President Barack Obama's top foreign-policy objectives. The Senate Foreign Relations Committee had been scheduled to hold a vote on the treaty before the Senate adjourns later this week for the monthlong August recess. But its chairman, Sen. John Kerry (D., Mass.), agreed Tuesday to a request from Republican senators for more time for deliberations and to review documents about the treaty. Mr. Kerry now wants the committee to vote in mid-September, squarely in the middle of congressional campaign season. It is unclear whether the full Senate will act before the November election.
NATIONAL
For the latest national news: www.CNN.com
CNN: Groups file suit over government power to kill American terrorists
Two major civil liberties groups filed a lawsuit Tuesday challenging the government's asserted authority to kill U.S. citizens living abroad who are designated as terrorists. The American Civil Liberties Union and the Center for Constitutional Rights announced they represent the father of influential Islamic cleric Anwar al-Awlaki, believed to be living in Yemen, who may be targeted by U.S. government drones.
New York Times: U.S. Finds Most Oil From Spill Poses Little Additional Risk
The government is expected to announce on Wednesday that three-quarters of the oil from the Deepwater Horizon leak has already evaporated, dispersed, been captured or otherwise eliminated — and that much of the rest is so diluted that it does not seem to pose much additional risk of harm. A government report finds that about 26 percent of the oil released from BP's runaway well is still in the water or onshore in a form that could, in principle, cause new problems. But most is light sheen at the ocean surface or in a dispersed form below the surface, and federal scientists believe that it is breaking down rapidly in both places.
CNN: Gunman suspected of killing 8 had just been forced to resign
Omar Thornton, 34, walked into a room early Tuesday at the beverage distributorship where he worked in Manchester, Connecticut. Company and union officials played a video. He calmly watched images that purportedly showed him stealing from a truck. An employee of Hartford Distributors for two years and a driver for one, Thornton was given a choice of resigning or being fired, union and company officials said. He signed a resignation paper, was escorted out of the room and toward the door. He asked for a drink of water, company CEO Ross Hollander told CNN. That's when all hell broke loose. Thornton pulled out a handgun and began firing, officials said. Within minutes, the gunman and eight other people were dead, and two others were wounded, according to Manchester police and a union official. Police swarmed to the scene, but never had a chance to talk with Thornton, who apparently shot himself to death in an office.
INTERNATIONAL
For the latest international news: http://edition.cnn.com
CNN: Wyclef Jean says he will run to be president of Haiti
Wyclef Jean will announce exclusively on CNN's "Larry King Live" Thursday night that he intends to run for president of Haiti, a source close to the Haitian recording artist said Tuesday. Jean has been an outspoken proponent of Haiti through his Yele Foundation and was one of the first celebrities to offer aid after the devastating earthquake there in January.
CNN: Tensions rise as deadly border clash erupts between Israel, Lebanon
A clash between Lebanon and Israel along their volatile shared border Tuesday left an Israeli officer and several Lebanese soldiers dead while escalating fears of renewed violence between the nations. Lt. Col. Dov Harari, a battalion commander, was killed in the fighting, according to an Israel Defense Forces statement. Another Israeli soldier was seriously wounded, it said. A Lebanese army spokesman said at least two Lebanese soldiers were killed and several others were wounded.
CNN: Scope of disaster widens as floodwaters recede in Pakistan
More than 3 million people have been directly affected and more than 1,400 have been killed by floods in northwestern Pakistan's Baluchistan and Khyber Pakhtunkhwa provinces, an aid group said Tuesday, citing officials. Earlier Tuesday, a Pakistani Red Crescent official told CNN that nearly 2.5 million people had been affected by the floods, which began last week. As the water recedes, more devastation has been revealed as previously isolated areas have become more accessible, Medecins Sans Frontieres said in a statement.
BBC News: Mexico drug violence 'still growing'
Mexico's government says the level of drug-related violence in the country is still growing, more than three years after President Felipe Calderon declared war on the drugs cartels. The national intelligence chief, Guillermo Valdes, said more than 28,000 people had been killed since 2006. The figure is a sharp increase on the previous estimate of 24,800 dead given earlier this month. Most of the dead are thought to be victims of clashes between rival gangs.
CNN: US ramps up sanctions against Iran
The United States is extending sanctions against Iran, announcing Tuesday that it is targeting a number of Iranian entities accused of aiding groups such as Hezbollah, Hamas and the Taliban. The U.S. Treasury Department said it has identified 21 entities owned or controlled by the Iranian government that help these groups and a variety of other radical groups in the Middle East.
Der Spiegel: China's Real Estate Bubble Threatens to Burst
Two years after the US subprime crisis, China is seeing its own real estate bubble as a result of massive state stimulus programs. Many economists are warning it could burst soon, with unpredictable results for the global economy. An interminable sawing, screeching, drilling and hammering rips through the oppressive summer heat and humidity in the northern Chinese city of Tianjin. Here, on the city's dusty outskirts, hundreds of new apartment buildings and houses in every imaginable style are springing up.
Wall Street Journal: Guantanamo Trial Set to Go Ahead
The U.S. military is moving ahead with the first trial under the Obama administration's new military commissions, despite U.S. officials' concerns about starting with a Guantanamo-detainee case beset by troubles. Barring a last-minute plea deal, the trial of Canadian Omar Khadr, 15 years old when he was captured on the battlefield in Afghanistan in 2002, is expected to begin with jury selection as early as Aug. 9. He is accused of throwing a grenade that killed a U.S. soldier. The U.S. says Mr. Khadr, now 23, admitted to interrogators that he threw the grenade and planted land mines to kill U.S. soldiers.
BBC News: Kenya appeals for peaceful vote on constitution
Kenya's President Mwai Kibaki has appealed to Kenyans to vote peacefully and in large numbers in a referendum on a new constitution. The referendum was part of a deal that ended deadly clashes after a disputed election in December 2007. "Security has been stepped up in all parts of the country," Mr Kibaki said. The draft constitution is intended to limit the powers of the president and set up a commission to settle land disputes that fuelled past violence.
Washington Post: British government moves to dramatically cut public funding for the arts
The art scene exploded in Britain over the past decade, giving rise to jewels like the Tate Modern museum on the silvery banks of the Thames and sparking a renaissance of playwrights, filmmakers, artists and dancers. The fuel for that boom: a surge in generosity from Britain's single biggest patron of the arts - the government. But now cash-strapped and desperate to slash the largest budget deficit in Europe, the new ruling coalition of Conservatives and Liberal Democrats is moving to close the curtain on an era of what they describe as excessive government patronage. The coalition is preparing to cut arts funding so dramatically that it could sharply reduce or sever the financial lifelines for hundreds of cultural institutions from the National Theatre to the British Museum.
CNN: Death toll rises as Russian wildfires spread
Russian emergency services are continuing to battle spreading wildfires over large areas of the west of the country Tuesday as authorities said the death toll had risen to 40. Russian authorities imposed a state of emergency in about 500 towns and villages on Monday. By Tuesday, fires covered an area of around 1,071 square kilometers (665 square miles), a spokesman for the Russian Emergencies Ministry said according to news agency Itar-Tass. More than 300 new fires were reported on Tuesday but 247 have been extinguished, the spokesman said. More than 500 fires continue to burn.
BUSINESS
For the latest business news: www.CNNMoney.com
CNNMoney: Stocks rally chilled by economic jitters
Stocks closed lower Tuesday, trimming some of the previous session's big gains, as optimism over corporate earnings gave way to concerns about the strength of the economic recovery. The Dow Jones industrial average (INDU) fell 38 points, or 0.3%. The S&P 500 (SPX) index slid 6 points, or 0.5%, and the Nasdaq (COMP) composite dropped 12 points, or 0.5%. The retreat came after stocks surged Monday, lifted by upbeat manufacturing data and strong earnings from Europe.
Bloomberg: Yen, Japanese Bonds Rise on U.S. Outlook; Asian Stocks Decline
The yen rose to an eight-month high against the dollar and Japanese government bonds rose, pushing 10-year yields to a seven-year low, on concern the U.S. recovery has lost momentum. Exporters led a decline in Asian stocks. The yen strengthened against all 16 of its most-active counterparts at 1 p.m. in Tokyo. The MSCI Asia Pacific Index lost 0.7 percent to 120.94, retreating from a three-month high, and the Nikkei 225 Stock Average fell 2.1 percent, the most in almost three weeks. Standard & Poor's 500 Index futures slid 0.2 percent following the gauge's 0.5 percent loss yesterday.
CNNMoney: Auto sales gain, but consumers still wary
The auto industry reported its best month since Cash for Clunkers brought a flood of buyers out a year ago, but the sales still showed consumers reluctant to buy new vehicles. The initial reading from sales tracker Autodata shows a total of 1.05 million vehicles sold in the month, up 5% from a year ago. July marked the second best sales rate since the economic meltdown in September 2008, trailing only the spike in sales that resulted from the Cash for Clunkers program in August 2009.
Bloomberg: Australia Has Record Trade Surplus on Coal Demand
Australia's trade surplus unexpectedly reached a record in June as Chinese demand spurred exports of coal and iron ore, while imports stagnated amid a slowdown in domestic spending. The excess of exports over imports reached A$3.54 billion ($3.2 billion), almost double the median forecast in a Bloomberg News survey, a Bureau of Statistics report showed in Sydney today. A separate report showed house-price gains decelerated in the second quarter, underscoring the impact of the central bank's six interest-rate increases since early October.
CNN: FBI to Wikipedia: Remove our seal
The U.S. Federal Bureau of Investigation has threatened Wikipedia with legal action if the online encyclopedia doesn't remove the FBI's seal from its site. The seal is featured in an encyclopedia entry about the FBI. Wikipedia isn't backing down, however. The online encyclopedia - which is run by a nonprofit group and is edited by the public - sent a chiding letter to the FBI, explaining why, in its view, the FBI is off its legal rocker.
Wall Street Journal: Tech Gadgets Steal Sales From Appliances, Clothes
Americans are spending more on electronics like iPads and flat-screen televisions and less on durable goods like furniture, washing machines and lawn mowers, according to government data released Tuesday. The shift reflects a change in priorities for American consumers. After pouring money into all aspects of their homes during the previous decade, consumers are redirecting their purchases to eye-grabbing technology and socking away more of what's left over into savings. Apparel company executives are worried the lure of electronics will eat into their sales as the back-to-school season gets under way. Outlays for televisions, computers, video and telephone equipment grew 1.8% in the first six months of this year, compared to the first half of pre-recession 2007, the Commerce Department said Tuesday. By comparison, spending on appliances decreased 3.6% during the same period, and spending on furniture decreased 11% during that time.
CNN: Experts: BlackBerry ban could affect privacy everywhere
Smartphone users in countries all over the world could lose some privacy if threats and promises by foreign nations to shut down BlackBerry services goes through, analysts say. On Sunday, the UAE threatened to block access to e-mail, web browsing and text messages on the popular smartphone on October 11 if its owner, Research In Motion, doesn't provide government access for security investigations. And on Tuesday, the Saudi Communications and Information Technology Commission asked mobile communications companies in Saudi Arabia to halt BlackBerry service in the kingdom beginning August 5, the official Saudi Press Agency reported.
Wall Street Journal: On the Web's Cutting Edge, Anonymity in Name Only
Websites are gaining the ability to decide whether or not you'd be a good customer, before you tell them a single thing about yourself. The technology reaches beyond the personalization familiar on sites like Amazon.com, which uses its own in-house data on its customers to show them new items they might like.
New York Times: Gas-and-Brake Pedal Gets New Look After Recalls
Two pedals, inches apart, one for gas and the other for brakes. For years, a Japanese inventor has argued that this most basic of car designs is dangerously flawed. The side-by-side pedal arrangement, the inventor says, can cause drivers mistakenly to floor the accelerator instead of the brakes, especially under stress. The solution? A single pedal that accelerates the car when pressed with the side of the foot. More to the point, when the pedal is pushed down, it always activates the brakes. Mr. Naruse, 74, is one of a handful of people who have designed combined brake-accelerator pedals in an effort to prevent accidents caused by unintended acceleration, which has come under a spotlight since charges that some Toyota vehicles accelerate without warning.
CNN: Barnes & Noble puts itself up for sale
Shares of Barnes & Noble soared 26% in after-hours trading Tuesday after the bookseller put itself on the block. The board of directors believes Barnes & Noble shares are "significantly undervalued," and has hired financial advisor Lazard to explore "strategic alternatives" that may include selling the company, Barnes & Noble said in a prepared statement. Barnes & Noble (BKS, Fortune 500) founder Leonard Riggio, the company's largest shareholder, says he may join an investor group to buy the company.
In Case You Missed It
Twice convicted of DUI, a man is suspected of drunk driving in a crash that killed a nun. CNN's Brian Todd reports.
N.Y. gubernatorial candidate Rick Lazio calls for an inquiry into those attempting to build a mosque near ground zero.
Subscribe to the CNN=Politics DAILY podcast at http://www.cnn.com/politicalpodcast
And now stay posted on the latest from the campaign trail by downloading the CNN=Politics SCREENSAVER at http://www.CNN.com/situationroom