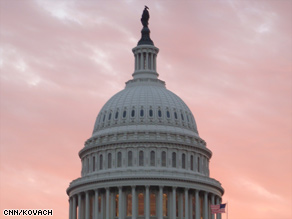 The CNN Washington Bureau's morning speed read of the top stories making news from around the country and the world.
WASHINGTON/POLITICAL
For the latest political news: www.CNNPolitics.com
CNN: Judge overturns California's ban on same-sex marriage
A federal judge in California on Wednesday struck down the state's ban on same-sex marriage, ruling that voter-approved Proposition 8 violates the U.S. Constitution - handing supporters of gay rights a major victory in a case that both sides say is sure to wind up before the U.S. Supreme Court. The 136-page opinion, issued by Chief U.S. District Judge Vaughn Walker in San Francisco, is an initial step in what will likely be a lengthy fight over California's Proposition 8, which defines marriage as a union between a man and a woman. At stake in the trial was whether California's ban on same-sex marriage violates gay couples' rights to equal protection and due process, as protected by the U.S. Constitution.
CNN: House to return from summer break next week, Pelosi says
The House of Representatives be will be called back into session next week to take up a $26 billion bill designed in part to help avoid teacher layoffs, House Speaker Nancy Pelosi said Wednesday. "As millions of children prepare to go back to school - many in just a few days - the House will act quickly to approve this legislation once the Senate votes," Pelosi said Wednesday. "I am calling members of the House back to Washington at the beginning of the week to pass this bill and send it to President Obama without further delay." The House began its summer break last week and was not expected to return until mid-September.
CNNMoney: Tax cut squabble grows louder
Washington's big debate – whether or not to extend the Bush-era tax cuts – heated up Wednesday, and appeared headed for a showdown when Congress returns from its summer break next month. Top Democrats will tackle new tax legislation in September when they return from summer break, according to a spokesman for Senate Majority Leader Harry Reid, D-Nev. Democrats want to try to extend the middle-class tax cuts passed back in 2001 and 2003 during the George W. Bush administration. But they want to let cuts lapse – essentially hiking taxes – for individuals making more than $200,000 and families making $250,000 annually. Republicans accused Democrats of trying to quash the economic recovery.
CNN: Tea Party Express fighting back against racism charge
The tea party movement has been called a lot of things - from racist to the voice of the people. One tea party group is on a mission to change how the movement is perceived, especially when it comes to race relations. Lloyd Marcus, a spokesman for the Tea Party Express, is hosting a National Black Conservative press conference in Washington on Wednesday. The event at the National Press Club is featuring more than a dozen black conservative speakers, including former diplomat and presidential candidate Alan Keyes. The goal, Marcus said in a statement, is to fight back against "bogus, false and malicious charges" and the NAACP's resolution calling on tea party leaders to crack down on racist elements in the movement.
CNN: RNC sets ambitious fundraising goal
As critics take aim at Republican National Committee Chairman Michael Steele over his handling of the party's war chest, the committee told its members Wednesday that it plans to raise more than $107 million in 2010. The ambitious projection means that the RNC would need to raise nearly $60 million in the second half of the year. In the first six months of 2010, the RNC collected more than $49 million. In contrast, the Democratic National Committee raised $53.8 million during the same time period.
Hotline On Call: RNC Takes Out $10 Million Credit Line
The RNC's Budget Committee as approved acquiring a $10M line of credit in order to cover the party's financial shortfall, a move committee members called essential to winning Dem-held seats this fall. The money will be directed wholly to the RNC's political department in order to fund Victory programs, the sources said. Those Victory programs will serve as the party's main get-out-the-vote operation for the midterm elections. The line of credit is not unusual, though committee sources said some in party leadership, including chairman Michael Steele, were reluctant to draw a debt. But committee members argued the money would help win back Dem-held seats; without it, argued DE national committeewoman Priscilla Rakestraw, the party would leave winnable seats on the table.
CNN: RNC tries to stop damaging leaks
An influential group of GOP officials called on the Republican National Committee Wednesday to open an investigation into the leaking of internal documents and sensitive information to the media – a major source of distraction for the party in this critical election year. In one of their first orders of business at the opening of the RNC's Summer Meeting taking place here in Kansas City, Republican state party chairs approved a resolution urging the RNC executive committee to launch an investigation into the leaks.
CNN Poll: Quarter doubt Obama was born in U.S.
It's surely not what the leader of the free world wants for his birthday. But, for a stubborn group of Americans, conspiracy theories about President Obama's birthplace are the gifts that keep on giving. The president celebrates his 49th birthday Wednesday. On the same day, a new national poll indicates some Americans continue to doubt the president was born in the United States. According to a CNN/Opinion Research Corporation survey, more than a quarter of the public have doubts about Obama's citizenship, with 11 percent saying Obama was definitely not born in the United States and another 16 percent saying the president was probably not born in the country.
Politico: Ariz. senator targets immigrants' kids
With newfound prominence as the author of a law that ignited a national firestorm over immigration, the Arizona state senator hopes to keep fanning the flames of the issue long after the courts uphold or strike down SB 1070. That legislation focused attention on how far Arizona police can go in determining the immigration status of anyone they suspect of being in the country illegally. Now Pearce, a deputy sheriff before entering politics, has a new target: the children of illegal immigrants. The way he sees it, he's simply protecting taxpayers from those who are abusing public benefits like schools and hospitals.
New York Times: Voters in Colorado Swing With the Economy
Two years ago, as the election season roared toward November, people here in northern Colorado feared the economy was headed for a cliff. They sought refuge in voting for Democrats in numbers not seen in generations. The cliff and the abyss never came, at least not for Fort Collins and Larimer County, a swing county in this swing state. Both fared better in the recession than most of Colorado and the nation. But the fear, it turns out, never went away, and the big question of the November midterm election, as well as next week's Colorado primary, is whether that abiding fear will overcome the relatively healthy economy here, and sweep away the same Democrats it benefited in the last election — no matter that the malls and restaurants seem full.
Las Vegas Sun: Sharron Angle avoids paying taxes on campaign staff payroll
Senate Majority Leader Harry Reid's campaign has accused his Republican rival, Sharron Angle, of attempting to skirt tax law by paying her staff as independent contractors instead of employees subject to payroll taxes. Since she filed to run, Angle has paid her staff as consultants and as such has made no payments to the Internal Revenue Service. Although not uncommon for political candidates, the practice could raise legal issues with the IRS if she doesn't carefully follow the rules dictating when a worker can be classified as an independent contractor.
CNN: Palin endorses Murphy
Former Alaska Gov. Sarah Palin has endorsed yet another candidate-this time it's Brian Murphy, Maryland Republican candidate for governor. In a statement posted on Palin's Facebook page, "I'm honored to endorse Brian Murphy for Governor of Maryland. Brian is a pro-life, pro-Second Amendment commonsense conservative and a firm believer in the free market and the cause for energy independence." Murphy's campaign responded to Palin's endorsement in a press release, "I am humbled and honored to receive Governor Palin's endorsement. Governor Palin has served her city, her state, her country, and her party with distinction. Governor Palin has always been led by principle, conviction and character."
Cleveland Plain Dealer: Gov. Ted Strickland and opponent John Kasich have lots of campaign cash
Ohio's gubernatorial candidates have plenty of money to slug it out on the airwaves this fall. Candidates are not required to report expenses until Oct. 21 so it's hard to gauge how much cash is really available. But Strickland and Kasich have collectively raised more than $24 million, which will likely make this the most expensive gubernatorial race in Ohio history.
CNN: Poll: Connecticut Senate smackdown heating up
A new poll indicates that the battle for Connecticut's open Senate seat is becoming more competitive, as is next week's Republican Senate primary. According to a Quinnipiac University survey released Tuesday, 50 percent of Connecticut voters say they back longtime state Attorney General Richard Blumenthal, the presumptive Democratic nominee, with four in ten supporting former professional wrestling executive Linda McMahon, the leading GOP Senate candidate, and seven percent undecided. Blumenthal's ten point advantage is down from a 17 point lead in a Quinnipiac poll from last month and a 20 point margin from June.
Denver Post: Democrats pay for TV attack ads on McInnis
The Democratic Governors Association and Fort Collins heiress Pat Stryker helped pay for a TV ad attacking Republican Scott McInnis over plagiarized water articles. "Our next governor must have integrity," the ad says. McInnis' campaign and other Republicans say the ad is an attempt by Democrats to pick their GOP opponent in the governor's race. McInnis faces Dan Maes in Tuesday's primary. McInnis spokesman Sean Duffy said the ad is a sign that Democrats see McInnis as a threat.
NATIONAL
For the latest national news: www.CNN.com
CNN: BP to pour cement down crippled well in next step to seal it
With its well-killing effort reported to be going "extremely well," BP plans to start pouring concrete into the crippled well in the Gulf of Mexico on Thursday. The U.S. official overseeing the response to the spill, retired Adm. Thad Allen, has given BP a green light to pour cement on top of the 2,300 barrels of heavy drilling mud already sent down the well. The mud drove oil back into the reservoir in an operation known as a "static kill." But Allen said BP should follow that with a second well-killing procedure that has been in the works as sort of an insurance policy - pouring additional mud and cement through a relief well that's expected to be ready in mid-August.
New York Times: Oil Rig's Owner Had Safety Issue at 3 Other Wells
The company that owned the oil rig that exploded in the Gulf of Mexico in April had widespread safety concerns about several of its other rigs in the gulf, and a month before the disaster it commissioned a broad review of the safety culture of the company's North American operations, according to confidential internal reports. The confidential internal reports, obtained by The New York Times, offer an unusually candid view of safety and maintenance concerns within the world's largest offshore drilling company, and they indicate that the problems highlighted in earlier reports provided to The Times about the Deepwater Horizon were not limited to that rig, which exploded on April 20, leading to an oil spill that is estimated to have poured at least four million barrels of oil into the gulf.
CNN: Virginia attorney general: Traffic stops can be status checks
Virginia police officers can question stopped motorists about their immigration status, the state's attorney general has said, adding fuel to a contentious debate over states' immigration policies in the wake of a controversial law enacted in Arizona. "It is my opinion that Virginia law enforcement officers, including conservation officers, may, like Arizona police officers, inquire into the immigration status of persons stopped or arrested," Attorney General Ken Cuccinelli writes in the opinion. "However, persons tasked with enforcing zoning laws lack the authority to investigate criminal violations of the law, including criminal violations of the immigration laws of the United States."
INTERNATIONAL
For the latest international news: http://edition.cnn.com
CNN: Petraeus issues new directive for troops in Afghanistan
Gen. David Petraeus on Wednesday issued a new "tactical directive" for forces in Afghanistan that emphasizes guidance for the use of force by troops operating in the country. "We must continue - indeed, redouble - our efforts to reduce the loss of innocent civilian life to an absolute minimum," the directive states in part. "Every Afghan civilian death diminishes our cause. If we use excessive force or operate contrary to our counterinsurgency principles, tactical victories may prove to be strategic setbacks." The directive states that before firing, the commander authorizing a strike must determine that there are no civilians present. If the status of civilians is unknown, firing is prohibited except when certain types of risk to troops exist.
CNN: Iran denies reports of grenade lobbed at Ahmadinejad's convoy
Iran denied reports of a grenade exploding near the convoy of President Mahmoud Ahmadinejad during his visit to a western Iranian city Wednesday. The semi-official Fars News Agency and several other outlets had reported the incident, in which Ahmadinejad was unhurt. But the media department at Iran's presidential office denied there was an attack. Media advisor Ali Akbar Javanfekr told CNN that the grenade was a toy firecracker and accused international journalists of blowing the story out of proportion.
CNN: More rain, gushing flood waters threaten Pakistanis
Intense rain and gushing flood waters threatened Wednesday to cause more misery in monsoon-bloated Pakistan, where 3 million people are already suffering. U.S. Secretary of State Hillary Clinton urged Americans to donate to relief efforts, saying that experience in post-earthquake Haiti showed that small donations can make a big difference. Pakistani Prime Minister Yousuf Raza Gilani appealed to residents to curtail expenditures for Ramadan feasts and upcoming independence day celebrations and contribute instead to help their desperate compatriots. As many as 1,500 people have died in Pakistan's worst flooding in 70 years.
Wall Street Journal: Karzai Targets Two U.S.-Backed Task Forces
Afghan President Hamid Karzai stepped up tensions with the U.S. on Wednesday by asserting control over two American-backed anticorruption task forces, ordering a handpicked committee to review all their investigations. U.S. officials see Mr. Karzai's decision as a way for the Afghan president to limit the inquiries that may touch his inner circle. A senior U.S. official described the move, which followed last week's arrest of a senior presidential aide on corruption charges, as "a huge blow" to U.S.-backed efforts to clean up corruption in Afghanistan.
CNN: UN moves to calm Israeli-Lebanese tensions along Blue Line
The United Nations moved Wednesday to calm tensions along the Blue Line separating Lebanon and Israel, a day after violence erupted. In an extraordinary meeting, the commander of the United Nations Interim Force in Lebanon, Major-General Alberto Asarta Cuevas, led talks between top representatives of the Lebanese Armed Forces and the Israel Defense Forces. The meeting was held at the U.N. position at the Ras Al Naqoura crossing in south Lebanon.
BBC News: South Korea begins massive military drill
South Korea has launched its biggest-ever anti-submarine exercises, the military says, despite warnings of retaliation from the North. Some 4,500 personnel are taking part in five days of drills in the Yellow Sea, near the disputed maritime border. The South is making a show of strength amid continuing anger over the sinking of one of its warships in March.
Wall Street Journal: China School Attack Kills 3
A man wielding a knife killed three children at a kindergarten in eastern China's Shandong province, the latest in a string of attacks that has shocked parents and has forced government leaders to focus on the underlying causes of the violence. Police have detained a 26-year-old man, Fang Jiantang, who admitted to killing the children, state-run Xinhua news agency said Wednesday. Xinhua described the man as self-employed. There was no immediate word on what motivated his murderous rampage. The three children died at the school, and three other children, along with four teachers, were taken to a hospital, Xinhua said. The attack occurred in Zibo, a manufacturing city with a population of more than four million. The assault took place Tuesday afternoon, but Xinhua didn't issue a report until a day later.
Der Spiegel: Germany Looks to Tighten Up Public Drinking Rules
Grizzled characters clutching bottles on train station benches; groups of guzzling youth on city squares; loose empties rattling around subways: Signs of Germany's liberal public drinking laws are everywhere. Indeed, for many visitors to the country, sipping a beer while walking down the street is almost as exhilarating as a high-speed drive down the autobahn. Increasingly, though, municipalities are tiring of public drinking - and the inevitable public drunkenness that results. Numerous movements are afoot to ban the practice. From the country's northeast to the southwest, politicians of all stripes are exploring ways to put the cap back on the bottle.
BBC News: Canadian accused of buying weapons for al-Qaeda freed
A Canadian accused by the US of supplying weapons to al-Qaeda has been freed in Toronto after a judge refused to extradite him to the US. Abdullah Khadr, 29, had been in jail since 2005, when he was arrested in Canada at US officials' request. Mr Khadr is the elder brother of Omar Khadr, the only Westerner held at the US prison camp in Guantanamo Bay, Cuba. The judge said statements made by Mr Khadr and used as the basis for the case against him were "unreliable".
CNN: Debate Iran? No, but talks are possible
President Barack Obama has a chance to make good on the campaign pledge he made during the CNN/YouTube debate back in 2008: to sit down with Iranian President Mahmoud Ahmadinejad. This week Ahmadinejad offered to meet "face-to-face" in a debate before the media "to put the world's issues on the table to find out whose solution is better." The regime in Tehran has repeatedly rebuffed U.S. attempts at engagement, thwarting the international community as it continues to pursue its nuclear program, which it claims is for peaceful purposes. The United States and its allies maintain Iran is seeking to develop a nuclear weapon. The White House dismissed Ahmadinejad's offer as a theatrics, saying Iran isn't serious about discussing its nuclear ambitions.
BUSINESS
For the latest business news: www.CNNMoney.com
CNN: BP offers cheaper gas
In an effort to help struggling gas stations and appease furious consumers following the Gulf disaster, BP is lowering its gasoline prices. BP is offering a series of incentives to its distributors that could shave two cents off the price of gasoline at the pump. Contrary to popular belief, BP does not set prices at the gas station. Most BP stations are independent businesses, they're not owned by the company. Much like a convenience store selling Coke, the gas stations buy their gas from distributors, which are also independent businesses.
CNN: GM donates $41,000 to lawmakers' pet projects
When General Motors went through bankruptcy last year, it suspended its political donations. Now that it's owned by the U.S. government, it's donating to lawmakers' pet projects again. The carmaker gave $41,000 to groups associated with lawmakers, the vast majority of it - $36,000 - to the Congressional Black Caucus Foundation, the company reported on a disclosure form last week. The CBC Foundation is a charity with 11 members of the Congressional Black Caucus on its board.
New York Times: Google and Verizon in Talks on Web Priority
Google and Verizon, two leading players in Internet service and content, are nearing an agreement that could allow Verizon to speed some online content to Internet users more quickly if the content's creators are willing to pay for the privilege. The charges could be paid by companies, like YouTube, owned by Google, for example, to Verizon, one of the nation's leading Internet service providers, to ensure that its content received priority as it made its way to consumers. The agreement could eventually lead to higher charges for Internet users.
Washington Post: Intel's business practices restricted under antitrust settlement with FTC
Capping a decade-long push by the federal government to check the power of this country's biggest tech companies, the Federal Trade Commission is banning Intel from a slew of practices deemed unfair and deceptive as part of an antitrust settlement over charges that the firm exploited its dominance in the chip market to elbow out competitors. The FTC doesn't have the authority to fine the company unless it violates the terms of the settlement, but the agency outlined a deal Wednesday restricting Intel's business practices in ways that go further than past cases in which the firm has been accused of not playing fair with rivals.
Wall Street Journal: Personal Bankruptcies Rise, Reversing Trend
More Americans filed for bankruptcy protection in July, reversing a trend of declining filings over the previous three months and highlighting the continuing financial struggles of many consumers. Personal bankruptcies numbered 137,698 last month, a 9% increase from the June total, according to the American Bankruptcy Institute, an organization of lawyers and other professionals. The data were supplied by the National Bankruptcy Research Center; similar government tallies won't be released for months. Curbs on access to credit, such as those that arose during the recent recession, tend to fuel consumer bankruptcies as individuals who encounter trouble paying debts fail to find new sources of credit.
Bloomberg: China Said to Ask Banks to Test for 60% Housing Drop
China's banking regulator told lenders last month to conduct a new round of stress tests to gauge the impact of residential property prices falling as much as 60 percent in the hardest-hit markets, a person with knowledge of the matter said. Banks were instructed to include worst-case scenarios of prices dropping 50 percent to 60 percent in cities where they have risen excessively, the person said, declining to be identified because the regulator's requirement hasn't been publicly announced. Previous stress tests carried out in the past year assumed home-price declines of as much as 30 percent.
Investors Business Daily: Economic Data Improve Ahead Of Jobs Report
Private hiring and service-sector activity picked up in July and topped forecasts, as Wednesday's reports continued the recent shift toward more upbeat economic news. The Institute for Supply Management's services index unexpectedly rose 0.5 point to 54.3, defying forecasts for a decline to 53. Readings above 50 indicate expansion. Also, ADP said private jobs rose by 42,000 last month, the sixth straight gain and above estimates.
CNN: Google plans to drop Wave
Google is pulling the plug on Google Wave. Google intended the messaging program, launched in 2009, to be a near-replacement for e-mail, which it said had grown tired. But on Wednesday, the company announced that it is shuttering the project by the end of the year because it didn't have traction with consumers. "Wave has not seen the user adoption we would have liked," Urs Hölzle, a Google senior vice president, writes on the company's official blog.
Wall Street Journal: Stalkers Exploit Cellphone GPS
Phone companies know where their customers' cellphones are, often within a radius of less than 100 feet. That tracking technology has rescued lost drivers, helped authorities find kidnap victims and let parents keep tabs on their kids. But the technology isn't always used the way the phone company intends. Global-positioning systems, called GPS, and other technologies used by phone companies have unexpectedly made it easier for abusers to track their victims. A U.S. Justice Department report last year estimated that more than 25,000 adults in the U.S. are victims of GPS stalking annually, including by cellphone. In the online world, consumers who surf the Internet unintentionally surrender all kinds of personal information to marketing firms that use invisible tracking technology to monitor online activity. A Wall Street Journal investigation of the 50 most-popular U.S. websites found that most are placing intrusive tracking technologies on the computers of visitors—in some cases, more than 100 tracking tools at a time.
CNNMoney: Time Inc. CEO to step down
Ann Moore, the chief executive of Time Inc. - the world's largest magazine publisher - is stepping down from the company to be replaced by Jack Griffin, a group president of Meredith Corp., according to published reports. The New York Times, Wall Street Journal and New York Post all reported the CEO shakeup Wednesday evening, citing unnamed executives at the companies.
In Case You Missed It
Pentagon Correspondent Barbara Starr takes us behind the scenes of her reporting on wounded troops returning home.
Two prominent lawyers, conservative Ted Olson and liberal David Boies, team up to fight for gay marriage in California.
Subscribe to the CNN=Politics DAILY podcast at http://www.cnn.com/politicalpodcast
And now stay posted on the latest from the campaign trail by downloading the CNN=Politics SCREENSAVER at http://www.CNN.com/situationroom