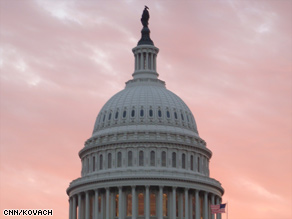 The CNN Washington Bureau's morning speed read of the top stories making news from around the country and the world.
WASHINGTON/POLITICAL
For the latest political news: www.CNNPolitics.com
CNN: Senate approves Kagan for high court
Solicitor General Elena Kagan was easily confirmed Thursday as the next associate justice of the U.S. Supreme Court, completing the 50-year-old native New Yorker's climb to the peak of the American legal profession. The 63-37 vote was mostly along party lines. Five GOP senators backed Kagan, and only one Democrat - Sen. Ben Nelson of Nebraska - opposed her. Republican leaders offered spirited floor opposition to the nominee, but were unable to muster a prolonged delay or filibuster of the vote.
CNN: Opponents of same-sex marriage to file appeal in California case
Attorneys supporting the voter-approved ban on same-sex marriage in California filed a notice of appeal in the case Thursday, one day after a federal judge ruled that the measure is unconstitutional. However, Chief U.S District Judge Vaughn Walker in San Francisco granted a temporary stay along with his ruling Wednesday, which stops his decision from taking immediate effect.
CNN: Romer resigns as chief of Obama's economic council
Christina Romer, head of President Barack Obama's Council of Economic Advisers, will step down and return to her teaching post at the University of California, White House officials said on Thursday. The resignation will take effect on September 3.
CNN: Senate approves $600 million in emergency border security funds
The U.S. Senate approved $600 million in emergency funding to help secure the U.S.-Mexican border on Thursday, on the eve of the Senate's summer recess and ahead of an election season in which immigration and border security are shaping up as major issues. The bill provides for roughly 1,500 new law enforcement agents, new unmanned aerial vehicles, new forwarding operating bases and $14 million in new communication equipment. It represents a 10 percent increase in border security spending over 2010, said New York Sen. Charles Schumer, a bill sponsor.
CNN: Senate fails to approve funds for settlement with minority farmers
The U.S. Senate failed Thursday to approve nearly $5 billion for a settlement between the Agriculture Department and minority farmers reached more than a decade ago, prompting finger pointing by members of both parties and outrage among many black farmers. "We are very, very, very disappointed that we are just caught up in such a larger political fight in the Senate, where it's just partisan division," said John Boyd, founder and president of the National Black Farmers Association.
CNN: Haslam is projected easy winner in Tennessee GOP primary for governor
Bill Haslam, the mayor of Knoxville and considered a moderate Republican, easily won the Tennessee GOP primary for governor Thursday, the Associated Press projected. With 76 percent of the state's precincts in, AP reported Haslam had 48.2 percent of the vote as he defeated Congressman Zach Wamp and Lt. Gov. Ron Ramsey.
Wall Street Journal: Big Democratic Fund-Raiser Indicted
A major Democratic lobbyist and fund-raiser was arrested Thursday and indicted on charges of making hundreds of thousands of dollars of illegal campaign contributions to members of Congress. The 11-count indictment by the Department of Justice against Paul Magliocchetti, the founder of the now-defunct lobbying outfit PMA Group, brings for Democrats new and unwelcome attention to continuing ethics controversies ensnaring some of the party's lawmakers. Mr. Magliocchetti appeared Thursday in U.S. District Court for the Eastern District of Virginia and was released after he surrendered his passport and provided a $2 million bond. He is living at a psychiatric facility in Baltimore, the court said. His attorney didn't respond to requests for comment.
New York Times: Corporate Money Aids Centers Linked to Lawmakers
Nearly a dozen current or former lawmakers have been honored by university endowments financed in part by corporations with business before Congress, posing some potential conflicts like that attributed to Representative Charles B. Rangel in an House ethics complaint. The donations from businesses to the endowments ranged from modest amounts to millions of dollars, federal records show. And the lawmakers, who include powerful committee chairmen or party leaders, often pushed legislation or special appropriations sought by the corporations.
Politico: Dems accused of tea party tampering
Nationally, Democrats say they intend to campaign against the tea party movement. But locally, Democratic officials and activists in at least four states now stand accused of collaborating with tea party candidates in an attempt to sabotage Republican challengers in some of the closest House races in the nation. The charges of dirty tricks are being leveled in Pennsylvania, Michigan, New Jersey and Florida — and they involve more than a half-dozen contests that could tip the balance of power in the House. The accusations range from helping tea party activists circulate candidate petition sheets to underwriting the creation of official tea parties, which then put forth slates of candidates that local conservatives accuse of being rife with Democratic plants.
CNN: Defiant Rangel vows to fight
Embattled Rep. Charlie Rangel remained defiant Thursday, vowing to fight charges brought by the House ethics committee and dismissing President Obama's comments about the veteran House member retiring with dignity. "I don't know why the president of these great United States would say something like that, I guess he believes eighty is old," Rangel told reporters after delivering a speech at Columbia University. Obama suggested last week that the New York Democrat was at the end of his career.
Washington Post: McConnell gives Franken a piece of his mind
Senate Minority Leader Mitch McConnell (R-Ky.) gave freshman Sen. Al Franken (D-Minn.) a piece of his mind Thursday afternoon, believing that the former comedian had mocked McConnell's floor speech opposing the confirmation of Elena Kagan to the Supreme Court. In the final moments of debate, Franken was the presiding officer over the chamber - just as he was when Justice Sonia Sotomayor was confirmed almost a year ago to the day. During McConnell's roughly 10-minute speech, according to observers, Franken was shifting in his seat and, McConnell believed, gasping and mocking his speech. Once he finished his speech, McConnell left the GOP leader's podium and walked around the main desk of the Senate, waving to Franken so the two could speak, observers said. "This isn't 'Saturday Night Live,' Al," McConnell told Franken sternly, according to those familiar with the exchange.
Atlanta Journal Constitution: Mike Huckabee endorses Nathan Deal in runoff race
Former Gov. Mike Huckabee of Arkansas, who won the 2008 presidential primary in Georgia, just issued his formal endorsement of Nathan Deal in the race for governor. Though he doesn't mention Deal's rival, Karen Handel, by name, Huckabee expressed concern over the "negative tone" of the contest.
CQ Politics: South Dakota: Herseth Sandlin's Challenger Wants $1 Million
How far can $1 million go in South Dakota? A Republican challenger's hoping to find out. State Rep. Kristi Noem is asking fellow members of the GOP to help her raise at least $1 million in the final three months of her campaign against Rep. Stephanie Herseth Sandlin (D), reports the Rapid City Journal. That's a mighty big number for a state where commercial time is a lot cheaper than in other places.
Idaho Statesman: Sullivan says Crapo wants economy to tank until after election
Idaho Democratic Senate nominee Tom Sullivan says Republican Sen. Mike Crapo is "putting his political fortunes ahead of rebuilding the country's economy" and cites the GOP's blocking of a small business jobs bill in the Senate. Crapo's campaign manager, Jake Ball, said Sullivan's complaint is "hollow rhetoric" and said Crapo's backing of small business is "rock solid," including his opposition to tax increases and expanded regulation.
CNN: Obama starts mentioning Bush by name
President Obama, moving into campaign mode ahead of the midterm elections, has added new, sharper language to his stump speech – twice this week invoking the name of his predecessor. Obama frequently criticizes Republican policies on the economy – that is certainly nothing new. But the latest wrinkle in Obama's rhetoric is that until now, he has avoided referring to former President Bush by name. That changed this week. Thursday marked the second time in a week that Obama has mentioned Bush.
NATIONAL
For the latest national news: www.CNN.com
CNN: Allen: Static kill will 'virtually assure' no more oil leak
BP finished pouring cement down its crippled well in the Gulf of Mexico on Thursday in an operation known as a "static kill," completing the job earlier than expected. The government official overseeing the effort is sounding increasingly optimistic that the end is in sight in the drive to seal the well once and for all. BP began pouring cement into its undersea well in the Gulf of Mexico at 9:15 a.m. ET Thursday, and it finished pouring it at 3:15 p.m. That followed 2,300 barrels of heavy drilling mud, poured down from a ship on the surface Tuesday.
CNN: 14 indicted in connection with Somalia conflict
An Alabama man described as a jihadist "rock star," two Minnesota women and a California man are among more than a dozen people now charged with aiding al Qaeda-linked rebels in Somalia. The Justice Department unsealed a slew of indictments Thursday that accused 14 people of providing "money, personnel and services" to Al-Shabaab, the Islamist militant group battling Somalia's U.N.-backed transitional government. Most were in Minnesota, where the group has attempted to find recruits from among Somali immigrants. FBI agents have arrested two women in Rochester, Minnesota, about 85 miles south of Minneapolis, on charges of raising money for the insurgents, the Justice Department announced. The rest named in Thursday's indictments are believed to be in Somalia, fighting with the rebels.
INTERNATIONAL
For the latest international news: http://edition.cnn.com
CNN: Wyclef Jean says he is running for president of Haiti
Hip-hop artist Wyclef Jean told CNN's "Larry King Live" on Thursday he is running for president of Haiti. Jean was one of the first, and most visible, celebrities to offer aid after a devastating earthquake hit Haiti in January. He has also been an outspoken proponent of the nation through his Yele Haiti Foundation, which has come under some scrutiny for how it spends its money. "Yes, it's my first time announcing it live - that today I went in, and I signed, and I am running to be the president of Haiti," said Jean, in his first television interview about his decision to run.
CNN: Hiroshima anniversary brings U.N. head's call for disarmament
U.N. Secretary-General Ban Ki-moon used an appearance at the Hiroshima Peace Memorial ceremony in Japan to advocate for his five-point plan for worldwide nuclear disarmament and nonproliferation. August 6 marks the 65th anniversary of the atomic bomb dropped by the United States at the end of World War II on Hiroshima.
CNN: Car bomb rocks government offices in Tamaulipas, Mexico
A car bomb rocked the headquarters of the Tamaulipas State Public Safety complex in Ciudad Victoria, Mexico, the agency said Thursday. No one was hurt; two police cars were damaged, it said in a news release. Authorities said the explosion, which occurred at 5:20 p.m., appeared to have emanated from inside a white compact car in a parking lot behind the building, near the offices of the Rural Police.
Wall Street Journal: Lockerbie Release Flawed
Scotland released the convicted Lockerbie bomber from prison in August 2009 on the grounds he likely had three months to live, even though there was no consensus among specialists treating his prostate cancer that his prognosis was so dire, according to publicly available documents and people familiar with the case. Abdel Baset Al-Megrahi was released from prison on Aug. 20. 2009, because a medical report concluded that he had three months to live, qualifying him for Scottish guidelines on "compassionate release." He was convicted in 2001 to a life sentence with a minimum 27 years imprisonment. The prognosis was made by Andrew Fraser, a doctor who administers Scotland's prison health service, and became the sole medical basis for Justice Secretary Kenny MacAskill's controversial decision to set Mr. Megrahi free.
CNN: Flood's estimated toll in Pakistan: 1,500 dead, 4 million affected
Floodwaters subsided Thursday in northern Pakistan's Swat Valley, where a fierce sun baked a thick carpet of mud into a brittle crust as officials expanded their estimate of the number of people affected. The monsoon rains that had transformed the usually placid Kabul River into a raging torrent that swept away houses, restaurants and hotels have stopped. But the estimated toll on people will leave lasting repercussions - 1,500 dead and more than 4 million affected.
Washington Post: U.S. worried by Karzai's attempt to assert control over corruption probes
Obama administration officials fear that a move by Afghan President Hamid Karzai to assert control over U.S.-backed corruption investigations might provoke the biggest crisis in U.S.-Afghan relations since last year's fraud-riddled election and could further threaten congressional approval of billions of dollars in pending aid. The concerns were sparked by Karzai's decision this week to order a probe of two anti-corruption units that have been involved in the recent arrest of several senior government officials on graft and bribery allegations. Karzai said the investigators, who have been aided by U.S. law enforcement advisers and wiretap technology, were acting outside the Afghan constitution.
BBC News: Cameron and Zardari holding talks at Chequers
Prime Minister David Cameron and President Zardari of Pakistan will try to patch up their differences during formal talks at Chequers later. They will try to smooth tensions after the PM's recent comments that elements in Pakistan promoted terrorism. On Thursday night, Mr Zardari was Mr Cameron's guest at a private dinner at the country residence. Topics for discussion will include counter-terrorism co-operation, the Nato campaign in Afghanistan and trade.
Wall Street Journal: Tourists Shun Greece, Try Turkey
In the big-money world of mass tourism, Greece's woes are proving a boon for Turkey as vacationers vote with their flip-flops to avoid a country in financial crisis. Greek hotels and tour operators have been slashing prices and scaling back staff in a bid to recoup, after TV images of street riots coupled with a strong euro earlier this year persuaded vacationers to book elsewhere. That is bad news for Greece, which is already facing declining growth and budget deficits. Tourism makes up about 15% of the country's gross domestic product, and many economists say this summer's tourist season will be critical for a weakened economy that is forecast to shrink around 4% this year.
Washington Post: Kenyans celebrate approval of new constitution
Kenyans overwhelmingly approved a new constitution that promises to address the core problems of governance, such as corruption and tribalism, that have plagued this country throughout its post-colonial history. Nearly 70 percent of Kenyan voters backed the new draft, the nation's election authority announced Thursday, citing official tallies from most polling stations. The constitution's supporters declared that Kenya had entered a new era.
Guardian: Children in immigration centres face deportation within weeks
Immigration officials charged with carrying out the government's pledge to end the detention of children in immigration centres have launched a scheme designed to deport them and their families from the country within weeks. The move dashes expectations of a more liberal alternative to child detention. Families with children facing removal are to be given a two-week ultimatum to leave the country voluntarily, according to a document seen by the Guardian. If they fail to go they will be told they will be deported "at some point" within the next two weeks, sometimes without being given a specific date or time to get ready.
BUSINESS
For the latest business news: www.CNNMoney.com
CNNMoney: Stocks end lower as jobs report looms
Stocks ended a listless session modestly lower Thursday as investors focused on the job market amid signs of a sluggish economic recovery. The Dow Jones industrial average (INDU) fell 5 points, or less than 0.1%. The S&P 500 (SPX) index slid 1.5 points, or 0.1%, and the Nasdaq (COMP) composite lost 10 points, or 0.5%. The retreat came as investors braced for the Labor Department's monthly jobs report Friday. The report, one of the most closely watched on Wall Street, is expected to show that the U.S. economy lost jobs in July for the second month in a row.
Bloomberg: Asia Stocks Fluctuate Before U.S. Payrolls; Wheat Near Record
Asian stocks fluctuated and the dollar traded near the weakest in eight months against the yen ahead of report today expected to show the U.S. lost jobs for a second month. Wheat rose to a two-year high after Russia banned exports because of drought. The MSCI Asia Pacific Index was little changed at 121.53 as of 12:33 p.m. in Tokyo, having swung between gains and losses three times. The measure has gained 2.1 percent this week. Futures on the Standard & Poor's 500 Index were also flat. The dollar traded at 86 yen from 85.82 yen in New York yesterday, near its lowest since Nov. 27. Wheat for December delivery rose 5.5 percent to $8.60 a bushel on the Chicago Board of Trade.
CNNMoney: Why Google and Verizon's Net neutrality deal affects you
Who controls the Internet and how you access it is the subject of an increasingly heated debate - and a turning point is nearing. The argument is about a standard known as "Net neutrality," which is being fiercely fought out by two groups: content creators - like Google, Yahoo, Amazon.com and eBay - and Internet providers, including Verizon, Comcast, AT&T and Time Warner Cable. If enforced by government regulators, Net neutrality rules would require Internet providers like phone and cable companies to treat all Web content equally. They would prevent providers from restricting access to certain sites or applications, or collecting fees to deliver some sites faster than others.
Bloomberg: Goldman May Earn 4 Cents to Manage First State Sale in India
Goldman Sachs Group Inc., winning its first job managing a share sale by an Indian state-owned company, may earn next to nothing for the privilege. The most profitable securities firm in Wall Street history tied for the lowest bid among 17 banks vying to manage the $1.8 billion offer by Power Grid Corporation of India Ltd., three people with knowledge of the matter said. Goldman Sachs and SBI Capital Markets Ltd. said they'd do the work for a fee equal to 0.00000001 percent of the sale proceeds. That means the firms stand to reap about 2 rupees (4 cents) each on the deal.
CNNMoney: Wheat prices soar. Are bread prices next?
With wheat futures soaring to their highest level in two years, you could soon find yourself paying more for a loaf of bread at your local grocery store. The price of wheat has surged more than 80% from its seven-month low in June. Prices continued to rally Thursday, surging to their highest level since August 2008, after Russia said it would ban grain exports until Dec. 1 due to a drought that has destroyed more than 20% of its wheat crop. If prices continue to surge, you could wind up paying 25% to 30% more for a loaf of bread and at least 10% more for a pizza by the end of August or early September, said Darin Newsom, a senior analyst at Telvent DTN, an agriculture and commodities information company.
Investors Business Daily: Retailers' July Sales Miss Forecasts For 4th Straight Month
Retailers reported lackluster July sales Thursday, missing analysts' views for a fourth straight month as job worries chilled spending, raising concerns about the crucial back-to-school season. Sales at stores open at least a year rose 3% vs. a year earlier, says Ken Perkins, president of Retail Metrics. Wall Street expected a 3.2% gain. A hefty 53% of retailers missed targets. Consumers continue to face several head winds, including housing and jobs. While the jobs market has improved, it remains the biggest impediment to higher spending, says Perkins. Friday's jobs report should show unemployment ticked higher in July to 9.6%, analysts say.
Wall Street Journal: Fannie Posts Smallest Quarterly Loss in Three Years
Fannie Mae posted a $1.2 billion net loss for the second quarter, the smallest loss in three years, amid signs that the massive wave of souring loans that brought down the mortgage-finance giant may be easing. But Fannie still asked the U.S. government for an additional $1.5 billion. The quarterly loss reflects the lingering weaknesses in the housing market, but was an improvement from the $14.8 billion loss for the year-ago quarter. It marked the 12th consecutive loss for the Washington-based firm. How quickly Fannie can turn around its losing streak will depend largely on how loans it has purchased or guaranteed over the past two years perform in the future, which in turn depend on how the economy fares.
Business Week: A Jump in Hiring—But Only Part-Time
As orders for locomotive engines picked up this spring, the GE Transportation factory near Erie, Pa., started hiring to fill positions, which had fallen to 4,000 from 5,500 last year. At 18-employee Pilla Performance Eyewear in Ridgefield, Conn., business ramped up enough that it expanded its staff by eight. And at medical device maker Theragenics (TGX), based in Buford, Ga., an unexpected spike in first-quarter orders led the company to add a few dozen workers to its roughly 500-person head count. Finally, U.S. companies are staffing up. The problem is, many of the positions have been filled with temporary workers. That's common in the early stages of an economic recovery; companies, uncertain whether increased demand will last, add workers who are more easily hired and fired.
Wall Street Journal: Airports Blend More Spirits Into the Mix
Alcohol has rarely been in short supply at airports, but some cash-strapped local governments are taking steps to open the taps further. Chicago's Department of Aviation last week agreed to allow bars at O'Hare and Midway to stay open up to 24 hours a day and authorized licenses for as many as 17 stationary pushcarts to sell beer and wine around the clock. The county that owns the Las Vegas airport this week approved a plan to open a liquor store in the baggage claim area. And wine bars, which recently landed at airports, are in expansion mode. Alderman Gene Schulter, chairman of the Chicago City Council's committee on license and consumer protection, said the new policies would raise revenue for the city while helping O'Hare and Midway "be competitive" with other airports world-wide. Critics say the last thing needed in the skies is more tipsy passengers.
CNN: BlackBerry's biggest problem: The app gap
The success of the iPhone and Google's Android platform spotlights the real "killer app" in the smartphone market: having apps. That's a reality likely to haunt Research in Motion as it tries to generate buyers and buzz for its new BlackBerry Torch, which hits stores next week. At Apple, there's about 250,000 apps for that. At BlackBerry's App World, there's just 8,000.
In Case You Missed It
President Obama says he's proud that the Supreme Court will soon have three female justices.
CNN's Rick Sanchez examines the gradual decline in crowds at Tea Party rallies.
Subscribe to the CNN=Politics DAILY podcast at http://www.cnn.com/politicalpodcast
And now stay posted on the latest from the campaign trail by downloading the CNN=Politics SCREENSAVER at http://www.CNN.com/situationroom