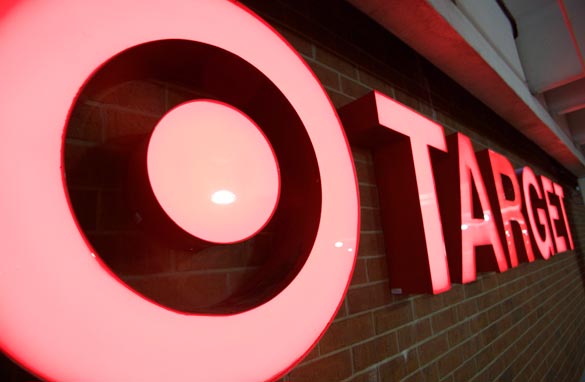 Retail giant Target is under fire for a campaign contribution. (PHOTO CREDIT: CNN)

Washington (CNN) - A liberal political group and some gays and lesbians have put a bulls-eye on one of the nation's largest retail giants, targeting the Target Corporation with a massive sales boycott despite an apology from the store Thursday night.
MoveOn.org is angry with Target over a political contribution the company made. MoveOn.org sees the contribution as Target's attempt to "buy elections."
Pro gay rights groups are angry with Target because the political contribution went to a group that has endorsed a candidate who is staunchly against same-sex marriage.
On Friday, MoveOn.org delivered a petition to the retailer's Minneapolis headquarters. The political activist group told CNN the petition was signed by over 250,000 people who have pledged not to shop at Target. The group also told CNN that MoveOn.org members went out to protest at over 1,000 of the retailer's stores across the nation on Friday, dropping off letters to Target store managers.
The contribution at issue is Target's $150,000 donation to a group that backs a Minnesota gubernatorial candidate.
The group is MN Forward, which says it's focused on job creation. The candidate receiving its endorsement is Tom Emmer, who is running in the state's Republican primary as he hopes to become governor.
Target, other larger corporations and labor unions, are now allowed to freely contribute directly to political efforts following the Supreme Court's landmark Citizen's United v. Federal Election Commission decision that was handed down earlier this year.
MoveOn.org accuses Target of "trying to subvert the will of the people."
Its members have taken to Target's Facebook page. "It costs Target hundreds of thousands of dollars to buy politicians," a poster under the name Mark Fearing wrote.
Another poster, under the name Scott Fearing, borrowed the retailer's well-known slogan to blast the company, writing, "I 'Expect More' from Target."
Some Facebook users did, however, post messages of support for the company.
A member under the name Eamonn Knuff posted his "opposition to the Moron.org boycott." And a member under the name Stephen Fox wrote, "Still a lot of strong conservatives coming by the page to support Target."
CNN contacted Target but a company spokeswoman said there would be no further response beyond a letter released on Thursday by the retailer's chairman, CEO and president.
In that letter, Gregg Steinhafel apologized to Target managers and other employees for the $150,000 contribution to MN Forward.
"I have heard from many of you, and our team members, over the past week regarding Target's contribution to MN Forward," Steinhafel wrote. "The intent of our political contribution to MN Forward was to support economic growth and job creation."
Meanwhile, pro-gay rights activists are angry with Emmer's staunch anti same-sex marriage stance. They cite Target's contribution to MN Forward, and the group's spending some $200,000 to help Emmer. Activists have gone online, also urging a boycott of the retailer, claiming that a company that prides itself on welcoming all people should not contribute to a group that endorses an anti same-sex marriage candidate.
OutFront Minnesota, a pro-gay rights group based in the state, has posted a letter on its website aimed at Target. While the group praises Target for being a "strong ally" of gays and lesbians in Minnesota, OutFront still urges the company to take back its donation to MN Forward.
"Target should recognize that its support of Representative Emmer's campaign supports his toxic social agenda, significant parts of which involve targeting GLBT [gay, lesbian, bisexual and transgender] people…for discrimination and marginalization," OutFront wrote on its website.
In his letter, the Target chief also said that the contribution "affected many of you in a way I did not anticipate, and for that I am genuinely sorry."
The Target chief added: "We remain fully committed to fostering an environment that supports and respects the rights and beliefs of all individuals."
Emmer's campaign told CNN the candidate has not made gay rights an issue in his campaign and said the situation has been blown out of proportion.
"It's been turned into something else and that's unfortunate," spokesman Brian Walsh said. "The number one issue facing the state of Minnesota is job creation."
MN Forward did not respond to CNN calls for comment.