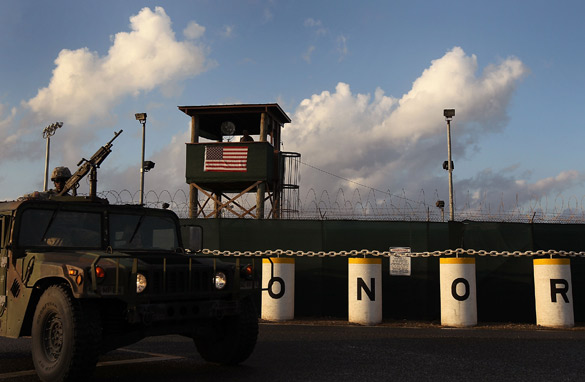 Depending on the time devoted to a variety of motions, the trial of Canadian citizen Omar Khadr could begin as soon as Monday at the Guantanamo Bay detention facility in Cuba. (Photo Credit: Getty Images/File)
Guantanamo Bay, Cuba (CNN) - Final preparations were underway Sunday for what will be the Obama administration's first full military commission hearing, set to begin this week.
A few hours after an 8 a.m. recording of the national anthem that blared across Guantanamo's Camp Justice, attorneys for the Military Commission - both prosecutors and defense attorneys - met with judges to plot out the procedures and schedules of what could play out in the courtroom this week.
Canadian citizen Omar Khadr, the youngest detainee in the U.S. facility at Guantanamo Bay, was captured on the battlefield in Afghanistan in 2002 when he was only 15. Now 23, he is set to go on trial, charged with terrorist acts for al Qaeda and the killing of a U.S. Special Forces soldier.
His Pentagon-appointed lawyer, Lt. Col. Jon Jackson, tried and failed to have the trial stopped - the Supreme Court denied his request Friday. And depending on the time devoted to a variety of motions, the trial could begin as soon as Monday.