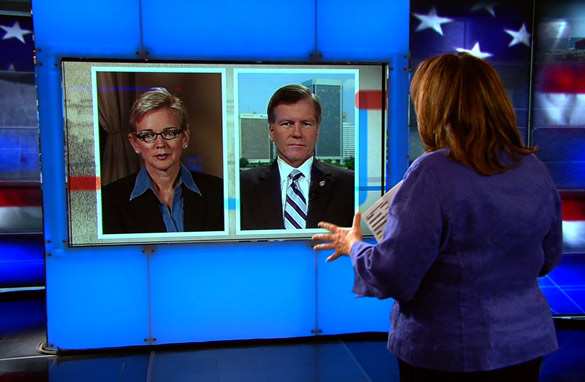 Michigan's Democratic Gov. Jennifer Granholm, left, and Virginia's Republican Gov. Bob McDonnell, right, disagreed Sunday on a number of potential hot-button issues in this November's elections. (Photo Credit: CNN)
(CNN) – In a preview of Democratic and Republican talking points on what are likely to be major issues in this fall's midterm elections, Michigan Gov. Jennifer Granholm and Virginia Gov. Bob McDonnell sparred Sunday in an interview that aired on CNN's State of the Union.
As the House prepares to return early from recess in order to vote on a $26-billion state aid bill passed by the Senate last week, McDonnell, a Republican, slammed the measure as an example of excessive federal spending.
"Well, I think it has to end soon, because the federal government is running out of money," McDonnell told CNN Chief Political Correspondent Candy Crowley. "I mean 14 trillion [dollars in total federal debt], which is $42,000 for every American. Candy, it's an unsustainable level of spending. We cannot continue to be a debtor nation."
The Virginia governor added, "Spending is out of control at a lot of levels of government. We have to live within our means."
McDonnell also told Crowley that some of President Obama's economic stimulus plan had helped his state "in the short run . . . in some of the areas, although we've turned some of it down and made the decisions to make the cuts that are necessary. But we cannot continue to have all the states rely on the federal government."
Gov. Granholm, by contrast, defended the latest state aid bill along with earlier efforts by Capitol Hill to help out cash-strapped state and local governments"There is no doubt that this has been critically important money for us, as we make our way through this recession," Granholm, a Democrat, said of the federal aid her state has received in the recent tough economic times.

While Granholm agreed with McDonnell that, in general, "governments have to cut," Granholm also emphasized that the funds in the latest $26 billion bill will help meet real needs without making the federal government's fiscal situation worse.
"This is not for bureaucracy," the Michigan governor told Crowley. "This is for people - real people who need real help out here. And this bill was entirely funded. Let me say that again - this bill was entirely offset. Everything was paid for. So this doesn't add to the deficit. The Congress found a shrewd way of paying for it. And therefore, it allows states to continue to serve the most vulnerable populations, which is exactly what this is for."
Granholm and McDonnell also disagreed on the issue of same-sex marriage, which has re-entered the legal and political discourse because of a ruling last week by a federal trial judge in California. In the ruling, the court overturned a voter-approved ballot measure which sought to ban same-sex marriage in California by stating that marriage was defined as a union between a man and woman. A federal judge in San Francisco held that the ban violated the constitutional rights of same-sex couples.
"I think the court is wrong to overturn the will of the people," McDonnell, a former Virginia attorney general said. "And I'm hoping that, ultimately, if it gets to the U.S. Supreme Court, they will agree."
But Granholm saw the issue differently.
"This is what the Constitution and the interpretation of the Constitution by the courts is for," said Granholm, who like, McDonnell, was once her state's attorney general. "I mean the judicial branch is not supposed to be a branch that simply ratifies the will of the majority if, in fact, it violates the Constitution."
And Granholm said she would like to see the California decision upheld by higher federal courts.
"And I think the court was courageous. And I'm glad for - for Michigan's sake, I'm glad that it actually happened, because I'd like to see this moved to a higher level and affect more states," she told Crowley.
On health care, McDonnell echoed the arguments Virginia has made in litigation challenging the individual insurance coverage mandate which is at the heart of Democrats' health care law.
"This goes to the heart and soul of our federal system, [to] what the Tenth Amendment means," the Virginia governor told Crowley.
He added, "if the federal government can use the Commerce Clause to tell the citizens of Virginia or Michigan or any other state that they must buy a good or a service and if they don't, they're going to get fined, then there's virtually no limits to federal power. I think this is really - this has more to do with constitutional authority of the federal government than it does with health care."
Asked about continued public opposition to her party's health care law as November's midterm elections approach, Granholm said that doing away with the insurance industry's ability to deny coverage because of pre-existing conditions was "good policy."