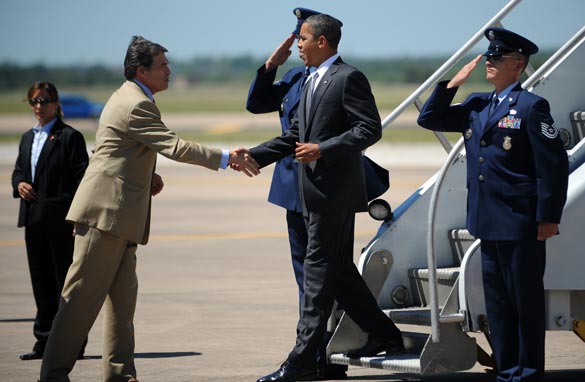 President Obama was greeted by Texas Gov. Rick Perry Monday in Austin. (PHOTO CREDIT: Getty Images)

(CNN) - Governor Rick Perry, R-Texas, greeted President Obama at the base of Air Force One in Austin Monday with a letter requesting 1,000 additional National Guard troops be sent to the Texas-Mexico border amid growing drug cartel violence, claiming federal support so far was "insufficient."
Obama was in Texas for two political fund-raisers and a speech on higher education. Perry's opponent for re-election, Democratic gubernatorial candidate Bill White, did not attend any of Obama's events. A Perry spokesman said the governor would meet Obama at the airport in hopes of pressing his concerns on border security.
Read the full letter here [pdf]
Perry clapped as the president came down the steps of Air Force One at Bergstrom International Airport in Austin. The two shook hands, with the President grasping Perry on the right arm. The pool report said Perry pulled a letter out of suit pocket, handing it to senior White House adviser Valerie Jarrett walking behind the President. Their conversation lasted just a few seconds.
Perry's office a short time later released a copy of the four-page letter to the president, on immigration and border security issues.
Perry called the deployment of National Guard troops to the border so far "clearly insufficient." He wrote, "I respectfully but urgently request that the federal government quickly deploy 1,000 troops to the Texas-Mexico border, as well as additional law enforcement tools and technology. We must show the cartels that Washington will no longer tolerate their terrorizing and criminalizing the border region."
Perry cited recent violence by drug gangs and Mexican cartels in the letter, saying "the need for border security along the Rio Grande should no longer be underestimated by the federal government, Mr. President. An unsecured border is a threat to our national security and to the safety and security of all our citizens."
The Republican Governor also recommended an "expeditious deployment of unmanned aerial vehicles to provide real-time surveillance and intelligence" to law enforcement officers on the border.
Perry repeated an invitation for President Obama, Homeland Security Secretary Janet Napolitano and Defense Secretary Robert Gates to meet with his homeland security staff and local officers.
"Better border security is an issue all Americans can agree on, regardless of political party or ethnic or regional differences", he wrote, "American lives, jobs and safety depend upon a more robust federal commitment to border safety and security".
Aboard Air Force One before Perry's letter was delivered, White House spokesman Bill Burton said, "the president has put more assets on the border to secure the border than has ever previously been there. That includes National Guard troops, technology, things he has done on enforcement. That's something that he is working very hard on."
Playing down the meeting with Perry, Burton said, "you know these tarmac greets with elected officials, Governor Perry will be there. It will probably be a very brief conversation."
But Burton said the White House was willing to discuss border security issues with Perry, noting, "We've been in contact with Governor Perry. I know that our staff has contacted him for meetings and briefings to discuss the matter, and it's something that we will continue to work on with them. Today, the schedule just didn't allow it."