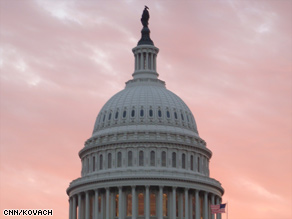 The CNN Washington Bureau's morning speed read of the top stories making news from around the country and the world.
WASHINGTON/POLITICAL
For the latest political news: www.CNNPolitics.com
CNN: House returns from summer break this week to pass state-funding bill
The House of Representatives will be back in session this week to take up a $26 billion bill designed, in part, to help avoid teacher layoffs. The House will huddle on Monday, but members aren't expected to vote on the measure until Tuesday.
CNN: Woman to head major intelligence agency for the first time
At least a chunk of the glass ceiling will come tumbling down Monday when Letitia "Tish" Long becomes the first woman to head a major intelligence agency. Long, who has spent 32 years in government service including more than two decades in the intelligence community, will take over as director of the National Geospatial-Intelligence Agency (NGA), the office responsible for collecting and analyzing overhead imagery and geospatial information.
CNN: Kagan takes oath, prepares for several high-profile cases
Elena Kagan, building on a long, diverse legal career in government and academia, was officially sworn in as the 112th justice at the Supreme Court on Saturday, promising to "faithfully and impartially" discharge her new judicial duties.
CNN: Boehner: Changing 14th Amendment 'worth considering'
Changing the Constitution's guarantee of U.S. citizenship for anyone born in the United States is "worth considering" if it helps reduce illegal immigration, the Republican leader in the House of Representatives said Sunday. "It's a serious problem that affects our country, and in certain parts of our country clearly our schools, our hospitals are being overrun by illegal immigrants. A lot of them came here just so their children could become U.S. citizens. They should do it the legal way," House Minority Leader John Boehner told NBC's "Meet the Press."
Dallas Morning News: Obama visiting Dallas today to raise campaign cash
Texas has mainly provided a thorn in Barack Obama's side. The governor taunts him. The senators defy him. He lost the state by nearly 1 million votes in 2008. When the president lands today to raise campaign cash in Austin and Dallas, even the Democratic nominee for governor will make himself scarce. Yet many Texas Democrats are thrilled.
Politico: FLOTUS's star power in demand
With midterm elections looming, the White House has started debating how to unleash an untapped political weapon: Michelle Obama. And just as the Bush administration used Laura Bush on the mid-terms stump, all signs say the White House will likely deploy Obama to help Dems keep the majority in both chambers.
Washington Post: In Harlem, Rangel faces Powell: The next generation
Forty years ago, a Harlem political legend named Adam Clayton Powell Jr. refused to step down from his House seat in the face of an ethics scandal. Rather than allowing Powell to retire on his own time, an ambitious New York assemblyman took on the incumbent - and won. Now the onetime assemblyman, Rep. Charles B. Rangel (D-N.Y.), finds himself charged with 13 violations of ethics rules of the House of Representatives. He is being challenged by a state assemblyman named Adam Clayton Powell IV, the youngest son of the man Rangel vanquished in 1970. There is, suffice it to say, no shortage of irony to the contest.
CQ Politics: New Hampshire May See First All-Female Delegation
There is an unusual storyline playing out between the endorsements, fundraisers and political attacks in New Hampshire. When the 112th Congress convenes in January, the Granite State could be represented by the nation's first all-female Congressional delegation.
Denver Post: Romanoff scoffs at Washington-backed Bennet; Bennet heads to plains
Andrew Romanoff's T-shirt shop has been working overtime in the last weeks of his insurgent campaign for U.S. Senate, churning out thousands of dark-blue "Teachers for Romanoff" and "Nurses for Romanoff" jerseys. The one shirt you won't see between now and Tuesday's Democratic primary is "Establishment for Romanoff," and that's just the way the former House speaker's campaign seems to like it.
Pittsburg Post-Gazette: Third-party candidates may be key in Pa. governor's race
In recent decades, no independent candidate has mounted a credible challenge for a statewide office in Pennsylvania. And unlike the 2000 presidential race in Florida, it's hard to make a case that any third party on the ballot has influenced the outcome of a statewide contest in recent decades. But in this year's race for governor, the lineup of candidates who have apparently qualified for the ballot suggests a scenario that could, in a tight race, hurt the Republican front-runner, Attorney General Tom Corbett.
Wall Street Journal: In Georgia, Candidates Tack Right
Former Alaska Gov. Sarah Palin is expected in Georgia Monday to stump for her candidate in the state's hotly disputed GOP gubernatorial primary on Tuesday—a race in which red-meat conservative issues like gay marriage and abortion have taken center stage. Ms. Palin is working, to the surprise of some in the GOP, to elect former Georgia Secretary of State Karen Handel, a relatively centrist Republican from metro Atlanta who is opposed by the state's most influential anti-abortion group and who local gay activists once considered an ally.
New York Times: Lamont Moves to Center in Connecticut Race
When Ned Lamont waged an insurgent antiwar campaign in 2006 against Senator Joseph I. Lieberman, he electrified Hollywood celebrities, rattled the Democratic establishment, melted bloggers and was nicknamed "the darling of the left." These days they barely recognize him.
NATIONAL
For the latest national news: www.CNN.com
Wall Street Journal: U.S. to Sell F-15s to Saudis
The Obama administration plans to sell advanced F-15 fighter jets to Saudi Arabia but won't equip them with long-range weapons systems and other arms whose inclusion was strongly opposed by Israel, diplomats and officials said. The proposed $30 billion, 10-year arms package, which would be one of the biggest single deals of its kind, has been a source of behind-the-scenes tension during months of negotiations. Israeli officials have repeatedly conveyed their concerns in private that the U.S. risks undermining its military advantage by equipping regional rivals with top-flight technologies.
New York Times: Students Spared Amid an Increase in Deportations
The Obama administration, while deporting a record number of immigrants convicted of crimes, is sparing one group of illegal immigrants from expulsion: students who came to the United States without papers when they were children.
INTERNATIONAL
For the latest international news: http://edition.cnn.com
CNN: Two more victims of Afghan attack identified
The U.S. Embassy in Kabul has been identified two more victims from the attack on 10 multinational medical aid workers in Afghanistan. Six Americans, two Afghans, a Briton and a German were shot and killed Thursday by gunmen in Badakhshan, a remote northeastern region of the country, said Dirk Frans, the director of the International Assistance Mission. Two other Afghans on the team were alive, Frans said.
CNN: Captured as a teen, youngest Gitmo prisoner prepares to face trial
The youngest detainee in the U.S. facility Guantanamo Bay is set to go to trial this week, charged with terrorist acts for al Qaeda and the killing of a U.S. Special Forces soldier. The Pentagon-appointed lawyer for Canadian citizen Omar Khadr said he didn't know whether Khadr would be in court Monday. The day will be devoted to dealing with motions, said defense lawyer Lt. Col. Jon Jackson.
CNN: Indonesian cleric arrested for the third time
Cleric Abu Bakar Bashir was arrested Monday - the third time Indonesian authorities have taken into custody the religious leader known for his anti-Western rhetoric. Police said Bashir funded and approved of a potential terror plot to attack the national police headquarters, several unnamed embassies and hotels in Jakarta.
CNN: Rwandans hit the polls in presidential election
Voters in Rwanda went to the polls Monday in the country's second presidential election since the 1994 genocide. Polls opened at 12 a.m. ET and will close at 12 p.m. ET. While results aren't expected until Wednesday, President Paul Kagame is expected to retain power.
CNN: Inquiry into Israeli flotilla raid begins
Israel launched an inquiry Monday into the raid on the Turkish ship Mavi Marmara, in which nine people were killed. Prime Minster Benjamin Netanyahu defended Israel's actions in testimony before the commission, saying the blockade of Gaza was legal. Netanyahu said there was no humanitarian crisis in the Palestinian territory, because goods were able to enter through land-based access points.
Washington Post: Concerned about China's rise, Southeast Asian nations build up militaries
The nations of Southeast Asia are building up their militaries, buying submarines and jet fighters at a record pace and edging closer strategically to the United States as a hedge against China's rise and its claims to all of the South China Sea. Weapons acquisitions in the region almost doubled from 2005 to 2009 compared with the five preceding years, according to data released by the Stockholm International Peace Research Institute this year.
CNN: Venezuela, Colombia president to meet to end dispute
Venezuelan President Hugo Chavez and newly elected Colombian President Juan Manuel Santos will meet Tuesday for talks to try to end a diplomatic dispute between the nations, according to Santos' website. Venezuela last month broke off diplomatic relations with Colombia, after the latter claimed that rebels from the Revolutionary Armed Forces of Colombia (also known as FARC) and National Liberation Army (ELN) have camps in Venezuela. Venezuela has denied the allegations.
CNN: 500 missing, 145 dead in India flooding
Rescue workers in India continued to search for more than 500 people missing after flash floods and landslides struck a northern town, state-run media reported Sunday. The death toll from the devastation has risen to 145 people, according to the official Press Trust of India.
CNN: More rains hit Pakistan as aid agencies boost relief efforts
Heavy downpours worsened massive flooding in Pakistan on Sunday as aid agencies increased relief efforts to help the about 12 million people affected in much of the country. The flooding, which started in the northwest, threatened places as far south as the port city of Karachi.
CNN: South Korea: North Korea seized fishing boat
A South Korean fishing boat in the Sea of Japan and its seven crew members are being held by North Korea, according to reports in South Korea. North Korean state media is reporting that the crew was "detained."
BUSINESS
For the latest business news: www.CNNMoney.com
CNNMoney: Wall Street: Eyes on the Fed
As the euphoria of corporate earnings season fades, the stock market could drift in a narrow range this week as investors come to grips with the prospect of a sluggish economic recovery. The main event will be Tuesday's policy statement from the Federal Reserve. While the central bank is widely expected to maintain its long-held policy of near zero interest rates, there is speculation the Fed may hint at additional plans to support the economy.
Financial Times: US to pay big sums for Wall St tip-offs
New US whistleblowing incentives within the Dodd-Frank financial reform act – that could net informants multimillion dollar pay-outs – are likely to generate a surge in allegations against US-listed companies and Wall Street banks, lawyers say.
Wall Street Journal: Deepwater Drillers Face Labor Dilemma
The oil industry is wrestling with how to address the pervasive problem of undertrained and overstretched workers on deepwater rigs as federal investigators probe those issues in the Deepwater Horizon catastrophe. As the number of huge, high-tech drilling rigs has soared in recent years, finding and keeping experienced staff has become a growing challenge for the offshore industry, experts say. The world's largest drilling contractor, Transocean Ltd., faced staffing problems long before its Deepwater Horizon rig exploded in the Gulf of Mexico in April, according to documents reviewed by The Wall Street Journal.
In Case You Missed It
CNN's Candy Crowley reflects about BP's response to the Gulf oil disaster with retired Adm. Thad Allen.
http://www.cnn.com/video/#/video/politics/2010/08/08/sotu.allen.grades.cnn
The first military tribunal under the Obama administration involving a Guantanamo detainee is scheduled to begin.
http://www.cnn.com/video/#/video/crime/2010/08/08/meserve.gitmo.advancer.cnn
Subscribe to the CNN=Politics DAILY podcast at http://www.cnn.com/politicalpodcast
And now stay posted on the latest from the campaign trail by downloading the CNN=Politics SCREENSAVER at http://www.CNN.com/situationroom