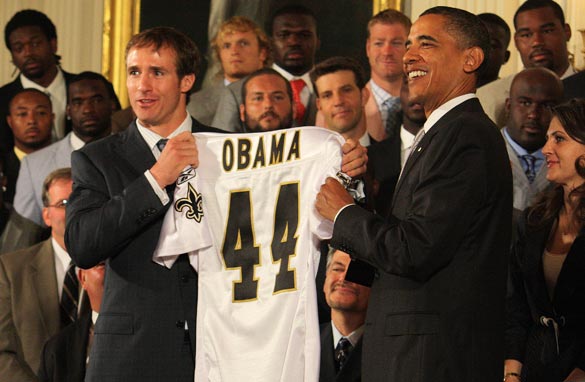 President Obama welcomed the Super Bowl champion New Orleans Saints to the White House Monday. (PHOTO CREDIT: Emily Schultze/CNN)

Washington (CNN) – The New Orleans Saints had the customary White House visit for Super Bowl victors Monday but not without showing support for their gulf coast region-including an offensive lineman making a surprise visit to the White House briefing room with a platter of his tasty barbeque shrimp from Louisiana.
Looking to highlight the plight of Gulf Coast fishermen, Zack Strief hooked up with the White House chef and used a special family recipe to cook up a tasty dish to then be sampled by the White House press corps.
In the East Room earlier, President Obama saluted the team for their Super Bowl victory, and for the emotional boost it gave a city ravaged by hurricane Katrina.
"This team took the hopes and the dreams of a shattered city and placed them squarely on its shoulders," the President said during remarks in the White House East Room, adding that "not only did the team come back, it took its city's hands and helped its city back on its feet."
See video of the visit after the jump:

The team, led by Super Bowl MVP quarterback Drew Brees, Coach Sean Payton, and owner Tom Benson, was serenaded by the United States Marine band's rendition of 'When the Saints go Marching In.'
Mr. Obama also touched on the BP oil spill, a man-made disaster with devastating results for the gulf region, and political implications for the administration. "We learned that a procedure to prevent anymore oil from spilling with a cement plug appears to have succeeded, " he said. "What is clear is that the battle to stop the oil from flowing into the gulf is just about over."
The Saints posed for pictures with the President, presented him with a number 44 team jersey and watched from the south lawn as Mr. Obama departed on Marine One for a fundraiser and education event in Austin, Texas.
Then Strief, the massive offensive lineman, walked in and treated the press to his shrimp dish.
Touchdown!!!