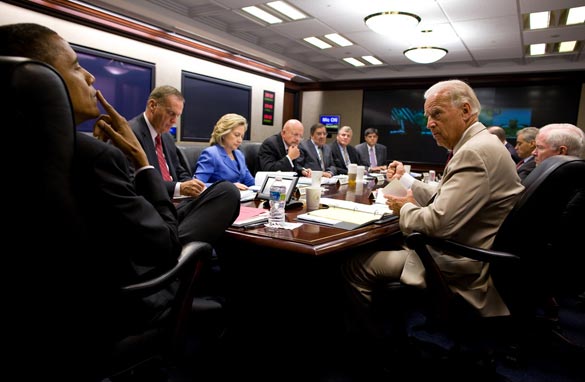 President Obama meets with his national security team on Wednesday. (PHOTO CREDIT: Pete Souza/White House)

President Barack Obama met behind closed doors with his national security team Wednesday to review the ongoing U.S. engagement in Iraq, according to the White House.
Obama met with Vice President Joe Biden, Secretary of State Hillary Clinton, Defense Secretary Robert Gates, National Security Advisor Gen. Jim Jones and CIA Director Leon Panetta, among others.
Plans to reduce the total number of American troops in Iraq to 50,000 by the end of this month are on schedule, Obama announced last week.  At that point, the U.S. military mission will shift to training and supporting Iraqi security forces, as well as support for U.S. diplomats.

A full withdrawal of U.S. troops is scheduled to occur by the end of next year.
Nothing was brought up during Wednesday's meeting that will delay the planned transition, according to White House Press Secretary Robert Gibbs.  The administration remains "on target" to end the combat mission, he said.
The war in Iraq "is nearing an end," Obama said on August 2.  "As a candidate for president, I pledged to bring the war in Iraq to a responsible end. And that is exactly what we are doing."
But while the U.S. military commitment in Iraq is now nearing a conclusion, the president warned, there is still danger there for U.S. troops on the ground.
"The hard truth is, we have not seen the end of American sacrifice in Iraq," Obama said. "But make no mistake, our commitment in Iraq is changing - from a military effort led by our troops to a civilian effort led by our diplomats."
Obama provided a largely optimistic assessment of the U.S. effort, saying violence there is currently "near the lowest it's been in years."
But Iraqi officials released data a couple of weeks ago indicating that July was the deadliest month for civilians since May 2008.  The Iraqi government reported that 396 civilians, 50 Iraqi soldiers and 89 police officers were killed.  Iraqi officials also said 100 so-called "terrorists" were killed, and 955 others were detained.

The U.S. military has disputed the Iraqi figures, saying the actual numbers are less than half what Iraq's government reported.
The drawdown of U.S. forces from Iraq is taking place against the backdrop of Obama's decision to escalate the war in Afghanistan - a decision which has been criticized by some of the more liberal members of his own party.