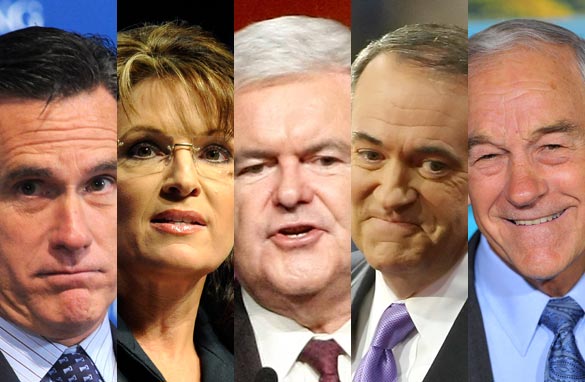 Mitt Romney, Sarah Palin, Newt Gingrich, Mike Huckabee and Ron Paul (left to right) top a list of potential 2012 GOP contenders, according to a new CNN poll.(PHOTO CREDITS: Getty Images)

Manchester, New Hampshire (CNN) - Less than three months before the unofficial start of the next race for the White House, a new national poll suggests there is no frontrunner for the 2012 Republican presidential nomination.
But a CNN/Opinion Research Corporation survey released Friday also indicates that the eventual GOP nominee would have the edge over President Barack Obama if the election were held today.
According to the poll, when asked to choose among a list of nine potential GOP White House hopefuls, 21 percent of Republicans support former Massachusetts Gov. and 2008 Republican presidential candidate Mitt Romney for their party's 2012 nomination, with former Alaska Gov. Sarah Palin at 18 percent. Romney's three point advantage over the 2008 GOP vice presidential nominee is within the survey's sampling error.

The poll indicates that former House Speaker Newt Gingrich is in third place at 15 percent, one point ahead of former Arkansas Gov. and 2008 presidential candidate Mike Huckabee. Rep. Ron Paul, who also made a bid for his party's nomination last time around, is at ten percent, with Mississippi Gov. Haley Barbour, Minnesota Gov. Tim Pawlenty, and Rep. Mike Pence of Indiana at three percent and former Sen. Rick Santorum of Pennsylvania at two percent.
"More than half of all Republicans we questioned consider themselves Tea Party supporters or active members of the Tea Party movement," says CNN Polling Director Keating Holland. "Romney tops the list among Tea Party Republicans; Gingrich is next on that list and Palin is in third."
The survey's release comes as Gingrich speaks Friday at the Iowa State Fair, a tradition for presidential hopefuls. Pawlenty stopped by the fair on Thursday. And the poll's release comes one day after Romney headlined a fundraiser for New Hampshire Republicans, his second in the state in the past week.
Of all the possible contenders for the next GOP presidential nomination, Romney appears to have the strongest organization at the moment. According to a spokesman, his political action committee has endorsed over 150 Republican candidates and contributed more than $400,000 to conservative candidates and causes this cycle.
For Democrats, the poll indicates the choice is much clearer, with nearly three-quarters of them saying they would re-nominate Obama if he runs again. Only 57 percent of Democrats said the same thing about President Bill Clinton in 1994, half way through his first term in office.
But according to the survey, if the presidential election were held today, an unnamed Republican candidate would have a 50 to 45 percent advantage over Obama among registered voters.
"That's far from a prediction of an Obama loss in 2012. Bill Clinton faced a 15-point deficit on this question in 1994 and went on to win re-election two years later; the elder George Bush had a 19-point edge the year before the 1992 election and lost," adds Holland.
The poll indicates the standard partisan differences, but among independent voters, Obama trails the GOP candidate by 13 points. The president has a nine point advantage among women voters, with the Republican ahead by 19 points among men. Obama has a 24 point advantage among urban voters, with an eight point deficit among suburban voters and trails by 12 points among rural voters.
Eight in ten people who say they are members or supporters of the Tea Party movement would vote for the Republican candidate over Obama, with six in ten of all Americans who don't support the Tea Party movement saying they would pick Obama.
"The demographics of the Tea Party movement explain that gap," says Holland. "Nearly four in ten white men say they are members or supporters of the Tea Party, compared to 26 percent of white women and 15 percent of non-whites."
The CNN/Opinion Research Corporation poll was conducted August 6-10, with 1,009 adult Americans, including 494 Republicans and 458 Democrats, questioned by telephone. The survey's overall sampling error is plus or minus three percentage points.