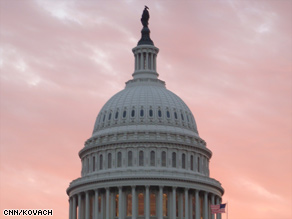 The CNN Washington Bureau's morning speed read of the top stories making news from around the country and the world.
WASHINGTON/POLITICAL
For the latest political news: www.CNNPolitics.com
CNN: Obama to sign bill approving $600 million for border security
President Barack Obama will sign a bill Friday that provides $600 million in emergency funding to help secure the U.S.-Mexico border. A day earlier, two senators - Democrats Charles Schumer of New York and Ben Cardin of Maryland - returned from their August recess to give the chamber's approval for the bill. The House of Representatives had already approved the measure.
CNN: Petraeus wants to set record straight on July 2011
One of the key goals of the new commander in Afghanistan, Gen. David Petraeus, is to try to settle the debate on the significance of the July 2011 date, according to an International Security Assistance Force official familiar with Petraeus' thinking.
Washington Post: Pentagon push to phase out top brass causing much consternation
Of all the spending cuts and budget battles the Pentagon is confronting, none is causing more angst than Defense Secretary Robert M. Gates's vow to start getting rid of generals and admirals. By almost any measure, the military is more top-heavy an institution than it has been for decades. Today, there are 40 four-star generals and admirals - one more than in 1971, during the Vietnam War, even though the number of active-duty troops has shrunk by almost half. The number of active-duty generals and admirals of all rank, meanwhile, has increased by about 13 percent since 1996.
CNN: Obama to visit Gulf Coast to assess economic impact on businesses
President Barack Obama and his family will travel to the Gulf Coast this weekend to support businesses that rely on tourists but have been devastated by the oil disaster. The family will leave Saturday morning for Panama City Beach, Florida.
Los Angeles Times: Working for Grandma Waters on Capitol Hill
Many people who encounter Mikael Moore, the chief of staff for Rep. Maxine Waters, see a typical Capitol Hill aide: a young, serious, BlackBerry-toting workaholic in a business suit with an intense belief in the importance of his work. If they know he is also Waters' grandson, making him a rarity in Congress, it is not because he talks about it much, if at all. Moore's family ties to the powerful Los Angeles Democrat became better known last week when the House Ethics Committee noted their relationship in charging Waters with ethics violations for her work on behalf of a minority-owned bank during the 2008 financial crisis. He was not accused of any wrongdoing.
CNN: Rangel dismisses critics, pledges tough re-election fight
U.S. Rep. Charlie Rangel, D-New York, under fire for alleged financial wrongdoing and harming the credibility of Congress, renewed his demand Thursday for a hearing before the House ethics committee. The beleaguered 20-term congressman, stumping for votes in his Harlem district, also dismissed his upcoming Democratic primary opponents and pledged to run a tough re-election race over the next month.
CNN: CNN Poll shows big similarities between 2010, 1994
When it comes to the political landscape three months before the midterm elections take place, is everything that's old new again? A new CNN/Opinion Research Corporation survey paints a picture that is markedly similar to that of August, 1994, when few people predicted that in only three short months the Republican Party would snatch 54 seats from the Democrats and wrestle control of the House from the beleaguered party.
Bloomberg: Palin Joins Armey as Republicans Aid Tea Party Takeover
The pitch came at the end of Rand Paul's conference call with 2,000 potential supporters: Go online to donate to Paul, the Kentucky Republican Senate candidate who is courting Tea Party activists. Or press seven to give $25 to FreedomWorks, the advocacy organization headed by former House Majority Leader Dick Armey that sponsored the July 13 call, said Matt Kibbe, the group's president. Even as candidates such as Paul tout their anti- establishment credentials, much of their financial clout comes from veteran Republicans such as Armey, former Alaska Governor Sarah Palin, South Carolina Senator Jim DeMint and onetime U.S. Representative Chris Chocola, who aim to reshape their party.
The Hill: Ron Paul could play spoiler in 2012 race
Rep. Ron Paul (R-Texas), a two-time presidential contender, could wreak havoc for Republicans if he decides to make a third-party or independent bid for president in 2012. New numbers from Public Policy Polling show Paul winning 13 percent of the vote in a hypothetical three-way general election contest with President Obama and former Massachusetts Gov. Mitt Romney (R).
CQ Politics: DeMint's New Focus: Directing Dollars To Favored Candidates
Sen. Jim DeMint ran up a successful record with the candidates he endorsed in Republican primaries. Now he's shifting his focus to the general election and preparing to support his favored Senate nominees with new and expanded fundraising initiatives.
Albany Times Union: CPI schedules hearing on Yankees ticket scandal
The Commission on Public Integrity has scheduled a public hearing at 9:30 a.m. Tuesday at its offices in downtown Albany into the Yankees tickets mess involving Gov. David Paterson and his troublesome aide David Johnson. In early March, the CPI released a notice of reasonable cause that concluded Paterson had testified falsely under oath about the effort to obtain the World Series tickets and an alleged subsequent effort to paper it over with a backdated check. Paterson responded by saying the commission was being unfair.
Charleston Post and Courier: S.C. to spend $2.4 million on weight loss surgeries for state workers
South Carolina lawmakers think they can ultimately save cash by paying up-front for 100 obese state workers to have weight loss surgery that can cost up to $24,000 a pop. The state Budget and Control Board voted today to approve a pilot program, authorized by the state Legislature, to spend $2.4 million on gastric bypass and Lap-Band surgery for the state's heaviest employees, under the state health plan. The surgeries will be offered after Jan. 1 and be divided among the state's regions on a first come, first served basis.
Denver Post: Bennet, Romanoff join hands, shift target to GOP's Buck
Sen. Michael Bennet used a Democratic unity rally to take his first detailed shots Thursday against his Republican opponent, calling Ken Buck out on Social Security, student loans and tax breaks for the wealthy.
Houston Chronicle: Governor's race more like 'game of chicken'
Suggesting his opponent has something to hide, Gov. Rick Perry said Thursday he will not budge on his refusal to debate unless Democrat Bill White releases more income tax returns. The Republican governor said he will not meet with newspaper editorial boards, either – the same approach he took in the GOP primary. White hit back, saying his financial records are more readily available than Perry's and that he will be happy to debate an empty chair if necessary. He said Perry's "handlers" simply do not want him to answer questions.
Las Vegas Sun: No more Mr. Meek: Reid forces Sandoval's hand with challenge
The governor's race has so far been Brian Sandoval's to lose. While Rory Reid leads in fundraising, by more than $2 million at last count, Sandoval has consistently led in the polls by double-digit margins. On Wednesday, during the candidates' first appearance together, Reid attempted to abruptly change the dynamic of the race with an uncharacteristically bold maneuver. Reid, the Democrat, and Sandoval, the Republican, were scheduled to deliver separate keynote speeches to the Nevada Subcontractors Association. Instead, Reid stepped up to the stage and challenged a stunned Sandoval to a debate.
New York Post: Sen. Lautenberg, 86, has gone totally Gaga
Apparently, Pat Boone was busy. New Jersey Sen. Frank Lautenberg - the oldest living US senator - is planning to host a fundraiser at a Lady Gaga concert in Washington, DC, it was reported yesterday. The 86 year-old "Little Monster," as Gaga calls her fans, sent an e-mail to his supporters inviting them to the "Senator Frank R. Lautenberg & Lady Gaga - the Monster Ball Tour" on Sept. 7 at the Verizon Center.
Miami Herald: Hispanic backlash over law targeting migrants
Republican gubernatorial candidate Bill McCollum sought damage control Thursday as prominent Hispanic supporters fumed over him spearheading legislation that's even tougher than Arizona's new crackdown on illegal immigration. McCollum hastily arranged a conference call with his Hispanic leadership team late Thursday, calling them the "backbone" of his campaign and acknowledging that they had concerns about his stance.
St. Petersburg Times: Jeff Greene brushes off raucous party boat tales
[Jeff] Greene tends to get testy when reporters ask him about celebrity pals like Tyson and Hollywood madam Heidi Fleiss or what Vanity Fair called a Moroccan "love den" in one of his California mansions. Nor does he hide his annoyance when reporters ask him about former Summerwind employees describing the yacht as a party palace. Or about Summerwind allegedly damaging reefs in Belize or visiting the normally off-limits Cuba (first described as a Jewish humanitarian mission and later as a stop for repairs). "There's a million people not working in Florida. Why are we talking about the yacht all the time?" Greene said in a recent interview. "I care too much about my country to spend all my time talking about a yacht and Mike Tyson. Nobody cares about that except you." Kendrick Meek says he cares and so do Florida voters.
San Jose Mercury News: Boxer says voters 'grumpy' about sputtering economy
Facing the toughest re-election fight of her career, three-term U.S. Sen. Barbara Boxer attributed her sagging approval rating to voters who are "grumpy" about the sputtering economy and an opponent, Republican nominee Carly Fiorina, who "doesn't have a job" and spends her time "going around the state trashing me in every way possible."
NATIONAL
For the latest national news: www.CNN.com
CNN: WikiLeaks preparing to release 15,000 more Afghanistan documents
The founder of WikiLeaks said Thursday the whistle-blower website is preparing to release another roughly 15,000 documents about the war in Afghanistan. "We are about halfway through them," Julian Assange told reporters in London, England. "This is a very expensive process." The Pentagon on Thursday warned WikiLeaks against releasing more documents. "It would compound a mistake that has already put far too many lives at risk," said Geoff Morrell, deputy assistant secretary of defense for public affairs.
CNN: Israeli, arrested at airport, is suspect in Michigan killings
A 33-year-old Israeli citizen was charged with assault with intent to murder in Michigan Thursday in connection with 18 stabbings that left five people dead across three states, according to a Michigan prosecutor. Elias Abuelazam was arrested Wednesday night at Hartsfield Jackson International Airport in Atlanta, Georgia. Abuelazam was trying to board a flight to Israel when he was taken into custody, police said Thursday.
CNN: Judge gives green light for same-sex marriage in California
A federal judge ruled on Thursday to allow same-sex couples to marry in California, starting on August 18, handing another victory to supporters of gay rights in a case that both sides have said is likely to end up in the U.S. Supreme Court. Chief U.S. District Judge Vaughn Walker in San Francisco struck down the state's ban on same-sex marriage last week, ruling that voter-approved Proposition 8 violates the U.S. Constitution. Walker had issued a temporary stay on his decision, which on Thursday he said he would lift.
Boston Globe: Patients' files left at public dump
Four Massachusetts community hospitals are investigating how thousands of patient health records, some containing Social Security numbers and sensitive medical diagnoses, ended up in a pile at a public dump. The unshredded records included pathology reports with patients' names, addresses, and results of breast, bone, and skin cancer tests, as well as the results of lab work following miscarriages.
CNN: Blagojevich jury agrees on two counts, but not on others
A federal jury weighing the fate of former Illinois Gov. Rod Blagojevich in his corruption trial told the judge on Thursday it has reached unanimous agreement on two of the 24 counts, but cannot agree on 11 others and has yet to consider the rest.
http://www.cnn.com/2010/CRIME/08/12/illinois.blagojevich.jury/index.html
INTERNATIONAL
For the latest international news: http://edition.cnn.com
CNN: Defense attorney for Gitmo's youngest detainee hospitalized
The defense lawyer for Omar Khadr, accused of assembling and planting roadside bombs targeting American troops in Afghanistan, collapsed during testimony Thursday and was hospitalized. It was unclear whether Lt. Col. Jon Jackson's illness will delay the terrorism trial.
Wall Street Journal: Pakistan Fight Stalls for U.S.
The U.S. military has stopped lobbying Pakistan to help root out one of the biggest militant threats to coalition forces in Afghanistan, U.S. officials say, acknowledging that the failure to win better help from Islamabad threatens to damage a linchpin of their Afghan strategy. Until recently, the U.S. had been pressing Islamabad to launch major operations against the Haqqani network, a militant group connected to al Qaeda that controls a key border region where U.S. defense and intelligence officials believe Osama bin Laden has hidden. …But military officials have decided that pressing Pakistan for help against the group—as much as it is needed—is counterproductive.
CNN: Pakistani president finally visits flood-affected areas
At the peak of Pakistan's relentless downpours, a year's worth of rain fell in a day, disrupting the lives of 15 million men, women and children across the country. They might have otherwise have been celebrating fast-breaking feasts every evening during the Muslim holy month of Ramadan. And in two days, they might have celebrated independence - Pakistan was partitioned off from India on August 14, 1947, a date observed with immense national pride. Instead, Pakistanis this year will be surrounded by the effects of the worst natural calamity since its creation, immersed literally in a uniquely dynamic disaster unlike anything they have seen before. Thursday, almost two weeks into the crisis, President Asif Ali Zardari finally got a firsthand look.
Jerusalem Post: Israel aims to be space superpower
Prime Minister Binyamin Netanyahu is set to approve an ambitious plan to turn Israel into a satellite superpower. According to details obtained by The Jerusalem Post, the aim is to increase sales of Israeli space platforms to nearly $8 billion a year. The multi-year plan calls for the government to annually increase support for space research and development by several hundred million shekels. This investment would focus on new platforms – primarily Israel's niche market in "mini satellites" – intended to yield billions in sales.
CNN: Myanmar junta sets election date of Nov. 7
Myanmar will hold general elections on November 7, the Myanmar National Radio announced Friday. The vote will be the first since 1990 when Nobel peace laureate Aung San Suu Kyi's party won a landslide victory - a result that the country's military junta refused to recognize. Myanmar, formerly known as Burma, has been under military rule since 1962.
New York Times: Iran Shows What It Says Is Murder Confession
Iranian state television has broadcast what it portrayed as a murder confession by a woman who had been sentenced to death by stoning on adultery charges, in an unusual effort to deflect criticism of a case that has drawn international protests and an offer of asylum from the president of Brazil. The woman's videotaped statement, broadcast Wednesday night, was part of an extraordinary prime-time program — including interviews with a prosecutor and the woman's friends and family — that suggested that the international uproar had put Iranian officials on the defensive, and left them struggling to defend their case for both domestic and international audiences.
Bloomberg: Canada Navy Boards Sri Lankan Ship at Sea With 490 Aboard
Canada's Navy boarded a cargo ship carrying possible Sri Lankan refugees off the coast of British Columbia to determine whether any criminals or terrorists are on board, Public Safety Minister Vic Toews said.
BUSINESS
For the latest business news: www.CNNMoney.com
CNNMoney: BP pays $50 million to settle safety citations
Federal regulators said Thursday that BP will pay a record $50.6 million fine for failing to correct safety issues at its Texas City refinery, where an explosion in 2005 killed 15 workers and injured scores more.
BBC News: Eurozone due to post positive GDP
Growth figures due to be released for the Eurozone area are expected to show signs of recovery, despite the region being rocked by the Greek debt crisis. Germany, France and Spain are all set to publish details of their gross domestic product (GDP) for the second quarter of the year.
CNNMoney: GM getting a new CEO – again
General Motors is getting its fourth CEO in just under 18 months, as the company announced that Ed Whitacre will leave the post Sept. 1, to be succeeded by another auto industry outsider, former Nextel Communications CEO Dan Akerson. The move comes on the same day the automaker reported its best quarterly profit in six years, and with a filing expected within days to detail plans to bring the company public again.
CNNMoney: A surprise tax cut for the (almost) rich
Worried about your taxes going up next year? They might for some high earners. But some not-quite-rich taxpayers could end up with a surprise tax cut. If the Bush tax cuts expire for the nation's top earners, people making a pinch less than the wealthiest Americans, who don't quite qualify for the new top two tax brackets, could find themselves in an even lower bracket next year.
In Case You Missed It
CNN's Barbara Starr looks at whether Pakistan's government can withstand the crisis created by widespread flooding.
http://www.cnn.com/video/#/video/world/2010/08/12/starr.us.pakistan.aid.cnn
Subscribe to the CNN=Politics DAILY podcast at http://www.cnn.com/politicalpodcast
And now stay posted on the latest from the campaign trail by downloading the CNN=Politics SCREENSAVER at http://www.CNN.com/situationroom