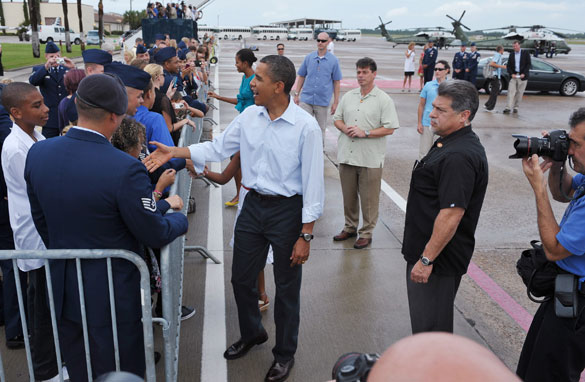 President Obama and first lady Michelle Obama greet a crowd upon their arrival in Florida. (PHOTO CREDIT: GETTY IMAGES)
(Updated 2:20 p.m. ET)
Panama City, Florida (CNN) - On a visit to the Gulf Coast Saturday, President Barack Obama said that while the gushing undersea BP oil well had been capped, the administration remains committed to ensuring a full cleanup and recovery for those crippled by the disaster.
"I'm here to tell you our job is not finished and and we are not going anywhere until it is," Obama said after meeting with government and business leaders in Panama City, Florida.
"That's a message I wanted to come here and deliver directly to the people along the Gulf Coast," he said. "Because it's the men and women of this region who have felt the burden of this disaster, who have watched with anger and dismay as their livelihoods and way of life were threatened these past few months."
Obama arrived in Florida on Saturday, his fifth visit to the Gulf Coast since the start of the oil disaster, with his wife, Michelle, and daughter Sasha. He will spend the weekend on the coast in a trip intended to relay long-term support for economically devastated areas.