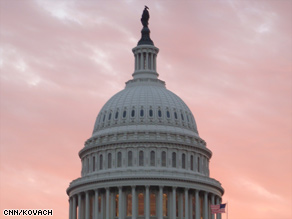 The CNN Washington Bureau's morning speed read of the top stories making news from around the country and the world.
WASHINGTON/POLITICAL
For the latest political news: www.CNNPolitics.com
CNN: Races in Washington state, Wyoming top Tuesday's primaries
Voters in Washington state and Wyoming hold primaries Tuesday, with the Senate contest in Washington and a battle for the open Wyoming governor's seat the most closely watched races of the day. In Washington, Democratic Sen. Patty Murray and Republican candidate Dino Rossi are expected to emerge from a crowded primary field, setting up a November showdown. Under the state's system, the two candidates who receive the most votes regardless of party affiliation move on to the general election. Voting has been underway for two weeks, with Washington primarily a mail-in ballot state.
CNN: Ex-Rep. Tom DeLay says long-running investigation ends with no charges
The long-running federal criminal investigation of former House Majority Leader Tom DeLay has been closed, and no charges will be brought, DeLay said Monday. "As you can imagine, it's a great day for me and my family," DeLay told reporters in a telephone conference call. The Justice Department, as is standard practice, declined any comment on the closing of the probe by its Office of Public Integrity after six years. DeLay said his legal team had received word from the Justice Department last week.
CNN: Gates wants to retire in 2011
Defense Secretary Robert Gates is expected to leave his post in the spring of 2011, a senior administration source told CNN on Monday. A Pentagon spokesman confirmed that Gates wants to retire some time next year. Gates was quoted in an article in the magazine Foreign Policy published Monday saying he wanted to step down before the end of 2011. According to the senior administration official, Gates privately promised President Barack Obama he would not leave the Cabinet in 2010 in order to maintain stability at the Pentagon while more U.S. forces are heading to Afghanistan. In addition, the senior official said, Gates does not want a potentially difficult confirmation battle for his successor to take place in the presidential election year of 2012.
CNN: GOP seeks political gain from ground zero Islamic center issue
By wading into the issue of an Islamic center and mosque near ground zero, President Barack Obama provided Republicans with an emotion-ridden attack vehicle while diverting attention from campaign themes of fellow Democrats. A senior Republican strategist told CNN that GOP candidates are being encouraged to talk about the issue as much as possible. In Florida, Republican gubernatorial candidate Rick Scott launched a statewide television ad Monday criticizing Obama for backing the right of Muslims to build an Islamic center and mosque two blocks from where the September 11, 2001, terrorist attacks killed more than 2,700 people.
CNN: Crist takes heat for refunding Greer contributions
Republicans in Florida are pouncing on Gov. Charlie Crist's decision to refund campaign contributions from indicted former state GOP Chairman Jim Greer, a longtime Crist ally charged with stealing money from party coffers. In a letter to the governor dated August 5, Greer asked that $9,600 worth of contributions to Crist's Senate campaign be returned so he could help pay for his legal fees. The Crist campaign on Monday agreed to do so after the letter was reported by the St. Petersburg Times.
The Hill: Report: Districts held by GOP faring better in mortgage meltdown
Congressional districts held by Democrats are taking a harder hit from the housing crisis than those represented by Republicans. According to a new report from Deutsche Bank, districts held by Democrats have an average serious delinquency rate of 9.9 percent. Districts held by Republicans, in contrast, have an average serious delinquency rate of 8.7 percent, the report said. Deutsche Bank analysts gathered data on serious delinquencies, which are considered to be borrowers who are at least 90 days late on their mortgage payments. The average congressional district has a serious delinquency rate of 9.4 percent — more than two-and-a-half times the rate seen on Election Day in 2008.
CNN Poll: Poll shows economy will be key to midterms
Heading into this year's midterm elections, the economy remains the most important problem on the minds of Americans, according to a new CNN/Opinion Research poll. According to the new survey, 56 percent of the public says that the economy will be extremely important to their vote for Congress this year, making that the only issue that a majority said would be vital to their vote. Two other issues related to the economy – unemployment and the federal deficit – tied for second on the list with 48 percent.
CNN: McDonnell becomes big draw for GOP candidates
Potential presidential candidates like Sarah Palin and Mitt Romney have grabbed headlines this year for handing out pivotal endorsements in key midterm races, but Virginia Gov. Bob McDonnell has quietly become one of the most sought after attractions on the GOP money circuit. McDonnell is headlining a fundraiser at Altria headquarters in Richmond on Monday for Texas Gov. Rick Perry, who faces a difficult re-election challenge from former Houston Mayor Bill White.
Washington Post: Massachusetts Gov. Patrick's reelection campaign a test case for Obama in 2012
Many of the top strategists in Obama's political circle are helping to orchestrate Gov. Deval L. Patrick's reelection campaign, and they are looking to his contest for clues to what might work for the president in 2012. Friends for two decades, Obama and Patrick ran as optimistic outsiders who would take on the old way of doing things. Their politics are so in sync that in 2008, Obama borrowed Patrick's rhetoric to the point that Hillary Rodham Clinton, his opponent in the Democratic primary, accused him of plagiarism. Whether Patrick is reelected is likely to depend on whether he can again appeal to independents, who outnumber Democrats and Republicans in Massachusetts. Independents flocked to Patrick in 2006 and Obama in 2008 but swung decisively for Republican Scott Brown in a special Senate election last winter.
CNN: McCain goes positive in latest ad
After months of negative, hard-hitting ads aimed at Tea Party-backed opponent and former Arizona Rep. J.D. Hayworth, Sen. John McCain's campaign has released a new, more positive spot called 'Vital.' The minute-long ad makes no mention of Hayworth, but focuses instead on McCain's character and major issues such as border security and the economy.
Wall Street Journal: Voters Back Tough Steps to Reduce Budget Deficit
Frustrated voters, fixing on the $1.5 trillion federal deficit as a symbol of Washington's paralysis, appear increasingly willing to take drastic steps to address the red ink. With the November midterm elections looming, voters appear ahead of Washington in grappling with the tough choices to come, according to national polling and a focus group commissioned by The Wall Street Journal in the bellwether city of Richmond. That is a source of political peril for both Democratic and Republican parties, which are trying to talk about the deficit without addressing the specifics of how they would tackle it.
CNN: Early Iowa poll has Huckabee in first, Palin in fourth
Former Arkansas Gov. Mike Huckabee, the come-from-behind GOP winner of the Iowa Caucuses in 2008, is the early choice of Hawkeye State Republicans again, a new poll shows. The survey was conducted for the website TheIowaRepublican.com may be viewed as simply a matter of name recognition as much as it is a measure of true political support given the caucuses are eighteen months away and no Republican has yet to declare an intention to run for president.
Denver Post: Big business leaders throw support to Hick's gubernatorial run
Three major business leaders with strong ties to the Republican party, including the former chairman of U.S. Sen. John McCain's presidential campaign in Colorado, are giving support to Denver Mayor John Hickenlooper's gubernatorial campaign. The three have agreed to host a Sept. 22 "bipartisan" fundraiser at a downtown Denver restaurant on behalf of the Hickenlooper campaign.
St. Paul Star Tribune: Dayton says GOP 'video trackers' harassed him at outdoors expo
DFL gubernatorial hopeful Mark Dayton said Monday that GOP operatives harassed him at an outdoors expo over the weekend and prevented him from talking to Minnesota voters. By following him at close range with inexpensive Flip cameras, Dayton said the video trackers "made it impossible for me to conduct normal campaign activities." Republicans say that the staffers they hired to track and record Dayton were polite and that Dayton overreacted to a time-worn tactic that political parties use to keep tabs on rivals.
CQ Politics: Vitter Continues to Dominate Money Chase in Louisiana
Louisiana GOP Sen. David Vitter raised just over half a million dollars in just over five weeks since July 1, according to pre-primary fundraising reports released Monday. That total was enough to more than double the total raised by Vitter's top Democratic opponent, Rep. Charlie Melancon, who pulled in just $233,000 over the same time period. Vitter's fundraising dominance over Melancon during the pre-primary period is the continuation of a trend that has dogged Democrats in the Bayou State race ever since Melancon decided to challenge the first term Senator. In fact, Vitter's $508,000 raised during the pre-primary period was nearly $100,000 more than what Melancon raised during the three month period from April 1 to June 30.
NATIONAL
For the latest national news: www.CNN.com
CNN: Court temporarily blocks California same-sex couples from marrying
A federal appeals court in San Francisco, California, has blocked same-sex marriages in that state from resuming immediately, until the three-judge panel hears broader questions over the constitutionality of such marriages. The brief order from the 9th Circuit Court of Appeals late Monday set aside a federal judge's decision earlier this month that would have permitted same-sex marriages to resume in California as early as Wednesday. That came after the judge ruled a voter-approved ban on same-sex marriage violated federal civil rights laws. The appeals court also set a fast schedule to hear the merits of the constitutional challenge to Proposition 8, the 2008 initiative defining marriage as only between one man and one woman. Oral arguments will now be held the week of December 6, meaning a decision on whether same-sex couples can legally wed likely will not be decided until sometime next year.
CNN: Gulf oil traces spread east on sea floor, researchers say
Oil from the Deepwater Horizon spill may have settled to the bottom of the Gulf of Mexico further east than previously suspected and at levels toxic to marine life, researchers reported Monday. Initial findings from a new survey of the Gulf conclude that dispersants may have sent the oil to the ocean floor, where it has turned up at the bottom of an undersea canyon within 40 miles of the Florida Panhandle. Plankton and other organisms showed a "strong toxic response" to the crude, according to researchers from the University of South Florida.
INTERNATIONAL
For the latest international news: http://edition.cnn.com
CNN: Pentagon report: China extending military reach
The Chinese military continues to expand its reach and capabilities beyond its immediate geographical area, a new report from the U.S. Department of Defense concludes. The report, an annual assessment sent to Congress, notes that some of those capabilities have been positive, like humanitarian and anti-piracy efforts, but others are meant to give China "extended-range power projection."
CNN: Karzai's order on private security companies raising questions
Afghan president Hamid Karzai will issue an order demanding all private security companies in Afghanistan cease operation within four months, his spokesman announced Monday. That order is expected Tuesday morning. The spokesman gave no further details and his announcement is raising questions among Afghanistan's international community which heavily relies on private security companies.
CNN: Urgent cry for help as death toll rises from Pakistan flooding
As an umbrella group of humanitarian entities called for "urgent international support" Monday in flood-ravaged Pakistan, the United States was sending materials to provide shelter for almost 47,000 displaced Pakistanis. The U.S. Embassy said that a cargo aircraft carrying 530 rolls of heavy-duty waterproof and fire-resistant plastic sheeting for use as temporary shelters was sent by the United States to Karachi, Pakistan, on Monday, a day after another flight ferried 240 rolls of plastic sheeting to Karachi.
New York Times: In Bold Display, Taliban Order Stoning Deaths
The Taliban on Sunday ordered their first public executions by stoning since their fall from power nine years ago, killing a young couple who had eloped, according to Afghan officials and a witness. The punishment was carried out by hundreds of the victims' neighbors in a village in northern Kunduz Province, according to Nadir Khan, 40, a local farmer and Taliban sympathizer, who was interviewed by telephone. Even family members were involved, both in the stoning and in tricking the couple into returning after they had fled.
CNN: Israeli military blasts ex-soldier's photos with Palestinian prisoners
A former Israeli soldier has posted photos of herself on Facebook posing in front of blindfolded Palestinian prisoners, prompting harsh reactions. The former soldier, identified online as "Eden from Ashdod" in Israel, is seen smiling sitting on a blast barrier next to a blindfolded man. In another picture she is sitting in front of three blindfolded Palestinians, one with his hands tied in front of him. The photos have since been taken down from her Facebook site, but Israeli media reports the photos were labeled "IDF - best time of my life."
BBC News: Protesters in Bolivia's Potosi region end blockade
Officials in Bolivia say a long-running protest which had paralysed the country's mining region has ended. The governor of Potosi province said protesters had agreed to lift a three-week blockade of the airport and major access roads. The blockade hampered food supplies and cut off production at the country's main silver mines. The government agreed to some of the protesters' demands, including building a cement plant and a new airport.
Wall Street Journal: Egypt Steps Up Effort to Snuff Out Smoking
Long one of the most tobacco-friendly countries in the world, Egypt has launched an ambitious, multipronged antismoking campaign. It combines drastic new taxes with plans to ban all indoor smoking, in phases, in Egypt's big cities. Egypt is joining a long list of tobacco-infused countries that are clamping down on smoking. France and Italy moved to curb their smokers' habits years ago. Antismoking laws have also cleared the air in British pubs. More recently, the trend is wafting across the Middle East.
New York Times: Denmark Starts to Trim Its Admired Safety Net
For years, Denmark was held out as a model to countries with high unemployment and as a progressive touchstone to liberals in the United States. The Danes, despite their lavish social welfare state, managed to keep joblessness remarkably low. But now Denmark, which allows employers to hire and fire at will while relying on an elaborate system of training, subsidies for those between jobs and aggressive measures to press the unemployed into available openings, is facing its own strains. As a result, it is beginning to tighten up.
Washington Post: Obsessed Internet gamers in South Korea now have a league of their own
One Saturday this month, roughly 10,000 South Koreans interrupted their usual weekend activity of playing Internet games for something else: to watch professionals play Internet games. While South Korea's Internet game industry has grown into an entertainment force on par with television and film, Internet addiction has become a national social problem. Elite Korean professional gamers have loyal fans, lucrative salaries and signature celebration moves. A typical high school student, meanwhile, spends 23 hours a week playing Internet games.
Guardian: Tony Blair's donation to British Legion receives mixed response
For the former prime minister it was "a way of marking the enormous sacrifice" of the UK's armed forces. For some others it was little more than an attempt to assuage a guilty conscience. Like so much else about Tony Blair, today's announcement that he will hand over several million pounds in proceeds from his forthcoming memoir to the Royal British Legion has divided opinion.
BUSINESS
For the latest business news: www.CNNMoney.com
CNNMoney: Tech stocks gain in choppy session
Stocks ended mixed after a choppy session Monday, as investors were caught between excitement over dealmaking in the tech sector and pessimism about weaker-than-expected economic data. The Dow Jones industrial average (INDU) fell 1.14 points, and the S&P 500 (SPX) rose just 0.13 point. But the tech-laden Nasdaq (COMP) composite climbed 8.39 points, or 0.4%.
Bloomberg: Japan Slowdown Amid Yen Rise Adds Pressure for Action
Japan's weakest economic growth in three quarters adds pressure on policy makers to safeguard the recovery by expanding fiscal spending and loosening monetary policy to weaken the yen. Growth slowed to an annual 0.4 percent pace in the three months ended June 30 as consumer spending stalled and exports cooled, Cabinet Office figures showed yesterday. The expansion was less than the estimates of all 19 economists surveyed and pushed the economy into third place behind the U.S. and China.
CNNMoney: Bonds: Nobody wants to fight the Fed
The global economy is clearly cooling. But is this just a minor hiccup on the path to a sustained recovery or a slide back to the dark days of 2008 and early 2009? Unfortunately, bond investors appear to be betting on the latter. The yield on the benchmark 10-year Treasury note fell to about 2.57% early Monday afternoon. That's the lowest level since March 2009. Falling rates are often a sign of a weak economy. Earlier this year, when many experts thought that the worst was truly over in the United States and that a fairly healthy rebound was possible, the yield on the 10-year traded as high as 4.01%.
CNNMoney: Banks finally lending more to small biz
The credit market may finally be starting to thaw out, according to a report from the Federal Reserve. The Fed said Monday that banks relaxed their lending standards over the last quarter, with the most improvement at big banks. While most banks said demand for business and consumer loans was unchanged, large banks - those with assets greater than $20 billion - eased their lending conditions.
Business Week: TVS Motor to Spend $32 Million Adding Capacity to Meet Demand
TVS Motor Co., India's third-largest motorcycle maker, plans to spend as much as 1.5 billion rupees ($32 million) to add capacity and develop new products this financial year as demand increases. The company will boost maximum production of motorcycles, scooters and mopeds by 17 percent to 2.8 million units a year by March, S.G. Murali, executive vice president, finance, said by phone yesterday. Three-wheeler capacity will rise 80 percent to 90,000 units at the Chennai-based company, he said.
CNNMoney: Can't find a job, college grad? National Park Service is hiring
There is at least one bright spot amid this otherwise wretched job market: The National Park Service is hiring! The NPS is aggressively recruiting college students for summer internships as law enforcement park rangers, positions that could lead to full-time jobs. More than half the positions in the Northeastern U.S. could become vacant in the next five years, according to Chief Ranger Jill Hawk.
Bloomberg: China Reduces Long-Term Treasuries by Record Amount
China cut its holdings of Treasury notes and bonds by the most ever, raising speculation a plunge in U.S. yields has made government securities unattractive. The nation's holdings of long-term Treasuries fell in June for the first time in 15 months, dropping by $21.2 billion to $839.7 billion, a U.S. government report showed yesterday. Two- year yields headed for a fifth monthly decline in August, falling today to a record 0.48 percent.
Wall Street Journal: Barclays in Sanctions Bust
Barclays PLC agreed to pay $298 million to settle charges by U.S. and New York prosecutors that the U.K. bank altered financial records for more than a decade to hide hundreds of millions of dollars in payments flowing into the U.S. from Cuba, Libya, Iran and other sanctioned countries. Monday's settlement agreement of criminal charges is an embarrassment for Barclays, which became a major player on Wall Street by snapping up the collapsed U.S. operations of Lehman Brothers Holdings Inc. in 2008 and has been trying to burnish the U.K. bank's reputation on both sides of the Atlantic Ocean as a good corporate citizen. A federal court filing said Barclays "accepts and acknowledges responsibility for its conduct and that of its employees." U.S. officials said the bank altered payment messages or deleted information about sanctioned countries.
CNNMoney: Drug recalls surge
Recalls of prescription and over the counter drugs are surging, raising questions about the quality of drug manufacturing in the United States. The Food and Drug Administration reported more than 1,742 recalls last year, skyrocketing from 426 in 2008, according to the Gold Sheet, a trade publication on drug quality that analyzes FDA data. One company, drug repackager Advantage Dose, accounted for more than 1,000 of those recalls. Even excluding Advantage Dose, which has shut down, recalls jumped 50% last year.
Washington Post: Bill seeks to make electronics accessible to blind, deaf
Blind and deaf consumers, who have fought to make home phones and television more accessible, say they are being left behind on the Web and many mobile devices. Touch-based smartphone screens confound blind people who rely on buttons and raised type. Web video means little to the deaf without captioning. But legislation is in the works to put pressure on consumer electronics companies that revolutionized an earlier generation of technology for the vision- and hearing-impaired.
In Case You Missed It
"John King, USA" tackles the debate over the Islamic community center near ground zero.
Pres. Clinton addresses voter anger during a stump speech for Senate candidate Kendrick Meek of Florida.
Subscribe to the CNN=Politics DAILY podcast at http://www.cnn.com/politicalpodcast
And now stay posted on the latest from the campaign trail by downloading the CNN=Politics SCREENSAVER at http://www.CNN.com/situationroom