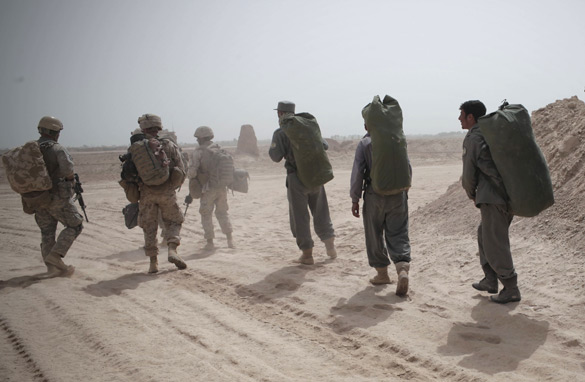 A new CNN poll reveals Americans' opposition to the wars in Iraq and Afghanistan is at an all time high. (PHOTO CREDIT: Getty Images/File)

(CNN) - Two-thirds of Americans favor President Obama's plan to remove combat troops from Iraq by the end of the month as opposition to the war in that country, as well as the one in Afghanistan, has climbed to new highs.
According to a new CNN/Opinion Research Corp. survey, Obama's withdrawal plan wins support not because Americans think the U.S. has achieved its goals in Iraq - only three in 10 feel that way - but because a majority believe that the U.S. will never achieve its goals in that country no matter how long troops remain there.
That's one reason why 69 percent oppose the war in Iraq - the highest amount of opposition in any CNN poll.

Meanwhile, 65 percent favor Obama's plan to remove most combat troops but keep 50,000 there for non-combat duties. Another 19 percent want the U.S. to remove all troops immediately; only 16 percent oppose Obama's plan because they would like to see U.S. troops remain in Iraq indefinitely.
Americans are also pessimistic about what will happen next in Iraq after combat troops are removed but don't feel the same way about what might occur in the U.S. Six in 10 say they are not confident in the Iraqi government's ability to handle the situation in that country. But only 28 percent say that removing U.S. troops from the country increases the chances of a terrorist attack on U.S. soil.
Unpopularity with the war in Afghanistan also reached an all-time high in CNN polling with 62 percent saying they oppose it. Moreover, confidence in the Afghan government is even lower than it is for the Iraqi government. Seven in 10 Americans are not confident that Hamid Karzai's government can handle the situation there.
In an interview with NBC on Sunday, Gen. David Petraeus, the top general in Afghanistan, made clear that it will take a lot of time and commitment to achieve the overall goal of preventing Afghanistan from again becoming a haven for international terrorism.
"I didn't come out here to carry out a graceful exit or something like that," Petraeus said of taking command in Afghanistan this summer to replace ousted Gen. Stanley McChrystal.
Petraeus also repeated the administration line on plans to begin withdrawing some troops from Afghanistan in August 2011, saying the "transition" will be based on conditions on the ground.
The CNN/Opinion Research Corp. poll surveyed 1,009 Americans between August 6 and 10 and carries a sampling error of plus or minus 3 percentage points.
- CNN's Alexander Mooney contributed to this report </p