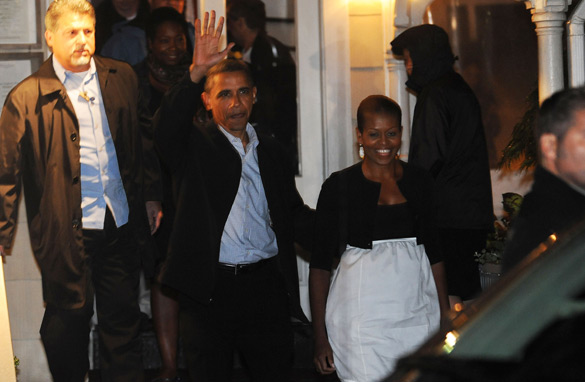 President Obama and first lady Michelle Obama exit the Sweet Life Café in Oak Bluffs, Massachusetts where they had dinner Monday night. (PHOTO CREDIT: Getty Images)
(CNN) - President Barack Obama and his wife went out to dinner Monday night, venturing to a Martha's Vineyard restaurant they also visited on their vacation last year.
The Obamas, joined by White House senior adviser Valerie Jarrett and friends Eric and Cheryl Whitaker, went to The Sweet Life Cafe, described on its website as "one of Martha's Vineyard's fine-dining restaurants" featuring contemporary French-American cuisine.
"Dinner is served in one of the intimate dining rooms of the restored Victorian home or in the romantic garden under the twinkling lights," according to the website.