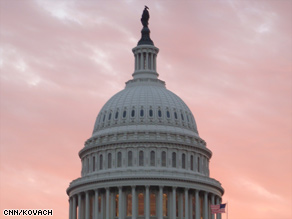 The CNN Washington Bureau's morning speed read of the top stories making news from around the country and the world.
WASHINGTON/POLITICAL
For the latest political news: www.CNNPolitics.com
CNN: Commander: U.S. could have military presence in Iraq after 2011
Less than two weeks before the scheduled end of U.S. combat operations in Iraq, the top U.S. military commander in the country tells CNN that the United States could have a presence there well after 2011 – when all U.S. troops are set to leave Iraq. Asked about a comment by an Iraqi military official who said American troops "'must stay until the Iraqi army is fully ready in 2020,"' Gen. Ray Odierno says he could imagine a scenario where "we could be there beyond 2011."
CNN: Shirley Sherrod to meet Tuesday with Vilsack over job
Shirley Sherrod, who received an apology after being forced to resign from the Agriculture Department, will meet Tuesday with Agriculture Secretary Tom Vilsack to discuss a job offer, a department official confirmed Saturday. It will be the first face-to-face meeting between the two since a controversial sequence of events last month culminated in her stepping down.
Washington Post: South Korea free trade pact back on U.S. agenda
The message may have been familiar recently when the local Chamber of Commerce took up a proposed free-trade agreement between South Korea and the United States. "Wave the flag," the speaker exhorted the audience. "This is an opportunity to stimulate the U.S. economy at no cost to U.S. taxpayers." But the man on the podium wasn't the typical business booster. He was South Korean Ambassador Han Duk-soo, who has assumed the unusual role of a foreign official promoting U.S. jobs. With the Obama administration pledging a major new push to ratify the agreement, Han has gone on the stump in cities such as Montgomery, Ala., Peoria, Ill., and Detroit to build American support for free trade and allay concerns that his country is trying to snatch U.S. manufacturing jobs.
Investors Business Daily: U.S. Senate In Play As Economic Woes Lift GOP's Chances
As economists have marked down growth prospects in the past six weeks, political analysts have been busy moving more Senate and House races into the GOP and tossup columns. While analysts have said for months that Republicans have a decent shot at taking control of the House, the GOP is now seen as having a realistic chance of winning the Senate as well.
CQ Politics: Armey To Republicans: 'We'll Replace You'
Former House Majority Leader Dick Armey (R-Texas) on Sunday said lawmakers who have not signed onto Rep. Paul Ryan's plan to balance the budget lacked "courage" and could be targeted by the conservative tea party movement as a result. Armey's comments on NBC's "Meet the Press" came just moments after Minority Leader Mitch McConnell (R-Ky.) sidestepped a question about Ryan's plan, which looks to balance the budget by reinventing slimmer versions of Medicare, Medicaid, Social Security and the tax code. Ryan (R-Wis.) is the ranking member of the House Budget Committee.
Los Angeles Times: State Republican Party looks to turn the page
Energized by the most diverse state ticket in their party's history, California Republicans are stepping up their outreach to Latinos and other minorities, hoping to repair their image and grow their ranks. But as they gathered for their semiannual convention over the weekend, GOP leaders and the party faithful clashed over immigration, illustrating, in an unexpected way, the party's key campaign theme: Party of the future versus party of the past.
Washington Post: In South Dakota, Democrats' own 'mama grizzly' vs. 'the next Sarah Palin'
A big Republican wave may be coming in November. And despite distancing herself from her party's policies, despite touting her independence and moderation, Herseth Sandlin could be washed away by the simple fact that she has a "D" after her name. Throughout the Midwest and South, dozens of her fellow centrists are also imperiled by the backlash of voters threatening to take out their disdain for President Obama and the direction he has taken the country on anyone who is a Democrat.
Politico: McCain pays heavy price for reelection
John McCain holds a comfortable lead in the contentious Arizona Republican Senate primary, according to the most recent public polling, making him the strong favorite against former Rep. J.D. Hayworth on Tuesday. But it's been a costly road to a fifth term for the 2008 GOP presidential nominee, and the experience is likely to leave a lasting and unsightly stain on his legacy.
Anchorage Daily News: Murkowski, Miller take their stands on seniority
Defying the anti- establishment anger, Republican Sen. Lisa Murkowski forcefully made her case for another term. "Seniority actually means something in the Senate," she insisted at a fundraiser in this Southeast Alaska tourist and fishing town. Murkowski delivered that message three days before a plane crash killed former Sen. Ted Stevens, who for four decades consistently delivered billions in federal dollars for roads, bridges, ports, pipelines and military projects that transformed the 49th state. Stevens' legacy looms large in Tuesday's Republican primary, in which Murkowski is trying to fend off Joe Miller, a decorated combat veteran, former judge and blame-Washington candidate backed by the tea party and former Gov. Sarah Palin. Reminding voters of the riches from seniority looks like it could sweep the better-known, better-financed Murkowski to the nomination and a likely victory in November over the Democrat on the ballot.
Orlando Sentinel: Primary voters turned off by mudslinging
It's supposed to be the year of the "outsider" — the election where fed-up voters embrace newcomers and kick incumbents to the curb. But in Florida, the electorate seems to view most everyone in the political arena with a healthy dose of disdain. In the two most high-profile races — the Democratic primary for U.S. Senate and Republican primary for governor — more voters appear to dislike the newbies than like them. Indeed, the latest polls show that the veteran politicians — U.S. Rep. Kendrick Meek and Attorney General Bill McCollum — are ahead in those races. But when pressed to make a selection, many Floridians sound like they're choosing between a cold sore and a sinus infection.
Burlington Free Press: Vermont Democratic primary race for governor down to the wire
The unusual race featuring five candidates with long political credentials — Susan Bartlett, Matt Dunne, Deb Markowitz, Doug Racine and Peter Shumlin — has many Vermont Democrats in a bind: They like all of them, want one of them to win the November general election against Republican Brian Dubie and now with the primary election coming Tuesday have to decide which one to vote for.
CNN: Romney signs on with 'one tough nerd'
Former Massachusetts Gov. Mitt Romney made an endorsement Saturday in the race for the office once held by his father, throwing his weight behind Rick Snyder, the Michigan Republican gubernatorial nominee who bills himself as "one tough nerd."
Hartford Courant: Abortion Issue Runs Through Some Key Connecticut Campaigns
Abortion is a surprising subtext in a number of key political campaigns in Connecticut this year. No one expects the outcome of any race to turn solely on the issue, especially in an election cycle dominated by the economy. Yet the success of several candidates who oppose legalized abortion in this reliably blue state has galvanized activists on both sides of the divide.
NATIONAL
For the latest national news: www.CNN.com
CNN: Farms fell short on safety, FDA chief says
The companies that have recalled more than half a billion eggs following a salmonella outbreak fell short of safety standards at their farms, FDA Commissioner Margaret Hamburg said Sunday. "There's no question these farms involved in the recall were not operating with the standards of practice we consider responsible," Hamburg told CNN. She said "about 1,000" people have been sickened by a salmonella outbreak that federal regulators have traced back to two Iowa egg producers. One of those companies said Sunday it is "devastated" by the possible connection between its product and salmonella.
Wall Street Journal: New Food-Safety Rules Come Amid Egg Probe
New federal safety rules for egg production are aimed at preventing the type of salmonella outbreak that federal authorities are now investigating, as another company recalled eggs on Sunday night. Until recently, the authority to inspect facilities where eggs are processed had been the responsibility of the U.S. Department of Agriculture. The Food and Drug Administration had previously focused on eggs after they left those facilities. Under new rules starting July 9, the FDA and the USDA began to share responsibility to inspect egg manufacturers.
CNN: Imam behind controversial New York Islamic center speaks
The imam behind the controversial mosque and Islamic center near New York City's ground zero said Sunday that he hopes the project will develop "an Islamic approach that allows for harmony and understanding among all religions and other ideas." The remarks from Abdul Rauf, who has rarely spoken to the media since his proposal for an Islamic center set off a firestorm of controversy this summer, came while the imam is on a State Department-sponsored trip to the Middle East.
Washington Post: Federal investigators again try to question BP spill witnesses
A federal investigative panel will begin its next round of hearings Monday into the Deepwater Horizon disaster and call witnesses who can address alleged shortcuts in the drilling of the BP oil well, problems with the failed blowout preventer and the confused scene after an explosion on the rig. Whether all of those witnesses testify remains to be seen. After challenges to the investigative board's authority and competence, the hearings are shaping up as a test of the panel as well as the parties under investigation.
USA Today: Thousands strain Fort Hood's mental health system
Nine months after an Army psychiatrist was charged with fatally shooting 13 soldiers and wounding 30, the nation's largest Army post can measure the toll of war in the more than 10,000 mental health evaluations, referrals or therapy sessions held every month. About every fourth soldier here, where 48,000 troops and their families are based, has been in counseling during the past year, according to the service's medical statistics. And the number of soldiers seeking help for combat stress, substance abuse, broken marriages or other emotional problems keeps increasing.
INTERNATIONAL
For the latest international news: http://edition.cnn.com
CNN: Afghan president to announce anti-corruption units
Afghan President Hamid Karzai is expected to announce Monday a plan for two special anti-corruption units - set up with U.S. help and participation - to operate without government interference. U.S. Sen. John Kerry, who met with Karzai last week, said the Afghan president told him he supported the work of the anti-corruption units and would let them work unimpeded.
New York Times: Pakistanis Say Taliban Arrest Was Meant to Hurt Peace Bid
When American and Pakistani agents captured Abdul Ghani Baradar, the Taliban's operational commander, in the chaotic port city of Karachi last January, both countries hailed the arrest as a breakthrough in their often difficult partnership in fighting terrorism. But the arrest of Mr. Baradar, the second-ranking Taliban leader after Mullah Muhammad Omar, came with a beguiling twist: both American and Pakistani officials claimed that Mr. Baradar's capture had been a lucky break. …Now, seven months later, Pakistani officials are telling a very different story. They say they set out to capture Mr. Baradar, and used the C.I.A. to help them do it, because they wanted to shut down secret peace talks that Mr. Baradar had been conducting with the Afghan government that excluded Pakistan, the Taliban's longtime backer.
BBC News: Senior UN official attacks response to Pakistan floods
A senior United Nations official has called on the global community to urgently step up its response to the floods that have struck Pakistan. Louis-George Arsenault, director of emergency operations for the Unicef in New York, described the lack of support as "quite extraordinary". The humanitarian crisis was the largest "in decades", he warned. Mr Arsenault spoke as the International Monetary Fund was due to start talks with Pakistani officials in Washington.
CNN: Nearly 260,000 flee flooding along China-North Korea border
Nearly 260,000 people in northeastern China and North Korea have fled their homes as heavy rains caused the Yalu River to swell over its banks, state news outlets in those countries reported Sunday. Most of those evacuated were in China, where the state news agency Xinhua said 253,500 people had to evacuate.
CNN: Netanyahu: Security vital to lasting peace deal
The Israeli prime minister said Sunday that talks with Palestinians will only lead to a lasting peace deal if the latter guarantees security and recognizes that Israel is the nation state of the Jewish people. Benjamin Netanyahu's comments came two days after U.S. Secretary of State Hillary Clinton said direct peace talks between the two would resume.
Jerusalem Post: PA may quit talks if building resumes
The Palestinians will withdraw from the planned direct talks with Israel if construction in the settlements continues, Palestinian Authority President Mahmoud Abbas said on Sunday. Abbas's threat came in a letter he dispatched to the members of the Mideast Quartet: the US, Russia, EU and the UN.n the letter, Abbas urged the Quartet members to abide by resolutions of the UN pertaining to the Israeli-Arab conflict, the principles of the 1991 Madrid Peace Conference, the 2002 road map and the 2002/2007 Arab Peace Initiative. Abbas's letter is seen in part as an attempt to reassure critics that he hasn't abandoned his conditions for negotiating directly with Israel.
CNN: Iran unveils long-range bombing drone
Iran unveiled the first long-range military drone manufactured in the country on Sunday, state media reported. The unmanned aerial vehicle is capable of carrying out bombing missions against ground targets and flying long distances at a high speed, Press TV said.
Bloomberg: North Korean Reformer's Return May Signal Economic Policy Shift
North Korea restored economic reformist Pak Pong Ju to its leadership, Yonhap News said, a sign the communist nation that's relied on food handouts since the mid-1990s may be ready to give market forces another chance. Pak's return comes as North Korea prepares to select new leaders at a meeting of its ruling party next month, which South Korean officials have said may provide clues to leader Kim Jong Il's succession plans.
The Guardian: Horse-trading begins as Australia votes for a hung parliament
Australia faces days of uncertainty and political horse-trading after prime minister Julia Gillard acknowledged that neither the ruling Labor party nor the opposition conservative coalition had won an outright majority in the weekend's election. Gillard and the country's opposition leader Tony Abbott both held talks today with independent and Green candidates in negotiations which are likely to bring about the country's first coalition government in 70 years.
CNN: After 17 days, trapped Chilean miners send note they're alive
Thirty-three miners trapped underground in Chile sent a note on Sunday saying they are alive, raising hopes for the first time in the nearly three weeks since the mine collapsed, but officials cautioned it could take months to rescue the workers.
Wall Street Journal: How WikiLeaks Keeps Its Funding Secret
The controversial website WikiLeaks, which argues the cause of openness in leaking classified or confidential documents, has set up an elaborate global financial network to protect a big secret of its own—its funding.
CNN: Dismissed police inspector takes tourist bus hostage in Philippines
A dismissed police inspector demanding that his job be reinstated took a tourist bus hostage in Manila Monday morning, police told CNN. There were 25 people on the bus, including 22 foreigners, Manila District Police official Rodolfo Magtibay said.
CNN: Wyclef Jean fighting to get name on Haiti presidential ballot
Hip-hop singer Wyclef Jean said Sunday he will contest a pronouncement from Haitian election officials ruling him ineligible to run for president of Haiti. …Jean's name was not on the list of 19 approved candidates released Friday night by Haiti's Provisional Electoral Council. At the time, Jean said, "I respectfully accept the committee's final decision, and I urge my supporters to do the same."
BUSINESS
For the latest business news: www.CNNMoney.com
CNNMoney: New credit card restrictions take effect
New rules designed to protect credit card users from "unreasonable late payment and other penalty fees" come into force Sunday as a result of the Wall Street reform bill. The rules block credit card companies from charging more than $25 for late payments except in extreme circumstances, prevent them from charging customers for not using their cards, and requires them to reconsider rate increases imposed since January 1, 2009, according to the Federal Reserve, which approved the regulations.
Bloomberg: Fed Said to Plan Reining in AIG's Credit Line by $3.6 Billion
The Federal Reserve plans to cut American International Group Inc.'s credit line by about $3.6 billion in a sign of confidence the insurer can reduce reliance on taxpayer funds, said a person with knowledge of the proposal.
Wall Street Journal: Facing Budget Gaps, Cities Sell Parking, Airports, Zoo
Cities and states across the nation are selling and leasing everything from airports to zoos—a fire sale that could help plug budget holes now but worsen their financial woes over the long run. California is looking to shed state office buildings. Milwaukee has proposed selling its water supply; in Chicago and New Haven, Conn., it's parking meters. In Louisiana and Georgia, airports are up for grabs.
In Case You Missed It
CNN's Don Lemon talks to Margaret Hamburg, FDA commissioner, about the egg recall.
http://www.cnn.com/video/#/video/us/2010/08/23/nr.egg.recall.dr.margaret.hamburg.cnn
CNN's Dan Lothian reports on the public's reaction to the first family's visit to Martha's Vineyard.
http://www.cnn.com/video/#/video/politics/2010/08/22/lothian.obama.vacation.cnn
Subscribe to the CNN=Politics DAILY podcast at http://www.cnn.com/politicalpodcast
And now stay posted on the latest from the campaign trail by downloading the CNN=Politics SCREENSAVER at http://www.CNN.com/situationroom