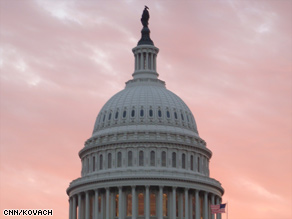 The CNN Washington Bureau's morning speed read of the top stories making news from around the country and the world.
WASHINGTON/POLITICAL
For the latest political news: www.CNNPolitics.com
CNN: McCain wins Senate primary in Arizona
Sen. John McCain told supporters he will "take nothing for granted" after defeating former Rep. J.D. Hayworth in a bitterly fought Republican primary for U.S. Senate in Arizona Tuesday. "I ... will fight with every ounce of strength and conviction I possess to make the case for my continued service in the Senate, and the policies and principles I will advocate and defend if I'm fortunate to be re-elected," McCain said in his victory speech Tuesday night.
Anchorage Daily News: Murkowski fights for political life in close vote
U.S. Sen. Lisa Murkowski was battling for her political life against Republican primary challenger Joe Miller on Tuesday night. Miller was barely leading Murkowski with just over half Alaska's election precincts reporting around 11:30 p.m. Miller had 32,955 votes to 30,605 for Murkowski. Miller credited the support of former Alaska Gov. Sarah Palin for his lead.
Burlington Free Press: Too close to call: Shumlin, Racine vie for lead, Markowitz in 3rd
A five-way race for the Democratic nomination for governor was too close to call early today, matching all the speculation that nearly anything could happen in this extraordinary election. With 89 percent of the polling places reporting by 1:15 a.m., Peter Shumlin led Doug Racine by 121 votes, 16,960 to 16,839. Deb Markowitz was running third with 16,039, with Matt Dunne a short distance behind at 14,165 votes. Susan Bartlett was a distant fifth with 3,507 votes.
CNN: Meek thanks Obama, Clinton
Rep. Kendrick Meek, giving his victory speech after winning Florida's Democratic Senate nomination, thanked President Barack Obama and former President Bill Clinton. After numerous stories that Obama wasn't doing enough to help Meek's bid for his party's nomination, White House officials recently stressed that the president was firmly supportive of Meek. Obama appeared with the candidate last week, giving Meek a hug upon arriving in Florida for a Democratic party fundraiser. Meek also spoke at the fundraiser.
CNN: White House reviewing ruling against embryonic stem cell research
Administration officials are still reviewing a federal judge's decision to grant a preliminary injunction stopping federal funding of embryonic stem cell research, White House Deputy Press Secretary Bill Burton said Tuesday.Monday's ruling by U.S. District Judge Royce C. Lamberth could even cut off stem cell research that was allowed under former President George W. Bush, Burton said. Obama believes embryonic stem cell research conducted under "stringent ethical guidelines" is critical, the spokesman added.
CNN: Obama wants prime time Iraq address
President Obama wants to deliver his major address on Iraq from the Oval Office in prime time next Tuesday, according to a senior administration official. The official said the White House is formally requesting time from the broadcast networks for the President to deliver the remarks in prime time, elevating the speech marking the end of combat operations in Iraq in a major way.
Washington Times: U.S. human rights report hails Obama practices
A new State Department report on America's human rights record praises many of President Obama's domestic reforms in making the case to the world body for U.S. progress on human rights.
CNN: Unity rallies scrapped in Florida
The Republican Party of Florida has scrapped plans for a pair of unity rallies intended to heal some of the wounds inflicted during the divisive gubernatorial primary between state Attorney General Bill McCollum and former health care executive Rick Scott.
St. Paul Star Tribune: Candidates for governor agree that 'JOBZ' didn't work
Minnesota's three contenders for governor don't agree on very much, but at a debate centering on business issues Tuesday in Minneapolis, all three agreed that Gov. Tim Pawlenty's "JOBZ" program was a dud.
NATIONAL
For the latest national news: www.CNN.com
CNN: WikiLeaks to release CIA paper on Wednesday
WikiLeaks, the whistleblower website that infuriated the Pentagon when it published thousands of classified military reports, said it will release a fresh set of documents Wednesday. The group posted on its Twitter page Tuesday: "WikiLeaks to release CIA paper tomorrow." It did not specify a time.
CNN: Pentagon survey asks military spouses about "don't ask" repeal
The Pentagon wants to know what military spouses think of the plan to repeal the "don't ask, don't tell" policy of barring openly gay and lesbian soldiers from military service. The survey, mailed Friday to about 150,000 spouses of active duty and reserve personnel as part of a larger Pentagon evaluation of the policy, asks recipients if they would want their husband or wife to leave the military earlier if the policy is changed.
NPR: Officer: Marines Oppose Lifting 'Don't Ask, Don't Tell'
The Marine Corps' top officer said Tuesday that there is widespread opposition in the Corps to allowing gays to serve openly, an issue the Senate is expected to take up next month.
New York Times: Egg Recall Exposes Flaws in Nation's Food Safety System
Federal investigators have descended on Iowa to try to figure out the cause of a salmonella outbreak that may have sickened thousands of people and led to the recall of a half billion eggs. But some consumer advocates say the huge egg recall highlights a broader and continuing problem at the heart of the nation's largest food recalls: a highly complicated and often dysfunctional food safety system.
Newark Star-Ledger: Error on 'Race to the Top' application costs N.J. $400M in federal funds
After making a high-profile bid for hundreds of millions of dollars in federal education reform money, New Jersey fell three points short of receiving "Race to the Top" funding, in part because of an error by the Christie administration in the state's application, records obtained by The Star-Ledger show.
Washington Post: How the Minerals Management Service's partnership with industry led to failure
The story of how a little-known federal agency became an extension of the industry it oversaw spans three decades and four presidents. It began in 1982 with a major change in the way the nation managed its natural resources, picked up pace with initiatives to streamline bureaucracy in the Clinton and George W. Bush administrations, and ended after the April 20 BP blowout with the Obama administration's abrupt decision to undo the partnership.
New York Times: William Saxbe, Attorney General During Watergate Inquiry, Dies at 94
William B. Saxbe, a former United States senator from Ohio who was appointed as President Richard M. Nixon's fourth attorney general after the infamous "Saturday Night Massacre," died Tuesday at his home in Mechanicsburg, Ohio. He was 94 and had been in failing health for some time, said his son Charles R. Saxbe.
Houston Chronicle: Feds moving to dismiss some deportation cases
The Department of Homeland Security is systematically reviewing thousands of pending immigration cases and moving to dismiss those filed against suspected illegal immigrants who have no serious criminal records, according to several sources familiar with the efforts.
CNN: DEA wants to hire Ebonics translators
It might sound like a punch line, as "Ebonics" - the common name for what linguists call African-American English - has long been the butt of jokes, as well as the subject of controversy. But the agency is serious about needing nine people to translate conversations picked up on wiretaps during investigations, Special Agent Michael Sanders said Tuesday.
USA Today: Cutbacks force police to curtail calls for some crimes
Budget cuts are forcing police around the country to stop responding to fraud, burglary and theft calls as officers focus limited resources on violent crime. Cutbacks in such places as Oakland, Tulsa and Norton, Mass. have forced police to tell residents to file their own reports — online or in writing — for break-ins and other lesser crimes.
CNN: Report: Multiple wars partly to blame for more military suicides
A task force assigned to study why troops kill themselves spelled out what many people have suspected for a long time: that multiple deployments to multiple wars are partly to blame for the sharp increase in military suicides.
Austin-American Statesman: DeLay appears headed for trial
Tom DeLay is headed to trial on money laundering charges, his lawyer conceded Tuesday, after the conclusion of the first full day of a pre-trial hearing, including several hours behind closed doors.
INTERNATIONAL
For the latest international news: http://edition.cnn.com
BBC: US general: Afghan deadline 'giving enemy sustenance'
General James Conway said troops in southern Afghanistan were likely to have to remain for a few years.A senior US general has warned President Barack Obama's deadline to begin pulling troops out of Afghanistan is encouraging the Taliban.
Washington Post: CIA sees increased threat from al-Qaeda in Yemen
For the first time since the Sept. 11, 2001, attacks, CIA analysts see one of al-Qaeda's offshoots – rather than the core group now based in Pakistan – as the most urgent threat to U.S. security, officials said.
Der Spiegel: Afghanistan Looks with Dread at Approaching Elections
Both President Hamid Karzai and NATO exude confidence when talking about the parliamentary elections scheduled for next month. But security in the country is worsening by the day - and many polling stations have been abandoned completely.
Washington Post: Taliban may be misleading its forces on U.S. timetable, U.S. general says
The commandant of the Marine Corps said Tuesday that Taliban leaders may be misleading their own forces into believing that they only have to keep fighting through the middle of next year, when U.S. troops are slated to begin pulling out of Afghanistan.
New York Times: Pakistan Flooding Disrupts Afghan War Supplies
The immense floods that have inundated sections of Pakistan and cut roads and railways have also disrupted the main supply lines for United States and NATO military forces in Afghanistan.
BUSINESS
For the latest business news:www.CNNMoney.com
CNN Money: Stocks lose big on home sales shock
U.S. stocks closed sharply lower Tuesday after a report showing a worse-than-expected plunge in existing home sales reignited fears about an economic slowdown.
Wall Street Journal: Stimulus Boosted Jobs in 2nd Quarter, CBO Says
The nonpartisan Congressional Budget Office said Tuesday the Obama administration's economic-stimulus plan has increased the number of employed Americans by between 1.4 million to 3.3 million during the second quarter.
New York Times: Job Losses Over Drilling Ban Fail to Materialize
When the Obama administration called a halt to virtually all deepwater drilling activity in the Gulf of Mexico after the Deepwater Horizon blowout and fire in April, oil executives, economists and local officials complained that the six-month moratorium would cost thousands of jobs and billions of dollars in lost revenue. …Yet the worst of those forecasts has failed to materialize, as companies wait to see how long the moratorium will last before making critical decisions on spending cuts and layoffs.
In Case You Missed It
Gov. Charlie Crist says his race offers voters an alternative to traditional Democratic and Republican politics.
http://www.cnn.com/video/#/video/politics/2010/08/24/lkl.crist.reacts.to.election.cnn
CNN's Brian Todd reports on former President Jimmy Carter's visit to North Korea to try to free an American prisoner.
http://www.cnn.com/video/#/video/world/2010/08/25/todd.north.korea.carter.cnn
Subscribe to the CNN=Politics DAILY podcast at http://www.cnn.com/politicalpodcast
And now stay posted on the latest from the campaign trail by downloading the CNN=Politics SCREENSAVER at http://www.CNN.com/situationroom