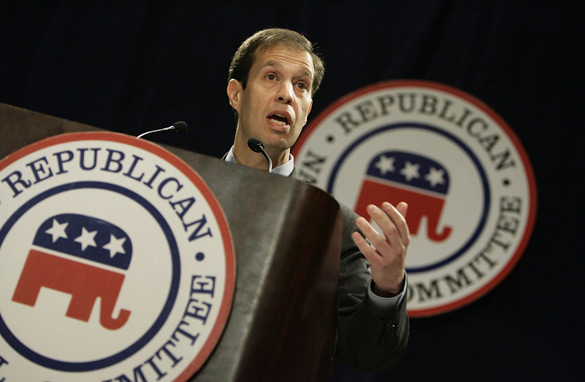 Is former top Bush aid Ken Mehlman – who has told friends and family he is gay - a courageous conservative or shameful hypocrite? (PHOTO CREDIT: Getty Images)

(CNN) - Is former top Bush aid Ken Mehlman – who has told friends and family he is gay - a courageous conservative or shameful hypocrite?
That's the debate raging through political circles and around the blogosphere a day after the former Republican National Committee chairman and 2004 Bush campaign manager told The Atlantic magazine he is gay.
In one corner are those who say Mehlman has arrived at the end of a difficult journey of self acceptance, and should be praised for coming out publicly and pledging to work with groups that advocate for same-sex marriage in the future.
In the other are those whose memory still remains fresh - of the Bush administration's stance on gay rights in general and particularly Bush's 2004 presidential campaign, of which Mehlman was a chief architect, that repeatedly used the issue of same-sex marriage to increase conservative turnout at the polls.
R. Clark Cooper, the executive director of the Log Cabin Republicans – a group that aims to work within the GOP to advance gay and lesbian rights – says Mehlman should be commended for putting himself on the line and pledging to work toward equal rights in the future.
"I am looking at it from a forward looking view, as in onward and upward," Cooper told CNN. "Let's take advantage of this moment. Let's get the Republican Party back to basics, back to its core values and away from its divisive social issues."
As for whether Mehlman deserves criticisms for steering the party down a course that embraced a Constitutional amendment to ban same-sex marriage, Cooper says others should not speculate what Mehlman's thought process was.
"There's not an on and off switch [to being gay]. There's a huge conflict in one's mind…I don't know when or where on the calendar Ken started doing the reconciliation process," Cooper said. "But…when one starts having those conflicts and feelings, there is the immediate reaction to try to fix it."
Christopher Barron, of the gay conservative group GOPProud also praised Mehlman's decision to go public.
"Poll after poll shows the most powerful thing we can do to change hearts and minds about gay issues is to come out," he told CNN, "I applaud Ken for having the courage to take this important step. I think everyone should remember that each of us has our own personal journey as it relates to coming to terms with our own sexuality and coming out.
Meanwhile the Victory Fund, a gay and lesbian political group, issued a more tepid response, saying, "We hope the fact that Ken Mehlman has reached this level of honesty will now encourage other political leaders to reject divisive anti-gay campaign tactics which, as Mr. Mehlman now admits, are purely cynical attempts to manipulate the American public."
But some more liberal-leaning bloggers aren't willing to shower the former Bush aide with adulation, no matter how difficult his own self acceptance may have been.
"The three people most responsible for the anti-gay actions of the Bush reelection campaign are Mehlman, Karl Rove and Bush," wrote Mike Rogers, a liberal blogger who has long sought to out gay Republicans. "Ken Mehlman is horridly homophobic and no matter how orchestrated his coming out is, our community should hold him accountable for his past."
The Stonewall Democrats, a group of Democratic gay and lesbian activists, expressed a similar sentiment, saying in a statement, "Mehlman presided over the Republican Party at a time when the lives of lesbian, gay, bisexual and transgender Americans were used to ill ends – marriage amendments in dozens of states, vitriolic attacks on our families, our soldiers, our very lives – all for political expediency, votes at the ballot box, and power."
Blogger Joe Jervis added, "You don't have be GAY or OUT to know that discrimination and bigotry is wrong. Don't let Mehlman's "personal journey" babble snow you."
As for Mehlman himself, the former Bush guru told the Advocate Thursday, "One thing I regret a lot is the fact that I wasn't in the position I am today where I was comfortable with this part of my life, where I was able to be an advocate against that [strategy] and able to be someone who argued against it."