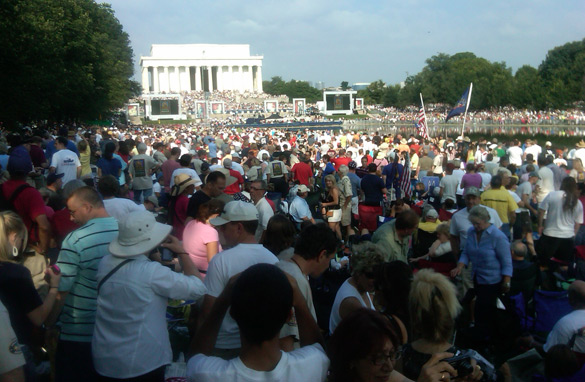 Crowds fill in around the reflecting pool in front of the Lincoln Memorial on Saturday. (PHOTO CREDIT: Paul Steinhauser/CNN)
(Updated at 3:30 p.m. ET)
Washington (CNN) - In what resembled more a revival than a political rally, conservative talk show host Glenn Beck urged the large crowds at his "Restoring Honor" event Saturday to "turn back to God" and return America to the values on which it was founded.
"Something beyond imagination is happening," he told participants who packed the National Mall in Washington. "America today begins to turn back to God. For too long, this country has wandered in darkness."
The rally drew fire for its timing and location.
People filled the park by the Lincoln Memorial's reflecting pool, in the shadows and echoes of the most pivotal civil rights address in America's history - the Rev. Martin Luther King, Jr.'s famous "I Have a Dream" speech, which he delivered there 47 years ago.