[cnn-photo-caption image= http://i2.cdn.turner.com/cnn/2010/images/08/29/art.obama.parkway1.gi.jpg caption =" President Obama ordered lunch Sunday at Parkway Bakery and Tavern in New Orleans."](CNN) - Here's a line that would certainly grab your attention if it were called out on the intercom as you're enjoying a lovely Gulf shrimp sandwich for lunch: "Barack, pickup!"
President Obama was already mingling with the patrons of the legendary Parkway Bakery and Tavern in New Orleans when his lunch order was called. Some locals received a hug from the president–even though he cut to the front of line.
"We're just glad to see you," one woman told him, "Thanks for coming down."
Obama ran into trouble, though, when he attempted to pay for the first family's lunch. Failing to produce enough money for the food, he called over a White House staffer who produced a $20 bill for the cash-strapped commander-in-chief.
Six more photos of President Obama at Parkway Bakery and Tavern, after the jump:

For lunch, the president ordered a shrimp po'boy, New Orleans' ubiquitous submariane sandwich. A young on-looker recommended the surf and turf.
"The combo thing," Obama replied as a local might. "There was a time I could do that-when I was your age."
The family-owned and operated tavern was under eight feet of water after Hurricane Katrina struck the Big Easy five years ago. It was one of the first restaurants in the city to re-open after Katrina struck. The owner, Jay Nix, worked with his extended family to rebuild and turn the lights back on just 88 days after the storm had passed.
The new building is built 19 feet higher than the pre-Katrina establishment so even hurricane-level flooding won't drown the Parkway.
President Obama and the first family were accompanied by the traveling press pool, which provided the information used in this story.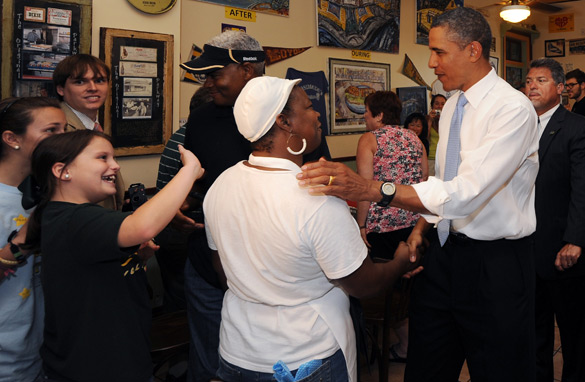 President Obama greets people as he arrives at Parkway Bakery and Tavern in New Orleans on Sunday. (PHOTO CREDIT: Getty Images)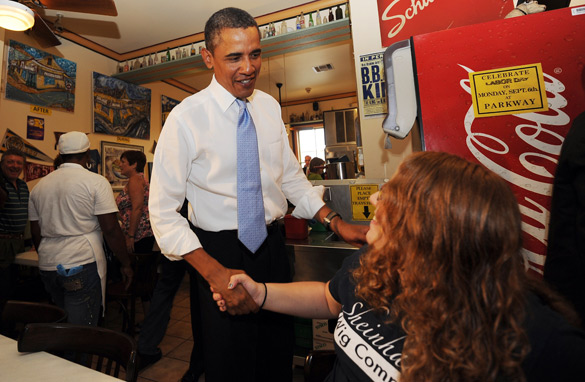 President Obama greets people as he arrives at Parkway Bakery and Tavern in New Orleans on Sunday. (PHOTO CREDIT: Getty Images)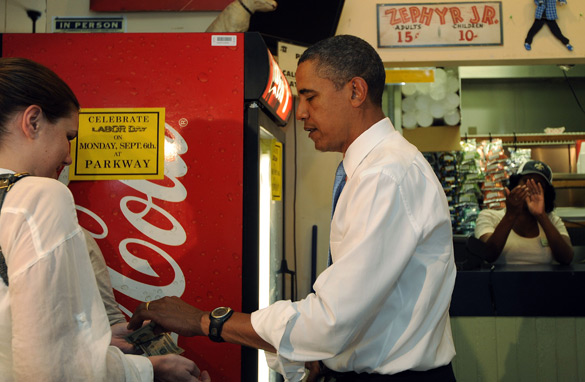 President Obama is given money by a White House staffer to pay for lunch Sunday. (PHOTO CREDIT: Getty Images)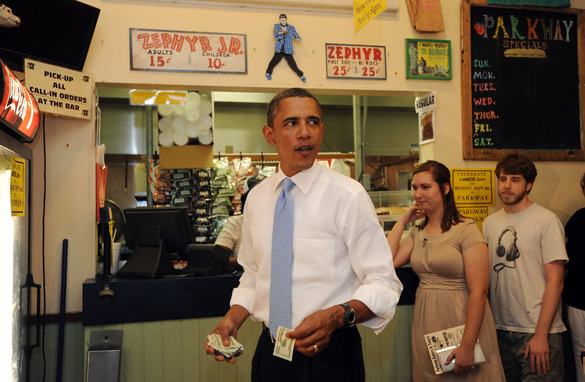 President Obama holds a wad of money near the front counter in Parkway. (PHOTO CREDIT: Getty Images)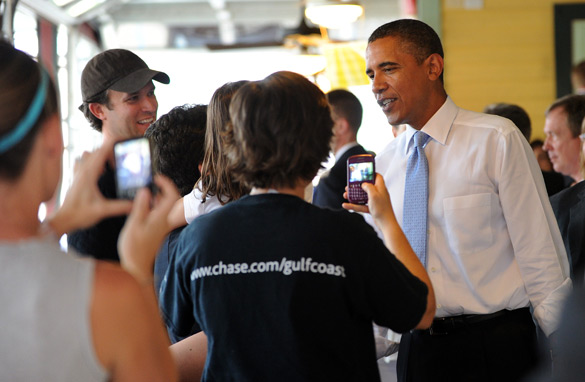 President Obama talks with local residents after ordering lunch at the Parkway Bakery and Tavern. (PHOTO CREDIT: Getty Images)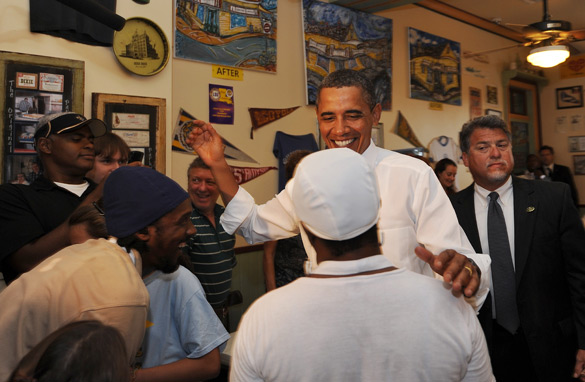 President Obama jokes with some locals inside Parkway. (PHOTO CREDIT: Getty Images)