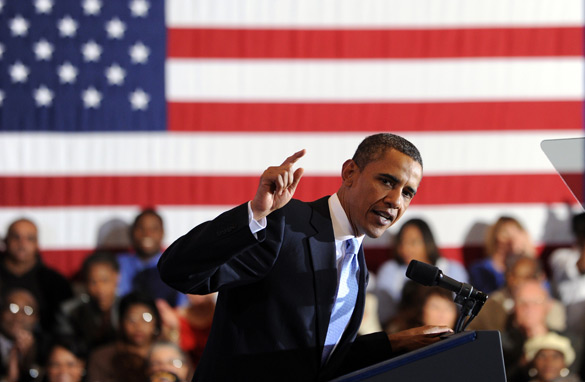 President Obama praised the resilience of New Orleans residents on Sunday, exactly five years after Hurricane Katrina wiped out the city. (PHOTO CREDIT: Getty Images)
New Orleans, Louisiana (CNN) - Calling the federal response to Hurricane Katrina "a shameful breakdown in government," President Barack Obama said Sunday as rebuilding continues, officials are looking ahead to avoid a repeat when future disasters strike.
Speaking at Xavier University of Louisiana in New Orleans to mark the fifth anniversary of Katrina, Obama said construction of a fortified levee system to protect the city is underway and will be finished by next year, "We should not be playing Russian roulette every hurricane season," he said.
"There is no need to dwell on what you experienced and what the world witnessed," the president said, speaking to a crowd that included current New Orleans Mayor Mitch Landrieu and members of Louisiana's Congressional delegation.
"We all remember it keenly - water pouring through broken levees; mothers holding their children above the waterline; people stranded on rooftops begging for help; and bodies lying in the streets of a great American city," Obama said. "It was a natural disaster but also a man-made catastrophe; a shameful breakdown in government that left countless men and women and children abandoned and alone."