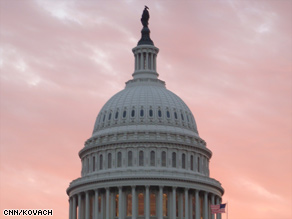 The CNN Washington Bureau's morning speed read of the top stories making news from around the country and the world.
WASHINGTON/POLITICAL
For the latest political news:  www.CNNPolitics.com
CNN: Marking Katrina anniversary, Obama praises New Orleans' resilience
Calling the federal response to Hurricane Katrina "a shameful breakdown in government," President Barack Obama said Sunday as rebuilding continues, officials are looking ahead to avoid a repeat when future disasters strike.
CNN: Beck says he wanted to reclaim civil rights 'from politics'
Conservative commentator Glenn Beck says his weekend revival-style rally at the Lincoln Memorial was meant to reclaim the U.S. civil rights movement "from politics," arguing that the movement was about "people of faith."
Politico: Obama blasts lies, disinformation
President Barack Obama dismissed a recent poll showing that a third of Americans don't know he's a Christian – and blamed an online campaign of misinformation by his conservative enemies for perpetuating the myth that he's a Muslim.
Newsweek: The Obama Vision of Federal Government
Officially—and unofficially—the Beck-Palin rally in Washington yesterday and President Obama's speech in New Orleans today had nothing to do with each other. But, back to back, they framed the furious argument at the core of this fall's campaign and of the next two years: can and do we believe in the president's vision of an activist, deeply-involved-at-the-local-level, "community"-invoking federal government?
The Hill: Miller credits Palin, Huckabee role in primary surprise
Alaska Tea Party favorite Joe Miller on Sunday thanked Sarah Palin and former Arkansas Gov. Mike Huckabee (R) for putting him on the verge of a major upset victory in the state's Republican Senate primary.
CNN: Alaska Senate hopeful wants land, not cash
Alaska's political leadership has spent decades touting its ability to bring federal dollars back from Washington. But the man who may have unseated incumbent Republican Sen. Lisa Murkowski in last week's primary says forget the cash – he'd rather have real estate.
CQ Politics: Novice Johnson Must Establish Himself in Feingold Territory
Two versions of Republican Senate candidate Ron Johnson are being introduced to Wisconsin voters. One is a successful businessman who embodies the hard-working spirit of the upper Midwest. The other is an extremist and elitist, a right-winger who doesn't know the issues. Whether Johnson or Sen. Russ Feingold (D) wins in November may well depend on which version voters get to know best.
CNN: FL Senate candidates support homebuyer tax credit revival
Two of the three candidates running for U.S. Senate in Florida said Sunday that they support the revival of an $8,000 first-time homebuyer tax credit, but the Obama administration's housing chief said "it's too early to say" whether it will be offered again.
Charleston Post and Courier: Graham to meet with Tea Party
The lamb plans to enter the lion's den. U.S. Lindsey Graham, R-S.C., plans to meet Wednesday evening with Charleston Tea Party members at North Charleston City Hall.
Politics Daily: Martin O'Malley vs. Bob Ehrlich: A Rematch for Maryland Governor
Behold the grudge match between a pair of Maryland governors. The campaign promises to be a doozy.
Washington Post: Indiana's Ellsworth, onetime Democratic star, now a symbol of party's struggles
When Brad Ellsworth won his U.S. House seat in Indiana four years ago, he was hailed by Democrats as the future of their party: a telegenic former sheriff with moderate instincts and an ability to appeal to a diverse electorate. …But Ellsworth is battling low name recognition at a time when voters aren't much interested in Democrats of any variety. In a poll released last week, he trailed his Republican opponent, Dan Coats, by 11 points, though Democrats attributed much of that to the fact that many voters don't know Ellsworth.
NATIONAL
For the latest national news: www.CNN.com
CNN: Feds investigate fire at site of future Tennessee mosque
A fire at the future site of a mosque in Murfreesboro, Tennessee, is under investigation but "you can reasonably make the assumption" that it was arson, an FBI spokesman told CNN Sunday. …The fire consumed an earth mover and damaged three other vehicles, according to Camie Ayash, a spokesperson for the mosque. Ayash said that the Mufreesboro Fire Department told her that the vehicles had been doused with an accelerant.
Boston Globe: Health care, job engine for state, is pulling back
Through good times, bad times, and everything in between, the one industry that Massachusetts could count on to keep adding jobs was health care. Not anymore. The stalwart of the state economy is struggling these days as expenses rise, patient visits decline, reimbursements shrink, and pressure to control health care costs intensifies.
USA Today: Record number in government anti-poverty programs
Government anti-poverty programs that have grown to meet the needs of recession victims now serve a record one in six Americans and are continuing to expand.
New York Times: Risk-Taking Rises as Oil Rigs in Gulf Drill Deeper
In a remote reach of the Gulf of Mexico, nearly 200 miles from shore, a floating oil platform thrusts its tentacles deep into the ocean like a giant steel octopus. …Major offshore accidents are not common. But whether through equipment failure or human error, the risks increase as the rigs get larger and more complicated.
USA Today: National Guard to arrive at Arizona-Mexico border
About 30 Army National Guard soldiers were scheduled to arrive at the Arizona-Mexico border this week in the first wave of reinforcements sent by the Obama administration to bolster security.
CNN: Mormon bishop shot dead in California
A Mormon bishop was shot and killed in Visalia, California, on Sunday, police said. The suspected gunman was killed later in the day in a gunfight with police, Visalia California Police Chief Colleen Mestas told CNN.
CNN: Man fires pepper spray on protesters outside Marine's funeral
A motorist fired pepper spray Saturday at a group of demonstrators and counter-protesters outside a funeral for a U.S. Marine in Omaha, Nebraska, police said. …A man in a Ford-150 pickup truck drove by, extended his arm and sprayed with a large can, police said. His vehicle was stopped a few minutes later.
INTERNATIONAL
For the latest international news:  http://edition.cnn.com
CNN: Coalition: Attacks in Afghanistan leave more than 30 insurgents dead
Afghan and coalition soldiers killed more than 30 insurgents, including 13 would-be suicide bombers, as they fought off assaults on two military bases and government buildings in eastern Afghanistan, the NATO-led International Security Assistance Force (ISAF) said on Sunday.
BBC: Kidnapped workers for Afghan female MP found dead
The bodies of five people working for a female candidate in Afghanistan's parliamentary election have been found in western Herat province.
Global Post: In Afghanistan, supplying US military is big business
Moving all the things 100,000 troops need to fight and survive in a hostile foreign land is never an easy task. In a landlocked, mountainous country the size of Texas, with few paved roads, it is even harder.
CNN: Families mourn loved ones pulled from Pakistan floodwaters
Dargahi Mirani is typically a fisherman by trade, but in the midst of devastating floods in Pakistan, local villagers have been turning to him not for his daily catch but for help in retrieving their loved ones' bodies from the floodwaters. …The death toll from the massive flooding has climbed to 1,639, but government officials say the number could rise substantially, as the floodwaters recede, and more bodies surface.
CNN: U.N.: Niger flooding displaces nearly 200,000
Heavy rains in Niger have displaced nearly 200,000 in recent weeks, the United Nations says, calling on donors and aid agencies to send shelter material, blankets and other supplies.
BBC: Israel rabbi calls for 'plague' on Mahmoud Abbas
A senior rabbi from a party within Israel's coalition government has called for Palestinian leader Mahmoud Abbas to "vanish from our world".
CNN: Trapped Chilean miners talk with family members
The 33 Chilean miners who have been trapped underground for more than three weeks spoke directly with family members for the first time Sunday, as officials worked to keep the men's spirits and health in good shape.
CNN: S. Korean PM-to-be resigns amid pressure
South Korean prime minister-designate Kim Tae-ho and two other nominees announced their resignations Sunday, amid corruption allegations that surfaced during their confirmation hearings, the state-run Yonhap news agency reported. The resignations are a blow to the cabinet re-organization efforts of President Lee Myung-bak. The cabinet re-shuffle was an attempt to refresh the government for the second half of his term.
BUSINESS
For the latest business news: www.CNNMoney.com
CNN Money: Wall Street: A 'huge' week ahead
It may be the end of August, but the summer doldrums aren't over yet. With all signs pointing to sluggish economic growth, a weak housing market and a lagging recovery, investors should buckle their seat belts for another rocky ride next week.
New York Times: Bernanke Tries to Manage Expectations of Fed Role
Federal Reserve officials and economists appear increasingly united in their view that the partisan gridlock on fiscal policy in Washington has clouded the prospects for a faster and stronger recovery.
Detroit News: Used vehicle demand up, supply down; prices soar
Used car prices are climbing and the pool of available models is drying up one year after the federal "cash for clunkers" program spurred consumers to scrap old cars for new ones.
New York Times: China Fortifies State Businesses to Fuel Growth
During its decades of rapid growth, China thrived by allowing once-suppressed private entrepreneurs to prosper, often at the expense of the old, inefficient state sector of the economy. Now, whether in the coal-rich regions of Shanxi Province, the steel mills of the northern industrial heartland, or the airlines flying overhead, it is often China's state-run companies that are on the march.
In Case You Missed It
Florida Gov. Charlie Crist (I) talks about whether he'll caucus with the Republicans or Democrats if he's elected.
http://www.cnn.com/video/#/video/politics/2010/08/29/sotu.crist.caucus.of.1.cnn
HUD Secretary Shaun Donovan on newest housing numbers and what the Obama administration is doing to stem the bleeding.
http://www.cnn.com/video/#/video/politics/2010/08/29/sotu.hud.donovan.housing.cnn
Subscribe to the CNN=Politics DAILY podcast at http://www.cnn.com/politicalpodcast
And now stay posted on the latest from the campaign trail by downloading the CNN=Politics SCREENSAVER at http://www.CNN.com/situationroom