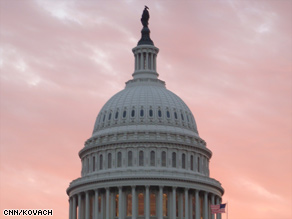 The CNN Washington Bureau's morning speed read of the top stories making news from around the country and the world.
WASHINGTON/POLITICAL
For the latest political news: www.CNNPolitics.com
CNN: Oval Office setting is message behind the message
Before President Obama says a word during his Tuesday Oval Office address, the backdrop will make a statement for him: that he is the decider. Obama is set to give his second Oval Office address, a speech meant to mark the end of combat missions in Iraq. But besides the remarks he will make, the setting of his speech will convey something, too.
Washington Post: Obama speech on Iraq has risks
President Obama is promoting the decision to end the U.S. combat mission in Iraq on Tuesday as a fulfillment of his campaign promise to draw the war to a close. But some of the president's detractors are using the same moment to question the wisdom of doing so – noting that Iraq is still afflicted with violence and has yet to form a government.
Politico: Obama keeps Iraq promise — will anyone notice?
As President Barack Obama marks the end of the U.S. combat mission in Iraq with a major address to the nation Tuesday evening, what should be a triumphant, "Yes, I did" moment for him will be overshadowed by continued violence in Baghdad, the bad economy, the war in Afghanistan and the president's fading popularity.
FOX News: CBO: Eight Years of Iraq War Cost Less Than Stimulus Act
As President Obama prepares to tie a bow on U.S. combat operations in Iraq, Congressional Budget Office numbers show that the total cost of the eight-year war was less than the stimulus bill passed by the Democratic-led Congress in 2009.
CNN: President's critic powerful insider, little-known outside the Beltway
His beginnings are humble - he started out sweeping floors in his father's Cincinnati bar and met his wife working as a janitor - but if Republicans take control after November elections, Rep. John Boehner will likely become the next Speaker of the House.
CNN Money: Obama rips GOP for blocking small business aid bill
President Barack Obama blasted Senate Republicans on Monday for blocking a small business assistance bill, calling their opposition "pure partisan politics."
Wall Street Journal: House Travel Stipends Probed
Congressional investigators are questioning a half-dozen lawmakers for possibly misspending government funds meant to pay for overseas travel, according to people familiar with the matter.
The Hill: Democrats and Lieberman dig deep in their pockets for Harry Reid
Democratic senators are donating generously to Senate Majority Leader Harry Reid but his biggest contributor is the one who often gives him a serious case of heartburn – Independent Sen. Joe Lieberman (Conn.).
CNN: Scott to team up with Barbour and Bush in hopes of unity
One week after winning Florida's Republican gubernatorial nomination, Rick Scott's getting some big names to join him on the campaign trail in hopes of healing some deep party rifts.
CNN: Alaska Libertarian Party says no, Murkowski's options dwindle
An offer wasn't even on the table, but the Alaska Libertarian Party has given a pre-emptive no to the idea of Republican Sen. Lisa Murkowski running on their ticket in November. Alaska Libertarian Party chairman Scott Kohlhaas said the executive committee decided to meet "amid all the speculation on the theoretical possibility" Murkowski could be come their candidate if she if loses the final vote in the Republican Primary. She currently trails Joe Miller by 1,668 votes, as the count of absentee and early votes begins Tuesday.
CNN: Tea Party group that assisted Miller now helping O'Donnell
A leading Tea Party organization that supported Republican Senate nominees Sharron Angle of Nevada and Mike Lee of Utah, and which gave a big boost to Senate candidate Joe Miller of Alaska, says it's coming to the aid of Christine O'Donnell of Delaware.
CNN: Coburn: Gingrich the last person I'd vote for
Newt Gingrich's camp refused to respond Monday to some sharp words spoken by fellow Republican Sen. Tom Coburn, just days after the Oklahoma senator said Gingrich is the "last person I'd vote for" during a town hall meeting.
Charleston Post and Courier: Haley gains backing of gun rights group
Republican Nikki Haley is the Gun Owners of America choice for governor. Haley, a state representative from Lexington, won the endorsement of the Second Amendment group over Democrat Vincent Sheheen, a state senator from Camden.
Newark Star Ledger: Fired N.J. education chief Bret Schundler says he made 'Race to the Top' error
Former Education Commissioner Bret Schundler admitted today he made the crucial error that cost New Jersey up to $400 million federal education funds, saying he inadvertently removed crucial data from the state's application.
CNN: U.S. expands sanctions on North Korea
President Barack Obama issued an executive order Monday giving broad new authority to impose financial sanctions on North Korean entities and individuals doing business with and for the secretive communist state.
NATIONAL
For the latest national news:  www.CNN.com
CNN: Hurricane Earl grows to Category 4; Tropical Storm Fiona forms
With Puerto Rico, the U.S. Virgin Islands and soon the East Coast in its reach, Hurricane Earl prompted warnings for those areas from the Federal Emergency Management Agency Monday.
CNN: FDA reports numerous violations at egg farms
Rodents, piles of manure, uncaged birds and flies too numerous to count were found by investigators at Iowa farms at the heart of the recall of more than half a billion eggs, the Food and Drug Administration reported Monday.
Salt Lake Tribune: Purchase health insurance online next month
Utah's decades-long health reform effort marks a milestone this week with the full launch of a website where businesses and individuals can compare and buy health insurance. Whether the bargains found at Exchange.utah.gov will compare to the deals travelers snap up at Priceline and Travelocity remains to be seen. In its limited test-run last year, the Utah Health Exchange was plagued by high prices and low enrollment.
Washington Post: Mistakes rise for Washington region's air traffic controllers
Onboard systems intended to keep airliners from colliding in midair have been triggered more than 45 times this year in the skies over Washington as air traffic controllers have made dangerous mistakes at a record-setting pace.
Miami Herald: The U.S. Postal Service goes green
The United States Postal Service is making big strides in the green movement. According to recent news releases, the organization has incorporated everything from customer recycling to green rooftops to emissions reporting to make sure their operations are at the forefront of the sustainability movement.
Pittsburgh Post-Gazette: Region's jobless rate continues to climb
The Pittsburgh region's unemployment rate followed the state trend by ticking up one-tenth of a percentage point to 8.4 percent for July, the state Department of Labor and Industry reported this morning. The region also lost jobs. The state reported that the seasonally adjusted number fell by 1,800 jobs in the seven counties that make up the Pittsburgh Metropolitan Statistical Area.
INTERNATIONAL
For the latest international news:  http://edition.cnn.com
CNN: Dutch arrests may have been dry run, U.S. source says
Two men held in the Netherlands may have been trying to test U.S. airport security by putting bottles with electronic devices attached in checked baggage, a U.S. law enforcement source said Monday.
New York Times: Outlines Emerge of Future State in the West Bank
As preparations intensify for a Palestinian-Israeli summit meeting in Washington on Thursday, the crude outlines of a Palestinian state are emerging in the West Bank, with increasingly reliable security forces, a more disciplined government and a growing sense among ordinary citizens that they can count on basic services.
CNN: Drilling to reach Chile miners yet to begin
Chilean officials were awaiting the arrival of a main drill and other equipment to begin boring a rescue shaft in a months-long operation to reach 33 miners who have been trapped underground for more than three weeks.
CNN; More than 3,000 Mexican federal police fired, commissioner says
About 3,200 Mexican federal police have been fired since May for failing to do their work or being linked to corruption, Federal Police Commissioner Facundo Rosas said Monday. …In addition, Rosas said at a news conference, another 1,020 officers face disciplinary proceedings for failing confidence exams.
CNN: Police: American-born drug kingpin arrested in Mexico
American-born Edgar Valdez Villarreal, believed to be one of Mexico's most ruthless drug traffickers, was captured Monday, Mexican authorities said. …The arrest, a high-profile win for Mexican authorities, followed "intelligence work" that began in June 2009, federal police said in a statement.
CNN: Fidel Castro says he was 'at death's door'
In a rare interview, Fidel Castro gives new details about his health four years ago when emergency surgery forced him out of power, saying he didn't think he would make it and still has difficulty walking. "I was at death's door," he told the director of the left-wing Mexican newspaper La Jornada in an article published Monday. "I didn't aspire to live, much less anything else."
BUSINESS
For the latest business news:  www.CNNMoney.com
Bloomberg: Bernanke Faces Skepticism on Policy Tools
Federal Reserve officials face another round of reports projected to show weakening growth amid skepticism they have the firepower to deliver on Chairman Ben S. Bernanke's pledge to avoid a relapse into recession.
Fortune: Credit is finally available, but no one wants it
Finally, nearly two years after they were bailed out by Congress, big banks are beginning to ease lending standards for individuals and small businesses. But it's not exactly having the reception many believed it would. Just when credit becomes more available, there's little evidence of a surge in demand for it.
Washington Post: Car sales and consumer spending up, but experts not convinced of trend
At first blush, a government report released Monday appeared to offer hope to the nation's struggling auto industry: New-car sales in July fueled an uptick in consumer spending, which had been wheezing for three straight months. But a closer look at those car sales raises questions about whether the auto market – and consumer spending as a whole – are indeed on an upward arc or whether they are just treading water.
Christian Science Monitor: College financial aid: More grant money available – and easier to find
For many Americans, a college degree seems more unattainable than ever. Tuition has skyrocketed – up 439 percent between 1982 and 2008, while family incomes only increased 147 percent (not adjusted for inflation). But that doesn't mean that higher education is out of reach. College financial aid – student loans, grants, and scholarships, plus programs available from individual colleges and universities – is helping to ease tuition sticker shock.
In Case You Missed It
CNN's Wolf Blitzer and White House economic adviser Austan Goolsbee discuss the risk of a double dip recession
http://www.cnn.com/video/#/video/politics/2010/08/30/tsr.goolsbee.intv.cnn
CNN's Larry King moderates a discussion about the merits of Glenn Beck's 'Restoring Honor' rally
http://www.cnn.com/video/#/video/us/2010/08/30/lkl.glenn.beck.rally.review.cnn
Subscribe to the CNN=Politics DAILY podcast at http://www.cnn.com/politicalpodcast
And now stay posted on the latest from the campaign trail by downloading the CNN=Politics SCREENSAVER at http://www.CNN.com/situationroom