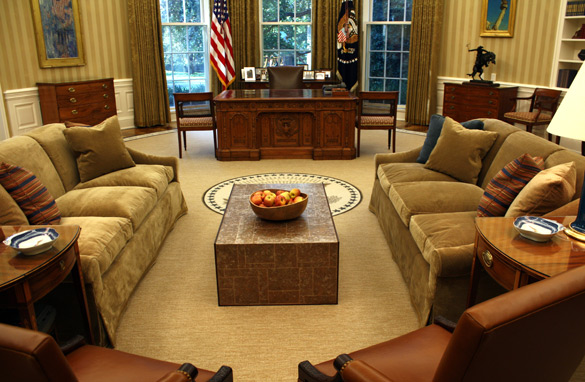 The Oval Office recently underwent an extreme makeover. (PHOTO CREDIT: Shawna Shepherd/POOL)


(CNN) - It may not have been a design on a dime but the Oval Office underwent an extreme makeover and, just like the popular television program of the same name, the renovation was done while the First Family was away on vacation.
A design team swooped in and in less than 10 days, transformed the president's office from a traditional and somewhat formal setting to a more modern family-style room.
There's a new signature oval rug, leather desk chair, two overstuffed light brown couches, a walnut and mica coffee table with modern lines, two blue ceramic lamps and blue accent pillows on the couch, reupholstered furniture, and handmade striped wallpaper.
See more pictures and a video tour of the redesigned Oval Office, after the jump:

But history did not go out the door in this redesign. The president held onto the historic Resolute desk, paintings, and other art work he added when he came into office.
Usually every president puts his personal stamp on the Oval Office with a redesign early in the administration. Up until now, President Obama has been working in an office designed for then-President George W. Bush, complete with formal cream floral couches, traditional furniture, off-white walls and a sunburst oval rug.
Obama's newly designed rug was produced and donated by Scott Group Custom Carpets, the same company that designed the former President Bill Clinton's Oval Office rug. Obama's rug is wheat-colored with accents of cream and blue. Lining the border are historical quotes that were handpicked by President Obama, including Martin Luther King, Jr. and four former presidents.
In an apparent effort to head off criticism, the White House pointed out that all of the materials and furniture came from U.S.-based companies, and that taxpayers won't foot the bill.
These kinds of projects have always been funded by the White House Historical Association, with money from the Presidential Inaugural Committee.
The White House would not reveal the final price tag, but said it is comparable to what the two former presidents spent on their Oval Office makeovers.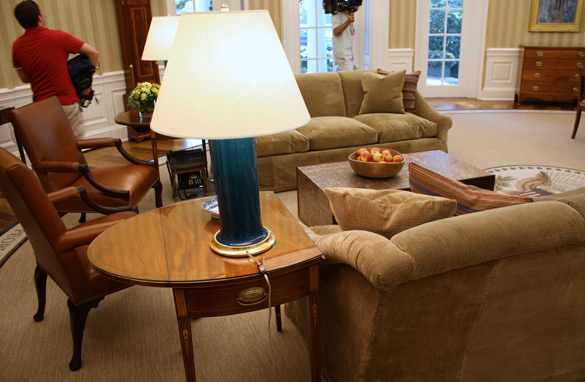 The Oval Office recently underwent an extreme makerover. (PHOTO CREDIT: Shawna Shepherd/POOL)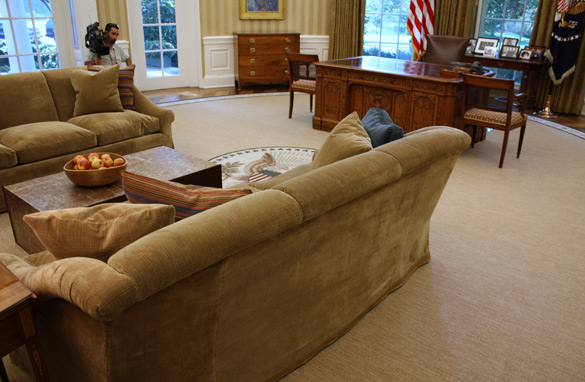 The Oval Office recently underwent an extreme makerover. (PHOTO CREDIT: Shawna Shepherd/POOL)