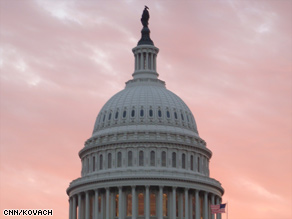 The CNN Washington Bureau's morning speed read of the top stories making news from around the country and the world.
WASHINGTON/POLITICAL
For the latest political news:  www.CNNPolitics.com
CNN: Israeli-Palestinian conflict takes center stage in Washington
Ahead of direct talks between Israel and the Palestinians on Thursday, President Barack Obama said Wednesday night that he was "hopeful - cautiously hopeful" that the talks could achieve a two-state solution to the long running Mideast conflict.
CNN: Egypt might host second round of Mideast peace talks
If this week's Mideast peace talks brokered by the Obama administration go well, Egyptian President Hosni Mubarak is offering to host a second round of talks later this month in his country, according to two officials close to the talks.
CNN: Three-way race to become two-way contest in Florida
Bud Chiles is giving up his independent bid for Florida governor and will endorse the Democratic candidate in the race. Wednesday Chiles' campaign put out a statement "Lawton "Bud" Chiles will hold a news conference tomorrow with Alex Sink, the Democratic nominee for governor, to announce the end of his independent gubernatorial bid and to endorse Sink."
CQ Politics: Some Democrats See Competitive Opportunity in Alaska
With Sen. Lisa Murkowski conceding the Alaska GOP primary Tuesday night to lawyer Joe Miller, some Democrats now believe they have a chance to pick up a seat in a state no one thought could be in play in a cycle where Democrats are facing a significant loss of seats.
Anchorage Daily News: Murkowski defeat costs state seniority in US Senate
U.S. Sen. Lisa Murkowski's defeat in last week's Republican primary ends a 30-year-reign of Murkowskis in Alaska politics, and political experts say it will weaken Alaska's political clout in Washington, D.C.
CNN: Miller questions GOP 'courage and leadership'
A day after his opponent conceded the Republican primary for Senate in Alaska, Joe Miller took on both President Obama and the Republican political establishment Wednesday, warning that the nation is headed towards socialism and facing a dire fiscal crisis.
CNN: Clinton returns to Arkansas for Lincoln, Causey
Former President Bill Clinton heads back to his home state of Arkansas next week to campaign for two Democratic candidates. Clinton is scheduled to appear at events for incumbent Democratic Sen. Blanche Lincoln and congressional candidate Chad Causey on September 8.
San Jose Mecury: Boxer, Fiorina clash in hard-hitting debate
U.S. Sen. Barbara Boxer and former Hewlett-Packard CEO Carly Fiorina clashed Wednesday night in a hard-hitting debate that highlighted their sharp ideological differences over a range of fiscal and social issues - from jobs and the environment to abortion and gun rights.
Arizona Republic: Brewer, Goddard spar over immigration, state budget
Republican Gov. Jan Brewer and Democratic challenger Terry Goddard attacked each other's views on the economy and illegal immigration during a televised debate Wednesday night that will likely be the gubernatorial candidates' only face-to-face matchup before the election.
Charleston Post and Courier: Graham, Tea Party square off
U.S. Sen. Lindsey Graham began his meeting with the Charleston Tea Party by asking members of the news media to leave. "We had an understanding that this would be a private meeting," Graham, R-S.C., told the crowd of more than 100 people Wednesday night in North Charleston City Hall. To the departing media, he said, "You can see me outside."
Miami Herald: Candidates for Congress can't escape Cuba factor
The campaign websites and stump speeches of congressional hopefuls David Rivera and Joe Garcia don't mention the defining issue of their careers: Cuba.
NATIONAL
For the latest national news:  www.CNN.com
CNN: Gunman at Discovery Channel HQ shot dead, hostages rescued
Three hostages were rescued from the headquarters of the Discovery Channel in Silver Spring, Maryland, Wednesday afternoon after police shot and killed the man who was holding them, officials said. The hostages were unharmed, said Police Chief J. Thomas Manger of the Montgomery County Police Department.
CNN: Earl, restrengthened to a Category 4, heads toward East Coast
Hurricane warnings and watches stretched from North Carolina to Delaware and covered parts of Massachusetts on Wednesday as forecasters upgraded Hurricane Earl to a Category 4 storm and warned it will be approaching the East Coast by late Thursday.
CNN: Federal agents visit Iowa farms that recalled eggs
Federal agents visited Hillandale Farms and Wright County Egg, which have recalled more than half a billion eggs in the wake of the salmonella outbreak, a U.S. Food and Drug Administration spokeswoman said Wednesday.
CNN: Number of illegal immigrants drops, study finds
The number of illegal immigrants living in the United States continues to decline from a peak in 2007, according to a report released Wednesday by the Pew Hispanic Center. The center estimated that in March 2009 - the most recent figures - there were 11.1 million unauthorized immigrants in the country, compared to 12 million in March 2007.
Los Angeles Times: BP shelled out big bucks for advertising
As BP oil spread across the Gulf of Mexico this summer, the company spent more than $93 million on advertisements to counter images of the mounting disaster. That was more than triple the amount the company spent on ads during the same period last year, from April through the end of July, leaders of the House Energy and Commerce Committee's spill investigation reported Wednesday.
INTERNATIONAL
For the latest international news:  http://edition.cnn.com
CNN: This year's U.S. death toll in Afghanistan the highest
In only eight months, 2010 has become the deadliest year for U.S. troops in Afghanistan, according to a CNN count of Pentagon and NATO figures. At least 321 troops have died so far in 2010, the highest yearly toll since the conflict began nearly nine years ago. The previous high was last year's 313 American deaths.
CNN: Suicide bomb blasts rock Lahore; at least 28 dead
At least 28 people are dead and at least 218 others were wounded Wednesday after three blasts during a Shiite procession here, authorities in Pakistan said. Khalid Ranjha, a Lahore government official, said two of the dead are children and two others are women, and seven of those injured are in critical condition.
CNN: U.S. offers $5 million reward for Pakistani Taliban leaders
Hakimullah Mehsud, a key leader of the Pakistani Taliban, has been charged for his alleged involvement in the killings of seven U.S. citizens at an American military base in Afghanistan in 2009, the U.S. Justice Department announced Wednesday. A $5 million reward is being offered for information leading to the capture of Mehsud and another top Pakistani Taliban leader, Wali Ur Rehman, U.S. officials announced.
BBC: Chilean miners receive first hot meal in three weeks
Chilean miners trapped underground after a rock collapse have received their first hot meal in 26 days. Meatballs, chicken and rice were piped through a tube to the 33 miners, who are stuck 700m (2,300ft) below the surface.
Los Angeles Times: Mexico's crackdown on organized crime is working, Calderon says
Fresh off this week's capture of a notorious drug lord, Mexican President Felipe Calderon declared Wednesday that his sustained assault on organized crime and efforts to clean up the police were paying off.
Der Spiegel: Fighting to Survive in Sadr City
Iraq's poorest people live on trash heaps, sleep amongst the rats and drink polluted water. In the country with the world's third largest oil reserves, a million people live in misery, despite the fact that the US has spent $53 billion on the country's reconstruction efforts.
BUSINESS
For the latest business news:  www.CNNMoney.com
CNN Money: September surprise: Stocks soar
The bulls are back on Wall Street. After a bearish August, stocks roared into September with a major rally Wednesday, as investors cheered signs of strength in the manufacturing sector.
Wall Street Journal: U.S. Car Sales Plunged in August
U.S. auto sales fell 21% in August compared to a very strong month a year ago, when the federal government's "cash for clunkers" program sparked a surge in new-car buying. General Motors Co., Toyota Motor Corp. and Honda Motor Co. all reported declines of 25% or more while Ford Motor Co. saw its sales drop 11%.
Detroit News: Old GM files liquidation plan
The estate of "old" General Motors Corp. has filed a plan to liquidate its remaining assets, aiming to win bankruptcy court approval by early next year. The plan would divide the remaining assets into four trusts, including an $836 million environmental cleanup program at 90 former GM sites in 14 states - 47 of them in 14 Michigan communities.
In Case You Missed It
The President announced that negotiations will begin Thursday in an effort to secure peace in the Middle East.
http://www.cnn.com/video/#/video/us/2010/09/01/bts.obama.mideast.peace.cnn
Alaska Sen. candidate Joe Miller tells CNN's John King that President Obama is "bad for America."
http://www.cnn.com/video/#/video/politics/2010/09/01/jk.miller.republican.message.cnn
Subscribe to the CNN=Politics DAILY podcast at http://www.cnn.com/politicalpodcast
And now stay posted on the latest from the campaign trail by downloading the CNN=Politics SCREENSAVER at http://www.CNN.com/situationroom