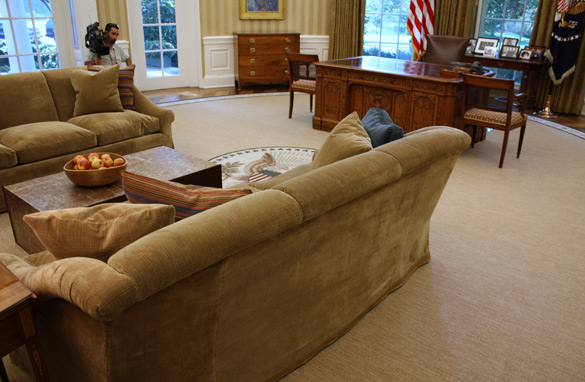 A quote on the perimeter of the new presidential rug in the Oval Office is wrongly attributed to Martin Luther King, Jr. (PHOTO CREDIT: Shawna Shepherd/POOL)
(Updated at 10:30 p.m. ET)

(CNN) - Remember the big makeover the Oval Office got last week while President Obama was on vacation?
Well, there's a problem with the presidential rug.
The floor piece has quotations from four U.S. presidents and the Rev. Martin Luther King Jr. — or does it?
One quote reads, "The Arc of the Moral Universe Is Long, But It Bends Towards Justice."
As the Washington Post's Jamie Stiehm points out, the quote attributed to King is not really King's quote at all.
It's Theodore Parker's.
King often quoted and paraphrased Parker, an abolitionist and minister from Massachusetts, who in 1853 proclaimed, "I do not pretend to understand the moral universe; the arc is a long one ... And from what I see I am sure it bends towards justice."
While the origins of Parker's proclamation are rarely cited in today's public discourse, a search on even the most basic of research tools, Wikipedia, reveals Parker as the voice behind the words.
White House Deputy Press Secretary Bill Burton on Saturday stood by the quote on the rug, noting that Martin Luther King Jr. did utter precisely the same words on September 2, 1957. Burton said that Theodore Parker's quote is slightly different.
(Updated at 10:30 p.m. ET with a comment from the White House)