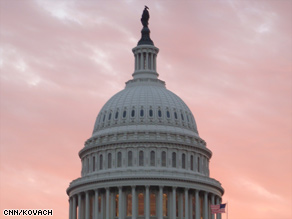 The CNN Washington Bureau's morning speed read of the top stories making news from around the country and the world.
WASHINGTON/POLITICAL
For the latest political news:  www.CNNPolitics.com
CNN: Obama plans big economic push: Too little, too late?
President Barack Obama is rushing to roll out a new economic plan this week, but his fellow Democrats are confronting a difficult question: Is it too little, too late?
CNN: Obama to introduce another business tax cut
In another move aimed at stabilizing the still-shaky economy, President Barack Obama on Wednesday will introduce a new $200 billion tax cut giving businesses across the country an incentive to buy new equipment in the short term, according to a senior administration official.
CNN: Obama's speech revs up Harley worker
When President Barack Obama rolled out a $50 billion six-year infrastructure proposal Monday, thousands who gathered in Milwaukee were eager to hear his message. Among them was Henry Haggler. He's worked at a Harley-Davidson plant in Menomonee Falls, Wisconsin, for almost 16 years.
Huffington Post: Political Scientists Forecast Big Losses For Democrats In 2010 Midterm Elections
With the midterm elections now just nine weeks away, a group of political scientists gathered for a conference in Washington D.C. this weekend forecast significant losses for the Democrats. Three of the five forecasts predicted that Republicans will gain majority control of the House of Representatives.
Los Angeles Times: It's a long shot, but Senate's now in GOP sights
In a shift of political fortunes that seemed unimaginable even recently, Republicans now have a long-shot chance to take control of the Senate, bolstering their ranks with outsider candidates who would probably shake up the chamber.
Charleston Post and Courier: 3-ring election season: Still plenty of time for more faux pas before Nov. 2 vote
A hike along the Appalachian Trail that ended up in Buenos Aires. Two words shouted at the President of the United States. A scandalous run-up to the GOP gubernatorial primary. All these national headlines were penned before South Carolina's political season entered its stretch run.
Anchorage Daily News: Senate candidates taking off the gloves
Alaska candidates for U.S. Senate spent Labor Day weekend meeting voters and trading insults in what's promising to be a point-blank battle as each paints himself as the sensible alternative to the other guy's radical views or failed ideas.
Washington Post: Unlikely battleground of Wisconsin reflects Democrats' vulnerability in midterm elections
Democrats in Congress are no longer asking themselves whether this is going to be a bad election year for them and their party. They are asking whether it is going to be a disaster. The answer will probably be found in states such as Wisconsin, one of a growing number of spots on the map where Democrats accustomed to winning reelection with ease – including Sen. Russell Feingold – are unexpectedly in trouble.
Boston Globe: Election season goes into top gear
Amid deep voter anxiety about the economy, Massachusetts is heading into a fall campaign season that could set a new course for state politics and send a host of fresh faces to Beacon Hill and beyond.
New York Times: Republican Runs Street People on Green Ticket
Benjamin Pearcy, a candidate for statewide office in Arizona, lists his campaign office as a Starbucks. The small business he refers to in his campaign statement is him strumming his guitar on the street. …Mr. Pearcy and other drifters and homeless people were recruited onto the Green Party ballot by a Republican political operative who freely admits that their candidacies may siphon some support from the Democrats.
CNN: New Jersey to hold hearing about $400 million mistake
The New Jersey Assembly has called upon nearly everyone who might have had a hand on the failed application that cost the state hundreds of millions of dollars in educating funding to testify at a hearing Tuesday.
Cleveland Plan Dealer: Demand for bilingual ballots should not have surprised Cuyahoga County, Justice Department says
Cuyahoga County elections officials continue to say the Department of Justice should not have pressed for bilingual ballots just before an election and should have started discussions about their requirements months ago.
NATIONAL
For the latest national news:  www.CNN.com
CNN: Planned Quran-burning could endanger troops, Petraeus warns
The U.S. commander in Afghanistan on Monday criticized a Florida church's plan to burn copies of the Quran on September 11, warning the demonstration "could cause significant problems" for American troops overseas.
CNN: Tropical Storm Hermine downs trees, power lines in Texas
Tropical Storm Hermine began its journey across Texas Tuesday morning, bringing fierce winds and the possibility of tornadoes.
CNN: Wildfires burn in Colorado, Oklahoma
Crews battled a fast-moving wildfire near Boulder, Colorado, early Tuesday, while fire teams in western Oklahoma had gained the upper hand there, emergency officials said.
New Orleans Times-Picayune: Federal investigations of NOPD run up against statute of limitations
Last week marked the five-year anniversary of many incidents involving New Orleans police officers that have been under federal investigation as potential violations of civil rights, which legal experts said could mean the de facto conclusion of certain probes as prosecutors run up against statutes of limitations.
USA Today: Armored trucks cut IED deaths among allied troops
The U.S. military's new armored trucks in Afghanistan are significantly reducing troop deaths in roadside attacks at a time when insurgent bombings are at record levels, according to statistics provided to USA TODAY.
Honolulu Adviser: Garden Isle missile site will expand
The Pentagon is planning a $278 million program to increase missile testing on Kauai that would improve the protection of Europe from ballistic missiles from countries such as Iran, and provide an additional element of defense for Hawaii from North Korean threats, officials said.
Boston Globe: Medicare head pushes health care test sites
Newly installed Medicare chief Donald Berwick, keeping a low public profile after encountering controversy over his appointment, is moving quickly behind the scenes to seed the US health care system with 100 to 300 sites to test new models of caring for patients.
Washington Post: FDA considers approving genetically modified salmon for human consumption
The Food and Drug Administration is poised to approve the first genetically modified animal for human consumption, a highly anticipated decision that is stirring controversy and could mark a turning point in the way American food is produced.
INTERNATIONAL
For the latest international news:  http://edition.cnn.com
Los Angeles Times: Iran has enough fuel for 2 nuclear warheads, report says
Iran has produced more than enough nuclear fuel to power two atomic warheads if it were to further enrich its supply and disregard its treaty obligations, according to a report issued Monday by the world's nuclear energy watchdog.
New York Times: Lacking Money and Leadership, Push for Taliban Defectors Stalls
A $250 million program to lure low-level Taliban fighters away from the insurgency has stalled, with Afghans bickering over who should run it, and international donors slow to put up the money they had promised.
NPR: In Afghanistan, The Civil Service 'Surge' That Isn't
As U.S. troops flood into southern Afghanistan, the same can't be said for Afghan government workers. There are critical shortages of government bureaucrats in regions such as Helmand and Kandahar. U.S. military officers are particularly frustrated by the lack of a civilian "surge."
CNN: Independents break election deadlock in Australia
Two independent lawmakers from rural Australia broke a parliamentary deadlock on Tuesday, giving the country its first elected female prime minister. Prime Minister Julia Gillard now has the votes to form a government, but lacks a mandate.
Jerusalem Post: Israel gearing up for 'mother of all flotillas'
Israel is preparing for what is being described in the IDF as the "mother of all flotillas," which could include up to 20 different ships planning to set sail for the Gaza Strip in the coming months. The flotilla is being organized by a coalition of NGOs from Europe and the United States, including a group calling itself European Jews for a Just Peace.
BBC: Greek finance minister survives cabinet reshuffle
Greek Prime Minister George Papandreou has reshuffled his cabinet but left the key post of finance minister unchanged. Analysts say the changes are intended to boost economic and social policy areas and appease voters angry with tough austerity measures.
CNN: UK police ask for help in case of slain intelligence agent
Metropolitan police in London, England, appealed Monday for further information about last month's death of a man who worked for a British intelligence agency and whose naked body was found in a padlocked duffel bag in his bathroom.
Financial Times: Putin hints at return as president
Vladimir Putin, Russia's prime minister, insisted he had not made up his mind about whether he would stand again for president in 2012, in spite of mounting speculation in Russia that he will return as head of state.
BUSINESS
For the latest business news:  www.CNNMoney.com
Los Angeles Times: Millions can find only part-time or lower-paying jobs
Beyond the 15 million Americans who have no jobs at all, millions more are caught in part-time or limited jobs that don't pay them enough to maintain their standard of living — much less contribute to the strong consumer spending needed to power the nation out of the economic doldrums.
USA Today: Summer jobs hit record dry spell
The worst summer on record for young people who wanted a job staggered to an end this Labor Day weekend. Only 47.6% of people ages 16 to 24 had jobs in August, the lowest level since the government began keeping track in 1948, according to the Labor Department. By comparison, 62.8% of that age group was employed in August 2000.
New York Times: Once a Dynamo, the Tech Sector Is Slow to Hire
For years the technology sector has been considered the most dynamic, promising and globally envied industry in the United States. It escaped the recession relatively unscathed, and profits this year have been soaring. But as the nation struggles to put people back to work, even high-tech companies have been slow to hire, a sign of just how difficult it will be to address persistently high joblessness.
Indianapolis Star: More workers target retirement accounts
Financial planners call it a last resort - digging into that retirement account for cash now. Yet a record number of Americans opted to do just that during the past quarter as they face unemployment, home foreclosure and mounting bills.
In Case You Missed It
Anderson Cooper and a political panel discuss the grim numbers Democrats face heading into the midterm elections.
http://www.cnn.com/video/#/video/politics/2010/09/07/ac.gop.surge.cnn
CNN's Tom Foreman takes a look at some of the more interesting political ads hitting the airwaves this year.
http://www.cnn.com/video/#/video/politics/2010/09/07/ac.foreman.campaign.ads.cnn
Subscribe to the CNN=Politics DAILY podcast at http://www.cnn.com/politicalpodcast
And now stay posted on the latest from the campaign trail by downloading the CNN=Politics SCREENSAVER at http://www.CNN.com/situationroom