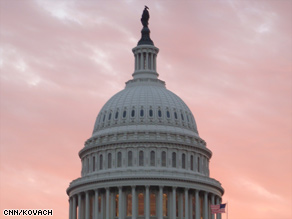 The CNN Washington Bureau's morning speed read of the top stories making news from around the country and the world.
WASHINGTON/POLITICAL
For the latest political news:  www.CNNPolitics.com
CNN: Crist condemns Quran protest but says freedom of speech an issue
Florida Gov. Charlie Crist on Thursday called this weekend's planned Quran burning in Gainesville "deplorable" but said there is little he can do to stop the protest. "We have freedom of speech at work here, but I think common decency would dictate that this would not occur and that we would be respectful and are a respectful people of all religions," Crist told reporters during a tour of a Veterans Affairs facility in St. Petersburg.
CNN: Emanuel cancels Chicago trip
White House Chief of Staff Rahm Emanuel has canceled a planned trip to Chicago this weekend, a move that is further fueling buzz the top Obama aide is considering a Chicago mayoral bid. Emanuel had planned to be in Chicago for fundraising events for local candidates. A spokesman told CNN the White House chief of staff nixed the trip due to scheduling conflicts.
CNN: Jackson says no decision yet on mayoral run, slams Emanuel
Rep. Jesse Jackson Jr. said Thursday he has not yet decided whether he will run for mayor of Chicago, but nonetheless launched an attack against Obama Chief of Staff Rahm Emanuel, who is exploring a candidacy for the same office. "I've not made that judgment yet," Jackson said when asked by CNN Chief National Correspondent John King if he will run for the mayoral office opened by the retirement of Richard Daley, the Chicago legend who served as mayor for more than two decades.
CNN: Officials: Goolsbee to get key economic post at White House
President Obama could announce as early as Friday morning that he will tap Austan Goolsbee to be chairman of the White House Council of Economic Advisers, according to two senior administration officials familiar with the announcement. Goolsbee will replace Christina Romer, who stepped down earlier this month as chairwoman of the CEA, a panel of three White House officials who offer the president economic advice and help formulate policy.
CNN: Medal of Honor to go to Afghan vet killed in 2008
President Obama will award the Medal of Honor to U.S. Army Staff Sgt. Robert J. Miller for "conspicuous gallantry" and "heroic actions" in Afghanistan in January 2008, the White House announced Thursday. Miller will receive the rare honor posthumously for displaying "immeasurable courage and uncommon valor – eventually sacrificing his own life to save the lives of his teammates and 15 Afghanistan National Army soldiers," according to a White House statement.
BBC: Obama says Mexico drug crime is not as bad as Colombia
President Obama has denied that rising violence is making Mexico more and more like Colombia at the height of its drugs war. The remark is an apparent contradiction to comments made by his Secretary of State, Hillary Clinton.
New York Times: Lobbyists Rush to Hire G.O.P. Staff Ahead of Vote
With Democrats in danger of losing control of Congress, some prominent lobbying shops, trade groups and contractors are already moving to bring more Republicans on board to bolster their political fortunes.
Washington Post: Capitol Hill employees owed $9.3 million in back taxes last year, data show
Capitol Hill employees owed $9.3 million in overdue taxes at the end of last year, a sliver of the $1 billion owed by federal workers nationwide but one with potential political ramifications for members of Congress. The debt among Hill employees has risen at a faster rate than the overall tax debt on the government's books, according to Internal Revenue Service data.
CNN: Angle seeks support from Hispanics
Republican Senate nominee Sharron Angle is making a final push in the last two months before the Election Day to attract more Hispanic voters to the polls. Angle has yet to release a Spanish language campaign ad, but a campaign spokesperson tells CNN the first commercial is on its way. "We will be airing Spanish-language ads and continuing our grassroots outreach to the Hispanic community," Angle communications director Jarrod Agen said.
The Birmingham News: Shelby County voting rights case to go before D.C. judge
Shelby County's challenge to the 45-year-old Voting Rights Act as an outdated burden goes to federal court Friday in a case that election law experts say could return the controversial issue to the U.S. Supreme Court. With its lawsuit, the politically conservative and predominantly white county south of Birmingham has immersed itself into the national debate over whether certain parts of the country, mostly in the South, have progressed far enough from their racist past to no longer need the watchful eye of the federal government over local elections.
NATIONAL
For the latest national news:  www.CNN.com
CNN: Florida pastor says he's 'rethinking" canceled Quran burning
A Florida pastor who called off a Quran burning said late Thursday he would "rethink our position" after a Muslim leader said the minister incorrectly announced that the proposed Islamic center near New York's ground zero would be moved as part of a deal.
Albany Times Union: Message of hate leaves painful mark on a city
The men from Bangladesh scrubbed slowly, with purpose, along with water and cleanser. As they worked, an ugly anti-Muslim epithet written in 6-inch block letters with red spray paint on the back wall of their mosque yielded easily to their labors. On Thursday, a day after the vandalism was discovered, a shadowy residue remained on the wall as city residents wondered who would do such a thing and officials vowed to catch the perpetrators.
CNN: Bodies of Americans killed after end of combat operations arrive home
Like so many U.S. service members before them, the bodies of Sgt. Phillip Jenkins and Pvt. James McClamrock returned late Thursday to Dover Air Force Base in Delaware - the most recent deaths of the war in Iraq. But in some ways, the differences in their deaths couldn't be more striking than the 4,400 that came before them.
CNN: 'Don't ask, don't tell' policy ruled unconstitutional
A federal court in Riverside, California, ruled Thursday that the military's "don't ask, don't tell" policy - which bars gay men and lesbians from serving openly - is unconstitutional.
CNN: Army: 12 soldiers killed Afghans, mutilated corpses
Twelve U.S. soldiers face a variety of charges in what military authorities believe was a conspiracy to murder Afghan civilians and cover it up, along with charges they used hashish, mutilated corpses and kept grisly souvenirs.
Seattle Times: Parent of accused soldier says he warned Army officials about alleged war crimes
The father of a Western Washington-based soldier is stunned that his son, after trying to blow the whistle on squad members for the murder of an Afghan farmer and plans to kill more civilians, ended up accused of one of the killings. Christopher Winfield says his son, Adam, is innocent, and would never have been in the situation if the warnings he says he passed along to the Army were investigated.
NPR: Report: Homegrown Terrorists Pose Biggest Threat
A new report to be released later Friday says that in the nine years since the Sept. 11 attacks, the terrorist threat against this country has fundamentally changed. The biggest threat is no longer coming from the dusty landscape of Afghanistan or the mountains of Pakistan border regions. Instead, experts say, the threat is now coming from within our own borders, in the form of homegrown terrorists.
CNN: U.S. circuit court rules against illegal immigration laws
A pair of illegal immigration ordinances in Hazleton, Pennsylvania, were ruled unconstitutional Thursday by a federal appeals court. In 2006, Hazleton passed the Illegal Immigration Relief Act Ordinance, which would have fined landlords who rented to undocumented immigrants and would have penalized companies that employed them.
CNN: Blaze engulfs dozens of homes in California neighborhood
Firefighters were still battling a deadly gas-fueled blaze Friday that engulfed dozens of homes and sent fireballs shooting into the air in this neighborhood near the San Francisco airport, emergency management officials said. At least one person died in the fire, Kelly Huston of California Emergency Management said.
CNN: Colorado wildfire could spread into Boulder, city warns
Authorities in Boulder, Colorado, warned some residents to prepare to evacuate Thursday as winds gusting as high as 50 mph threatened to drive a raging wildfire out of the hills and into city limits.
USA Today: FEMA: Hundreds of levees no longer reliable
The government has determined that hundreds of levees nationwide no longer meet its standards that ensure protection during major floods, a decision that forces thousands of property owners to buy federal flood insurance.
INTERNATIONAL
For the latest international news:  http://edition.cnn.com
CNN: Iran to release American hiker Sarah Shourd, official says
Sarah Shourd, one of three American hikers held in Iran for more than a year, will be released Saturday, Iranian officials said Thursday.
Wall Street Journal: Karzai Divides Afghanistan in Reaching Out to Taliban
Afghan President Hamid Karzai's recent attempts to placate the Taliban haven't made him many new friends among the insurgents. But they have definitely alienated some crucial old friends: the country's ethnic minorities, who have been a linchpin of Mr. Karzai's American-backed government.
CNN: U.S. forces board pirate-captured vessel, seize control
U.S. Marines boarded and seized control Thursday of a German-owned vessel that pirates had captured the day before off the coast of Somalia, the U.S. Fifth Fleet said. It's the first time U.S. military forces off Somalia have staged an action to board a commercial vessel in which pirates were on board with hostages, said a U.S. Navy spokesman, who was not authorized to speak publicly but had direct knowledge of the incident.
CNN: At least 17 dead in Russian republic after suicide car bombing
A car bomb exploded Thursday in the Russian republic of North Ossetia, killing at least 17 people - including an 18-month-old baby - and wounding up to 123 others, local health officials said.
BUSINESS
For the latest business news:  www.CNNMoney.com
CNN Money: Health costs: They'll spike, then slow down
It will be at least five years before health care reform triggers a sustained slowdown in the pace of spending, according to new government estimates released on Thursday. Updated projections, now factoring in the historic law enacted in March, show that the country's long-term health spending will slow down slightly from 2015 through 2019 after accelerating from 2010 to 2014 because of the law's consumer-friendly provisions.
CNN Money: Homebuyer tax credit: 950,000 must repay
Nearly half of all Americans who claimed the first-time homebuyer tax credit on their 2009 tax returns will have to repay the government. According to a report from the Inspector General for Tax Administration, released to the public Thursday, about 950,000 of the nearly 1.8 million Americans who claimed the tax credit on their 2009 tax returns will have to return the money.
Washington Post: U.S. steelworkers target China
The United Steelworkers union launched a broad challenge Thursday against China, alleging that it is illegally helping its companies seize a dominant market share of the renewable energy industry through an extensive arsenal of subsidies and trade restrictions.
In Case You Missed It
A panel debates whether President Obama is a political liability for candidates in the midterm elections.
http://www.cnn.com/video/#/video/bestoftv/2010/09/10/ac.is.obama.a.political.cnn
CNN's Randi Kaye talks with Rep. Alan Grayson about the freshman's re-election bid and the importance of outside money.
http://www.cnn.com/video/#/video/bestoftv/2010/09/10/kaye.graysons.strategy.cnn
Subscribe to the CNN=Politics DAILY podcast at http://www.cnn.com/politicalpodcast
And now stay posted on the latest from the campaign trail by downloading the CNN=Politics SCREENSAVER at http://www.CNN.com/situationroom