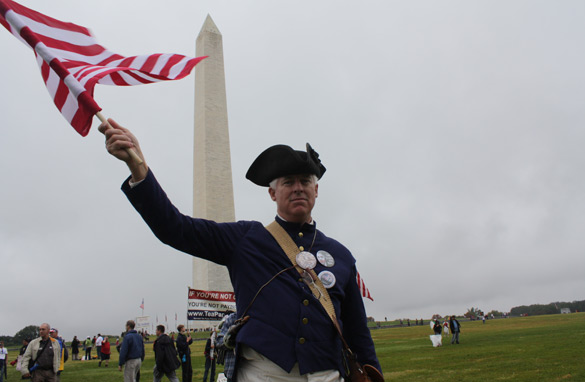 Conservative activists gathered in the nation's capital for the '9/12 March on Washington.' (PHOTO CREDIT: David Jenkins/CNN)
Washington (CNN) - A damp and enthusiastic crowd of self-proclaimed "Tea Party patriots" gathered at the U.S. Capitol building Sunday for a second straight September 12 march on Washington.
The collection of disparate groups and individuals, all supportive of the Tea Party movement, came together to protest what they consider to be out-of-control spending, excessive taxes and a government run amok.
Under the theme of "Remember in November" - a reference to the upcoming mid-term congressional elections - they warned both Democrats and Republicans that it was time for the American people to take back Congress.
"There's only one power on Earth that is big enough to wreck this country, and that's big government," said former House leader Dick Armey, chairman of the FreedomWorks group that organized the rally.