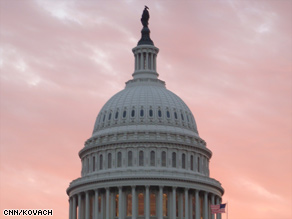 The CNN Washington Bureau's morning speed read of the top stories making news from around the country and the world.
WASHINGTON/POLITICAL
For the latest political news:  www.CNNPolitics.com
CNN: Democrats return to Capitol Hill, mount final push to keep control
Facing the prospect of losing control of Capitol Hill in the midterm elections, congressional Democrats return to Washington this week for one final month-long legislative push they hope will persuade voters to keep them in power. At the top of their to-do list, Democrats will tee up the emotionally charged debate about whether to extend expiring Bush tax cuts for people earning more than $250,000 a year or just for those who earn less.
CNN: House Democratic leader confident in party's chances
House Majority Leader Steny Hoyer on Sunday expressed his confidence in congressional Democrats' ability to maintain their majority in the House of Representatives, but conceded his party will "probably" lose seats. "We're going to hold the House," Hoyer repeatedly told CNN's Candy Crowley on "State of the Union." "Our candidates are feeling good," Hoyer added.
Des Moines Register: Democrats rally at annual Harkin Steak Fry
Key Iowa and national Democrats at Sunday's 33rd annual Harkin Steak Fry fundraiser framed November's election simply: We're better than the alternative. "As my friend Vice President Biden likes to say, 'Don't compare us to the almighty, compare us to the alternative,'" said David Axelrod, the senior advisor to President Obama said to a cheering crowd of around 1,400 people. "This election is not a referendum (on the economy). This election is a choice between two very two distinct paths."
CNN: Obama's plan to extend some tax cuts may be gaining traction
A consensus may be forming on President Barack Obama's plan to extend Bush-era tax cuts to everyone but the nation's richest people. On Sunday talk shows, Obama's economic advisers touted the idea while the top Republican in the U.S. House said he would vote for it if no other option existed.
CNN: Boehner says he'd vote for Democratic tax proposal
The top Republican in the U.S. House said Sunday he would vote for extending tax cuts to all but the wealthiest Americans, if that's the only option available. Rep. John Boehner of Ohio, the House minority leader, told the CBS program "Face the Nation" that he wants the tax cuts from the Bush administration extended to everyone.
CNN: Tea Party activists gather in Washington ahead of midterm elections
A damp and enthusiastic crowd of self-proclaimed "Tea Party patriots" gathered at the U.S. Capitol building Sunday for a second straight September 12 march on Washington. The collection of disparate groups and individuals, all supportive of the Tea Party movement, came together to protest what they consider to be out-of-control spending, excessive taxes and a government run amok.
CNN: Armey, Lott disagree on GOP assimilation of Tea Party candidates
Former Republican House Majority Leader Dick Armey, a leading voice in the Tea Party movement, said Sunday he disagreed with a leading conservative Republican's assessment of how establishment politicians in the Republican Party should regard Tea Party candidates if they're elected to serve in Washington.
New York Times: In Ad Wars, Democrats Shy From Ties to Own Party
Representative Mark Schauer of Michigan does not dwell on the legislation he has voted for during his first term in Congress, which includes the Democratic stimulus plan and health insurance overhaul. But he reminds his constituents what he has fought against, declaring, "I must ask myself 10 times a day, what is Washington thinking?"
Politico: Republican White House hopefuls slow to start
For decades it has been a truism that presidential campaigns just keep starting earlier and earlier. The 2012 Republican contest is hitting the brakes on that historic trend. Even with President Barack Obama's numbers slipping — and the Republican nomination starting to resemble a prize worth winning — the primary is on track to start later, and more cautiously, than it has in recent years.
The Hill: Rangel, Waters ethics trials not expected until after Nov. election
Watchdog groups expect the upcoming ethics trials for Reps. Charles Rangel (D-N.Y.) and Maxine Waters (D-Calif.) to take place after the November election to avoid political fallout. "I think ethics hearings shortly before the midterm elections overly politicizes the ethics process, which in the long term, is not in anyone's interest," said Melanie Sloan, executive director of Citizens for Responsibility and Ethics in Washington.
Dallas News: Dallas rally today will back Rep. Johnson amid scholarship controversy
Supporters of Rep. Eddie Bernice Johnson are gathering today at Dallas City Hall to rally for the congresswoman, who has come under fire for her handling of a charity's scholarship funds. The rally, scheduled for 11 a.m., will include district residents and friends of the congresswoman demonstrating their "confidence and continued support," according to a news release. Organizers do not expect Johnson to attend.
NATIONAL
For the latest national news:  www.CNN.com
CNN: Man accused of Christmas Day bombing attempt on plane due in court
Attorneys for a man accused of trying to blow up a plane last Christmas have met with the prosecutors to discuss a possible deal in the case, federal court documents state. Umar Farouk Abdulmutallab is due in court for a pretrial hearing Monday. The British-educated son of a Nigerian bank executive is suspected of trying to set off a bomb hidden in his underwear aboard a plane from Amsterdam, Netherlands, to Detroit, Michigan, on December 25, 2009.
CNN: Napolitano: U.S. will never be 'totally immune' from terrorism
Homeland Security Secretary Janet Napolitano said on Sunday that the United States is "never going to be totally immune from threats" to its national security. One day after the ninth anniversary of the September 11, 2001 terrorist attacks, Napolitano said in an interview with CNN's Candy Crowley on "State of the Union" that the country is safer now than it was then, but added, "there is no 100 percent guarantee" that we won't be attacked again.
USA Today: Homeland Security to test iris scanners
The Homeland Security Department plans to test futuristic iris scan technology that stores digital images of people's eyes in a database and is considered a quicker alternative to fingerprints. The department will run a two-week test in October of commercially sold iris scanners at a Border Patrol station in McAllen, Texas, where they will be used on illegal immigrants, said Arun Vemury, program manager at the department's Science and Technology branch.
Wall Street Journal: Conservative Duo Tests Health Law
Whether President Barack Obama's health-care overhaul survives could depend on a yin-and-yang pair of conservative Washington, D.C., power lawyers who sued to stop it mere hours after the bill became law in March. The lawsuit, filed in Florida by David Rivkin and Lee Casey, is one of a handful of challenges lodged against the law in recent months. Like Messrs. Rivkin and Casey's action, some of the suits argue that Congress doesn't have the Constitutional authority to require people to buy health insurance or face a fine, a key tenet of the legislation.
Detroit Free Press: Millions of Americans confront uncertain futures
Growing old has never been for wimps. But now it's really getting tough. A comfortable retirement, that mainstay of the American dream, is falling out of reach for millions of Americans, a legacy of the disastrous 2008 recession. Many people who expected by now to be on the brink of their next, leisurely life are instead hoping to hang onto jobs, if they still have them.
INTERNATIONAL
For the latest international news:  http://edition.cnn.com
CNN: Detained U.S. hiker could be freed as early as Monday
Sarah Shourd, one of three American hikers detained in Iran for more than a year, could be released as early as Monday once $500,000 is submitted to the Iranian judiciary. "Everything is in place for the release," said lawyer Massoud Shafii, who got to see the hikers for the first time on Sunday. "It's up to the family when to deliver the money."
CNN: Church: American medical team hopes to be released in Zimbabwe
Five Americans - two of them doctors - who treat AIDS patients are expected to appear Monday before a magistrate in Harare, Zimbabwe, on allegations of operating an unlicensed clinic and dispensing medicines without a pharmacist's supervision. An Oakland, California, church that sent four of the Americans on the mission trip believes "there's been some kind of miscommunication" and is hopeful they will be released Monday and allowed to return home.
CNN: Japan frees 14 Chinese fishermen, holds on to captain
Japan on Monday released 14 crew members of a fishing trawler that crashed into two Japanese patrol boats last week, but the captain remains in custody, officials said. The arrests off the disputed Diaoyu Islands, in the East China Sea, had angered China. Beijing had repeatedly summoned the Japanese ambassador, demanding the fishermen's release.
Wall Street Journal: Saudi Arms Deal Advances
The Obama administration is set to notify Congress of plans to offer advanced aircraft to Saudi Arabia worth up to $60 billion, the largest U.S. arms deal ever, and is in talks with the kingdom about potential naval and missile-defense upgrades that could be worth tens of billions of dollars more.
USA Today: U.S. military report: Taliban uses youths in Afghan fight
Afghan children as young as 3 years old are being used by the Taliban as human shields or to gather spent cartridges, and teen-agers are being given motorcycles for planting roadside bombs, U.S. Marines say. "We've seen children actually dropping mortar rounds in the (firing) tubes against us," says Lt. Col. Michael Manning, commander of the 1st Battalion, 2nd Marine Regiment that is rotating home after seven months in this hilly northern district of Helmand province.
CNN: Mexico captures another alleged drug kingpin
Mexican marines have captured an alleged top leader of the Beltran Leyva cartel, handing authorities a major victory in their fight against powerful drug organizations, the government said Sunday. Sergio Villarreal, who is known to Mexican officials as "El Grande," was taken in the central Mexican state of Puebla, Alejandro Poire, a spokesman for Mexico's president on security issues, told reporters.
BUSINESS
For the latest business news:  www.CNNMoney.com
CNN Money: New bank rules to curb risk
Global officials meeting in Switzerland Sunday announced new guidelines to strengthen the financial system by forcing banks to set aside more capital. The goal is ensure that banks have bigger reserve cushions when things go bad and avoid another bank meltdown like the panic of 2008, which led to widespread credit gridlock and fueled the recession.
Wall Street Journal: A New World Since Lehman's Fall
Two years after Lehman Brothers Holdings Inc. collapsed into bankruptcy, the impact of the financial crisis can be seen on almost every market around the globe. The preference of investors for reliable income streams from bonds of all types has led to big rallies in both safe-haven U.S. Treasurys and risky "junk" bonds, even amid a chorus of warnings about a "bond bubble."
In Case You Missed It
CNN Contributor John Avlon says September 11 rallies opposing an Islamic center at ground zero are counterproductive.
http://www.cnn.com/video/#/video/us/2010/09/12/nr.avalon.911.protest.cnn
The New Yorker's Jane Mayer accuses billionaire brothers David and Charles Koch of "waging war" against President Obama.
http://www.cnn.com/video/#/video/politics/2010/09/12/nr.mayer.bankrolling.cnn
Subscribe to the CNN=Politics DAILY podcast at http://www.cnn.com/politicalpodcast
And now stay posted on the latest from the campaign trail by downloading the CNN=Politics SCREENSAVER at http://www.CNN.com/situationroom