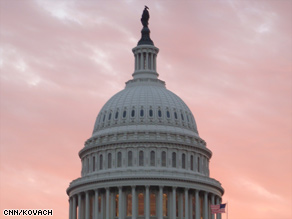 The CNN Washington Bureau's morning speed read of the top stories making news from around the country and the world.
WASHINGTON/POLITICAL
For the latest political news:  www.CNNPolitics.com
CNN: Internal warfare in the Delaware Republican party
Nine-term Republican Congressman Mike Castle finds himself in a tight primary race with TV commentator and Tea Party favorite Christine O'Donnell in Delaware's Republican U.S. Senate primary on Tuesday. In the closing days of the primary campaign, O'Donnell has gotten a boost with an endorsement by former Alaska Gov. Sarah Palin and more than $150,000 in late spending from the Tea Party Express.
CNN: GOP colleagues seek distance from Boehner on tax issue
GOP colleagues of House Minority Leader John Boehner are distancing themselves from the Ohio Republican's recent remarks that he would support President Barack Obama's proposal to renew the expiring Bush tax cuts only for those making less than $250,000 if it were his only option.
CNN: Bill Clinton featured in 11th hour robocall for Rangel
Former President Bill Clinton has recorded an 11th hour robocall for 20-term New York Rep. Charlie Rangel, who is facing five Democratic challengers in a primary race Tuesday. The last-minute robocall underscores the fact that Rangel is facing in the toughest bid for re-election in his 40-year political career.
CNN: McCain breaks with Palin in Maryland
Republican Brian Murphy is heading into Tuesday's GOP gubernatorial primary in Maryland with a last minute robocall from conservative star Sarah Palin. Just hours earlier, Sen. John McCain – Palin's former presidential running mate – had announced his support for Murphy's primary opponent, former Gov. Robert Ehrlich in an interview with the AP, saying Ehrlich is "a fine guy."
New York Times: After Volatile Primary Season, G.O.P. Faces New Test
As the long and turbulent primary season of the midterm election campaign drew to a close on Monday, the Republican establishment was placing its confidence on hold and bracing for the prospect that voters in yet another state would send a message of defiance to party leaders in Washington. The Senate primary in Delaware on Tuesday was prompting anxiety among party officials, who feared that a victory by Christine O'Donnell, a candidate backed by the Tea Party, could complicate Republican efforts to win control of the Senate.
CNN: Delaware not the only Tea Party vs. GOP battle Tuesday
It may not be grabbing the national spotlight like the Republican Senate primary in Delaware, but the GOP Senate primary in New Hampshire shares a similar storyline: A hard-charging conservative candidate threatening to upset the candidate favored by establishment Republicans.
Politico: Dems plan for a future without Pelosi
For House Democrats, planning for a future without Speaker Nancy Pelosi is neither pleasant nor easy. But as poll results worsen and a Republican-controlled House looks more and more likely, Democrats are beginning to realize they face a top-to-bottom leadership shake-up if the powerful speaker steps aside in a Democratic minority.
Roll Call: Van Hollen: We Haven't Lost the House Yet
After an August recess tour that included stops in 17 battleground districts around the country, Democratic Congressional Campaign Committee Chairman Chris Van Hollen (Md.) returned to Capitol Hill confident that predictions of a lost majority are premature.
CNN Money: Big business and Wall Street bet on GOP
Banks, investment firms and hedge funds are giving millions of dollars more to Republicans, and abandoning the Democrats they had been supporting just a year ago. The Center for Responsive Politics says the reversal began early this year, as the Senate started crafting tougher rules to crack down on Wall Street, and that it has become more pronounced.
CNN Money: New year, no federal budget
On Oct. 1, just three weeks after lawmakers return from their summer break on Tuesday, fiscal year 2011 will begin. But Congress will not have a new budget in place by then. And it may not materialize anytime soon. It won't be the first time. In fact, tardy federal budgets have been par for the course for most of the past 35 years.
CNN: Plouffe on Gingrich: 'Sad and reprehensible'
The architect of President Obama's 2008 presidential campaign Monday sharply criticized remarks made by former House Speaker Newt Gingrich over the weekend that President Obama follows a "Kenyan, anti-colonial" worldview. "Two words that come to mind are 'sad' and 'reprehensible,'" David Plouffe told CNN's John King on John King USA.
CNN: Obama to push kids to work hard in 'back-to-school' speech
President Barack Obama will deliver his second "back-to-school" message to the nation's students Tuesday, but this year, no one's complaining. The speech – to be delivered at Julia R. Masterman Laboratory and Demonstration School in Philadelphia, Pennsylvania – encourages students to make the most of their education opportunities.
CNN: Senate to take up 'don't ask, don't tell' repeal next week
A military spending bill that includes the repeal of the "don't ask, don't tell" policy banning openly gay and lesbian soldiers will come up for Senate debate next week, according to Senate Majority Leader Harry Reid's office.
CNN: D.C. mayoral primary may be felt far beyond the District
Mayor Adrian Fenty swept into office in 2006 promising to fix the District of Columbia's struggling schools. Now, Fenty is in the fight of his career in part because of how he's tried to reform the district's schools. …While this is a local election – the Democratic mayoral primary – the race is being closely watched far beyond the District because the outcome could carry significant implications for the national debate over education reform.
The Hill: Maine Republican lashes out at reporters during press conference
This definitely isn't the best way for a gubernatorial candidate to end a press conference. Maine Republican Paul LePage grew irate Monday after getting pressed by reporters on details about how his wife, Ann, had potentially "violated statutes by claiming property tax exemptions on homes in both Maine and Florida," according to the Bangor Daily News.
NATIONAL
For the latest national news:  www.CNN.com
CNN: U.S. preparing massive arms deal for Saudi Arabia, defense official says
The Obama administration is preparing to notify Congress of plans to sell $60 billion of military equipment to Saudi Arabia, according to a U.S. defense official. The official, who would not be identified because the proposal has not yet been sent to Congress, described the deal as "enormous."
CNN: Man accused of Christmas bombing attempt on plane to represent himself
Umar Farouk AbdulMutallab, the man accused of trying to blow up a plane last Christmas, said in court Monday that he no longer wants to be represented by federal defenders and would act as his own attorney. Judge Nancy Edmunds granted his request and appointed standby counsel for him. She also asked him a series of questions about his knowledge of law, the case and the charges he faces.
Washington Post: Legislation would federalize private guards who protect U.S. government buildings
Private security guards protecting the nation's federal buildings might one day earn a government paycheck and could face new national training and certification standards if legislation introduced Monday advances in the coming months.
Newark Star Ledger: N.J. town files lawsuit against imam behind controversial mosque near Ground Zero
A lawsuit filed by Union City charges that the landlord of two apartment buildings has repeatedly failed to address complaints by tenants and orders by the city on issues ranging from moldy bathrooms to fire hazards. Landlord-tenant disputes are nothing new, even those with municipalities entering the fray. Except in this case, city officials say the landlord is Feisal Abdul Rauf, the imam behind the controversial proposal to develop an Islamic cultural center and mosque near Ground Zero.
INTERNATIONAL
For the latest international news:  http://edition.cnn.com
CNN: Mideast peace talks a second chance for Hillary Clinton
Listen to Secretary of State Hillary Clinton talk about the Mideast peace talks during Bill Clinton's presidency, and you get the impression she feels the chance to secure a two-state solution eluded her as much as it did her husband. As first lady, though not a principal negotiator, she'd travel to the Mideast to meet with Israeli and Palestinian leaders in support of Bill Clinton's policies on the issue.
CNN: US: Government will not contribute to detained American's bail money
Half a million dollars bail stands between American Sarah Shourd and freedom from the Iranian prison where she has been held since July 2009. But the U.S. will play no role in paying it, a State Department spokesman said Monday.
CNN: 36 survive Venezuelan plane crash
More than two-thirds of the passengers survived an airplane crash Monday morning in southeastern Venezuela, government officials said. Fifteen people were confirmed dead and 36 survived when the plane, carrying 51 passengers and crew, crashed in the state of Bolivar, Gov. Francisco Rangel Gomez said.
New York Times: U.S. Koran Tensions Erupt in Kashmir
Kashmir erupted on Monday in the worst violence since separatist protests began sweeping through the disputed Himalayan region three months ago, with the authorities partly blaming reports of Koran desecration in the United States for the inflamed tensions.
CNN: Suspected U.S. drone kills nine in Pakistan
A suspected U.S. drone strike killed nine alleged militants in Pakistan's tribal region Tuesday morning, intelligence officials said. Two intelligence officials said three missiles were fired on the hideout of suspected militants in the Shawal area of North Waziristan, one of seven districts in Pakistan's tribal region bordering Afghanistan.
CNN: Cuba to lay off 500,000 in 6 months, allow private jobs
Cuba announced on Monday it would lay off "at least" half a million state workers over the next six months and simultaneously allow more jobs to be created in the private sector as the socialist economy struggles to get back on its feet. The plan announced in state media confirms that President Raul Castro is following through on his pledge to shed some one million state jobs, a full fifth of the official workforce - but in a shorter timeframe than initially anticipated.
CNN: Japan's ruling party set for leadership vote
When Japan's ruling party finishes its vote later Tuesday, the Asian island nation could have its third prime minister in a year. Ichiro Ozawa, a political heavy-weight in the ruling Democratic Party of Japan (DPJ), challenged Naoto Kan for the leadership role just three months into Kan's tenure.
BUSINESS
For the latest business news:  www.CNNMoney.com
CNN Money: Plan to end oil industry tax breaks draws fire
The debate over eliminating tax breaks for the oil and gas companies is heating up, with an industry group saying Monday that the move could cost the energy sector thousands of jobs. President Obama signaled last week that his administration could pay for $180 billion in recently proposed economic recovery measures by closing tax loopholes for major corporations, including tax breaks and subsidies for oil and gas producers.
USA Today: Gender pay gap is smallest on record
The earnings gap between men and women has shrunk to a record low, partly because many women are prospering in the new economy and partly because men have been hit hard by the recession. Women earned 82.8% of the median weekly wage of men in the second quarter of 2010, up from 76.1% for the same period a decade ago and the highest ever recorded, the Bureau of Labor Statistics reports.
Wall Street Journal: AIG Plots End to U.S. Aid
American International Group Inc. and its government overseers are in talks to speed up an exit plan designed to repay U.S. taxpayers in full while enabling the giant insurer to regain independence, according to people familiar with the matter. Under the plan, which could commence as early as the first half of 2011, the Treasury Department is likely to convert $49 billion in AIG preferred shares it holds into common shares, a move that could bring the government's ownership stake in AIG to above 90%, from 79.8% currently, the people familiar said.
In Case You Missed It
A political panel joins to weigh in on Newt Gingrich calling President Obama a 'con man' and 'authentically dishonest'.
http://www.cnn.com/video/#/video/politics/2010/09/14/ac.gingrich.kenyan.comments.cnn
Brian Todd reports on a now-heated Senate race in Delaware, where the Tea Party battles established GOP candidates.
http://www.cnn.com/video/#/video/politics/2010/09/13/pkg.todd.gop.v.tea.party.cnn
Subscribe to the CNN=Politics DAILY podcast at http://www.cnn.com/politicalpodcast
And now stay posted on the latest from the campaign trail by downloading the CNN=Politics SCREENSAVER at http://www.CNN.com/situationroom