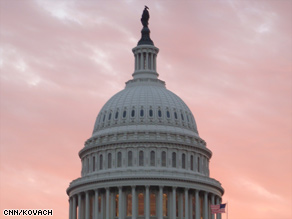 The CNN Washington Bureau's morning speed read of the top stories making news from around the country and the world.
WASHINGTON/POLITICAL
For the latest political news:  www.CNNPolitics.com
CNN: Tea Party favorites win GOP primaries in Delaware, New York
Tea Party favorites won two primary elections over more mainstream Republicans on Tuesday, demonstrating again the clout of the conservative political movement on the political right. Now the question is whether the right-wing candidates can also defeat Democratic rivals in November's congressional elections, when the stakes are higher and the full electorate is deciding.
CNN: O'Donnell: 'We're going to win without them'
The newly minted Republican Senatorial candidate from Delaware thinks she can win without the support of the Republican Party organization. Shortly after her victory speech Tuesday night, Christine O'Donnell told CNN National Political Correspondent Jessica Yellin that she'll forge ahead without their support. "They don't have a winning track record," O'Donnell said. "If they're too lazy to put in the effort that we need to win, then, so be it."
CNN: Rangel fends off five primary opponents
He's served in Congress for almost 40 years, but Tuesday's primary in New York was unlike any other for Democratic Congressman Charles Rangel. The 80-year-old Rangel, facing five challengers and 13 ethics allegations in the House, came out on top in the Democratic primary for New York's 15th district, CNN has projected.
CNN: Game on for rematch in Maryland
The rematch is on in Maryland. CNN projects that former Gov. Robert Ehrlich will win the state's Republican gubernatorial primary. The victory would mean that Ehrlich will now face off in November's general election against Democratic Gov. Martin O'Malley, who defeated Ehrlich in his 2006 bid for re-election for a second term. In Tuesday's primary, Ehrlich faced off against businessman Brian Murphy, who was backed last month by former Alaska Gov. Sarah Palin.
CNN: Washington mayor loses re-election bid
Mayor Adrian Fenty lost his re-election bid Tuesday, falling to City Council Chairman Vincent Gray in the District of Columbia's Democratic primary, the AP projected. Early Wednesday morning, Gray led Fenty 53 percent to 47 percent, with 90 percent of the vote in.
CNN: Murkowski: decision by Friday on write-in bid
Sen. Lisa Murkowski says she'll decide by Friday whether to try an admittedly "difficult" write-in candidacy this fall to keep her seat. Murkowski was defeated in last month's Republican primary by once longshot Joe Miller, who enjoyed the backing and support of Tea Party activists and former Alaska Gov. Sarah Palin. Murkowski confirmed in a written statement Tuesday that she will not seek a spot as the Libertarian Party candidate for Senate. The party's nominee said this week he would not step aside following a meeting with her.
Politico: Senate could see most freshmen ever
Call in the U-Hauls: The Senate is bracing for an unprecedented moving day this fall. The chamber already is assured of a swollen freshman class of at least 15 members. If voters kick out six more embattled incumbents on Election Day, the Senate would welcome 21 rookies next January — the biggest class of newcomers since the direct election of senators began nearly a century ago.
CNN: Real World star wins Wisconsin primary
Republican Sean Duffy, a former reality TV star, will win the GOP Congressional primary in Wisconsin's 7th Congressional District, the AP projects. Duffy, who resigned from his fourth term as Ashland County district attorney this summer, appeared on "The Real World: Boston" in 1997. ormer Alaska Gov. Sarah Palin endorsed the Republican candidate – and two-time champion professional lumberjack athlete – in February, calling Duffy a "brave soul" and "northern Wisconsin patriot."
The Weekly Standard: Battleground Wisconsin
With 49 days until the midterm elections, Wisconsin looks increasingly like it will be among the most intensely contested states – between primaries there Tuesday and the November 2 general election. Milwaukee county executive Scott Walker easily won the Republican gubernatorial primary Tuesday, defeating former Rep. Mark Neumann, who spent an estimated $3 million-plus on his campaign. Walker was also attacked by the state Democratic Party and his likely Democratic opponent, Milwaukee Mayor Tom Barrett.
CNN Money: Small biz jobs bill passes key test vote
The Senate voted Tuesday to move the $42 billion Small Business Jobs Act forward, bringing the bill one step closer to passage.The bill passed a key test vote by a 61-to-37 margin. A final vote is expected later this week. If the bill does pass a final Senate vote, it would still have to go back to the House of Representatives for approval before it reaches President Obama's desk.
The Hill: Ohio GOP senator leans against extending Bush-era tax cuts
Sen. George Voinovich (R-Ohio), an outspoken budget hawk who is not afraid to buck his party, is leaning against voting for an extension of tax cuts passed under President George W. Bush. "My gut is probably no," Voinovich told The Hill. "I think I would probably not vote, period, for it."
CNN: Reid adds controversial immigration measure to defense bill
Senate Majority Leader Harry Reid said Tuesday he will add the DREAM Act, a controversial immigration measure, to a defense policy bill the Senate will take up next week. The decision means the defense bill, which often passes with bipartisan support, will be home to two major, thorny political issues – the other being the repeal of the military's "don't ask, don't tell" policy.
CNN: GOP to kick off 'Fire Pelosi' tour
Republican National Committee Chairman Michael Steele kicks off a 117-city bus tour in Washington on Wednesday morning as part of the party's effort to retake the House of Representatives. The tour is called "Fire Pelosi" after House Speaker Nancy Pelosi, who would lose her job if Democrats lose control of the House. Republicans need to win 39 seats during midterm elections in November to accomplish their goal.
The Hill: Pelosi: Democrats 'absolutely' will retain the House in 2010
Democrats will "absolutely" retain the House this fall, Speaker Nancy Pelosi (D-Calif.) said Tuesday. Pelosi struck the upbeat tone before the first meeting of her Democratic caucus in the House since before a brutal August recess for Pelosi's party. New polls released over the break suggest Democrats could lose this House this fall.
CNN: Democrats tout "major" announcement Wednesday
Democratic National Committee Chairman Tim Kaine plans to make what's being billed as a major announcement Wednesday about the future of the party, according to a Democratic source with knowledge of the speech. The source tells CNN that Kaine will announce something that will excite Democrats across the country. Kaine's event comes as Democrats face the difficult task of holding onto their majorities in the House and Senate this November.
Lexington Herald-Leader: Rand Paul says he can't offer a balanced budget before election
U.S. Senate candidate Rand Paul cited several ideas for cutting federal spending at a news conference Tuesday, but said it would be impossible for him to spell out a specific proposal to balance the federal budget before Nov. 2. Paul, a Republican, has made the federal debt a centerpiece of his campaign, criticizing his party and Democrats for the sea of red ink.
Indianapolis Star: Is Daniels setting table for '12?
In the strongest signal yet that he's weighing a run for the presidency, Gov. Mitch Daniels has been hosting private dinners with national Republican heavyweights for weeks at the governor's residence in Indianapolis. It's a script that was used successfully before: by former President George W. Bush, when he was governor of Texas.
CNN: 9/11 survivors to demand free health care
Responders and survivors of the September 11, 2001, terrorist attacks plan to go to Washington on Wednesday to urge Congress to pass a bill that will provide them free health care. The groups says it supports the James Zadroga 9/11 health bill, which the House of Representatives may vote on this month. The bill did not get the votes it needed to pass the House in July.
NATIONAL
For the latest national news:  www.CNN.com
Washington Post: Gates starts outlining cuts to save $100 billion for defense
Defense Secretary Robert M. Gates on Tuesday started laying out some details of his plans to save $100 billion over the next five years as he tries to run the Pentagon more efficiently. Over the past decade, the Pentagon's spending has averaged a growth rate of 7 percent a year, adjusted for inflation, including the costs of the wars in Iraq and Afghanistan. But that rate is expected to slow to 1 percent as the wars wind down.
Des Moines Register: Panel: DeCoster farms had numerous salmonella positives
The Wright County Egg farms linked to this summer's salmonella outbreak have had more than 70 internal tests turn up positive over the past two years for the bacteria strain linked to the illnesses, according to a House committee. The panel revealed the findings in a letter today to Wright County Egg owner Jack DeCoster, demanding to know why he hadn't disclosed the salmonella results before and what the farms did about them.
New Orleans Times Picayune: Gulf of Mexico oil spill response leader Thad Allen to step down Oct. 1
As the subsea effort to permanently plug the blown out Macondo oil well in the Gulf of Mexico draws to a close this week, the man who has been the government's point person for the oil spill response effort said he also is preparing for the completion of his duties. Retired Coast Guard Adm. Thad Allen, who was named national incident commander on May 1, will step down from that job on Oct. 1, barring any major disruptions in the response effort.
Hartford Courant: Health Insurers Seeking Rate Hikes Of More Than 20 Percent In Connecticut
Health insurers are asking for immediate rate hikes of more than 20 percent in Connecticut for some plans, citing rising medical costs and federal health reform laws as reasons. Both issues — the new federal health care reform and rising medical costs — are significant drivers of the increases, according to filings by insurers with state regulators that were reviewed by The Courant.
Washington Post: 2 bodies found in wrong plots at Arlington cemetery
Arlington National Cemetery officials discovered that two people were buried in the wrong plots after exhuming their remains last month, an Army official confirmed Tuesday. It's the first revelation of bodies being exhumed since the Army released an inspector general report in June that found extensive record-keeping problems at the nation's premier military cemetery, including more than 100 unmarked graves, scores of grave sites with headstones that are not recorded on cemetery maps, and at least four burial urns that had been unearthed and dumped in an area where excess grave dirt is kept.
INTERNATIONAL
For the latest international news:  http://edition.cnn.com
CNN: Released American hiker arrives in Oman
A jubilant American Sarah Shourd reunited with her mother in Muscat, Oman, on Tuesday after Iranian authorities released her from a Tehran prison where she had been held for 14 months. Shourd arrived in Oman - where her bail was posted - on a 2.5-hour, chartered flight from Tehran. Her bail was posted by Omani sources, a senior Obama administration official said.
Christian Science Monitor: Israeli-Palestinian talks in Egypt address key issues of conflict
Meeting in Egypt for their second peace summit in two weeks, Israeli and Palestinian leaders began discussing for the first time Tuesday some of the issues at the heart of a possible treaty, even as a dispute over settlement expansion clouds the future of the talks.Both Israeli and US officials sounded upbeat about the atmosphere at the talks in the Red Sea resort of Sharm el-Sheikh.
CNN: U.N.: World hunger down but still 'unacceptable'
The good news is that improving economies in developing nations is allowing more people to eat better, but the United Nations estimates that nearly 1 billion people will still face chronic hunger this year. The Food and Agriculture Organization and the World Food Programme estimated that 925 million people, almost three times the population of the United States, will go hungry. That's down from 1.023 billion people in 2009 and the first decrease in 15 years.
CNN: Pakistan's Musharraf ramps up for apparent presidential run
Former Pakistani President Pervez Musharraf, once one of the United States' strongest allies in the fight against terrorism, is ramping up for what looks like another run at the top job. Musharraf, 67, will launch a new political party on October 1 in London.
CNN: French senate approves burqa ban
The French senate approved Tuesday a law banning any veils that cover the face - including the burqa, the full-body covering worn by some Muslim women - making France the first European country to plan such a measure. The law passed by a vote of 246 to 1, with about 100 abstentions coming essentially from left-leaning politicians.
BUSINESS
For the latest business news:  www.CNNMoney.com
Bloomberg: Rich Americans Save Tax Cuts Instead of Spending, Moody's Says
Give the wealthiest Americans a tax cut and history suggests they will save the money rather than spend it. Tax cuts in 2001 and 2003 under President George W. Bush were followed by increases in the saving rate among the rich, according to data from Moody's Analytics Inc. When taxes were raised under Bill Clinton, the saving rate fell.
USA Today: Banks bounce back, but can they handle next crisis?
Two years after Lehman Bros.' collapse caused a global credit panic, financial flows in the United States have returned to normal — or at least what passes for normal amid a still-wounded economy. Since the scary days that followed Lehman's sudden demise, major changes have swept the banking industry, with traditional investment banks disappearing like financial dinosaurs, and some of the industry's household names fading into mergers or oblivion.
In Case You Missed It
Tea Party favorite Christine O'Donnell speaks with Jessica Yellin after her Republican Senate primary win in Delaware.
http://www.cnn.com/video/#/video/politics/2010/09/14/intv.yellin.odonnell.election.cnn
Rep. Charles Rangel addresses supporters after beating five challengers to win his Democratic primary.
http://www.cnn.com/video/#/video/politics/2010/09/15/sot.charlie.rangel.victory.cnn
Subscribe to the CNN=Politics DAILY podcast at http://www.cnn.com/politicalpodcast
And now stay posted on the latest from the campaign trail by downloading the CNN=Politics SCREENSAVER at http://www.CNN.com/situationroom