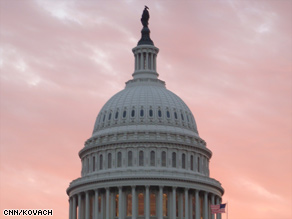 The CNN Washington Bureau's morning speed read of the top stories making news from around the country and the world.
WASHINGTON/POLITICAL
For the latest political news:  www.CNNPolitics.com
CNN: Obama slams GOP again on taxes, small business aid
President Barack Obama tore into GOP congressional leaders again Wednesday for trying to block his small business aid bill and opposing his plan to extend the Bush tax cuts only to those making under $250,000. Flanked by his economic team at the White House, the president specifically thanked GOP Sens. George Voinovich of Ohio and George LeMieux of Florida for breaking with the Republican leadership on the small business bill.
CNN: More Democrats break with Obama on tax cuts
Thirty-one House Democrats, most of whom face tough re-election bids this fall, have signed a letter to House Speaker Nancy Pelosi and House Majority Leader Steny Hoyer urging them to extend expiring tax breaks for all income levels, including the wealthy. Pelosi and other House Democratic leaders have made it clear they support President Obama's proposal to vote on a bill that only renews tax breaks for those making $250,000 and under.
CNN: Sources: Obama to name adviser for new consumer agency
President Obama plans to name Elizabeth Warren as a special adviser to help set up a new consumer protection agency created under the Wall Street reform bill, according to sources who spoke on condition of not being identified by name. A Democratic official said Wednesday that Warren's title would be assistant to the president and special adviser to the secretary of the Treasury on the Consumer Financial Protection Bureau.
CNN: O'Donnell win dims prospects for a GOP-controlled Senate
A celebratory Christine O'Donnell thanked her supporters, the Tea Party and kingmaker Sarah Palin on the night of her stunning win in Delaware's Republican Senate primary. At the same time, party leaders were shaking their heads, watching helplessly as control of the Senate was slipping out of reach.
Wall Street Journal: Odds Are Tough, but Not Hopeless, for GOP in Delaware
Pundits, polls and Republican strategists all give conservative upstart Christine O'Donnell little chance of winning a Senate seat in liberal-leaning Delaware.But others argue it's far too early to write off the newest tea-party favorite, who stunned the political world Tuesday by toppling Republican fixture and nine-term congressman Mike Castle in the party's Delaware Senate primary.
CNN: O'Donnell's campaign war chest gets a boost
Less than a day after winning the Delaware Republican Senate primary in a surprising upset, Christine O'Donnell reached her earlier fundraising goal for the general election. "We have surpassed our earlier goal of $500,000. What do you think? Can we hit $750,000?" O'Donnell tweeted Wednesday.
The Hill: Reid: Coons, 'my pet,' will win
Senate Majority Leader Harry Reid (D-Nev.) on Wednesday predicted to The Hill that Democratic Senate candidate Chris Coons will safely win the Nov. 2 general election against GOP nominee Christine O'Donnell. …"I'm going to be very honest with you — Chris Coons, everybody knows him in the Democratic caucus. He's my pet. He's my favorite candidate," Reid said.
CQ Politics: Is This an Anti-Incumbent Year? Not So Far
Countless stories and hours of cable television have been filled with analysis describing this year's elections as tantamount to an anti-incumbent wave. But as the primaries come to a close, it's clear that instead of throwing the bums out, voters have let the vast majority of incumbents move on to the general election.
CNN: Youth vote still 'up for grabs,' Rock the Vote says
Young adults will be a deciding factor in the midterm elections, and with just two months until November, their votes are still up for grabs, according to a new poll released Wednesday. The bipartisan poll, which was commissioned by Rock the Vote, found that young adults are paying close attention to the election – about 77 percent of those surveyed said they were either very likely or somewhat likely to vote. And like older Americans, they are frustrated with the status quo.
CNN: Steele defends Gingrich's 'Kenyan, anti-colonial' comment
Republican National Committee Chairman Michael Steele said Wednesday that he doesn't believe former House Speaker Newt Gingrich was playing to lowest common denominator politics when he said that President Obama has a "Kenyan anti-colonial" worldview. In an interview with CNN's Chief National Correspondent John King on John King, USA, Steele said he thinks Gingrich's comment, made to the National Review on Saturday, was not based on the president's race.
CNN: Despite pressure, GOP leader to attend fundraiser for gay Republicans
Sen. John Cornyn, R-Texas, dismissed a request Wednesday from an influential social conservative organization to skip a fundraiser for a Republican gay and lesbian advocacy group, saying that even though he does not agree with the group on social issues he shares its views on fiscal discipline and economic policy.
CNN: Nancy Reagan weighs in on California races
Nancy Reagan weighed in on the Senate and gubernatorial races in her home state on Wednesday, offering her endorsement of the Republican candidates in both California races. The former first lady announced her support for Senate candidate Carly Fiorina and gubernatorial candidate Meg Whitman a day after the three women sat down together for a private meeting.
NATIONAL
For the latest national news:  www.CNN.com
CNN: Where did the oil go? Researchers point to sea floor
A team of researchers in the Gulf of Mexico say they found an oily layer as thick as two inches coating the sea floor in some places, and they believe it may be from the BP spill. "I think what we're seeing is oil that was on the surface, that has sedimented down to the bottom," said Samantha Joye of the University of Georgia.
CNN: San Bruno pipelines were to be replaced nearly 2 years ago, docs show
Pacific Gas & Electric planned in 2009 to replace a section of its gas pipeline just a couple of miles from the section that exploded last week in San Bruno, California, but never spent the $5 million of rate increases to do the work, a consumer watchdog group said Wednesday. And further, said TURN [The Utility Reform Network], the utility asked for another $5 million for the same project in 2009 - the year it should have completed the work it hasn't even started - saying it wouldn't be completed until 2013.
CNN: Pentagon reopening probe into employees allegedly tied to child porn
The Department of Defense will reopen its investigation into employees who are alleged to have downloaded child pornography after stopping the reviews because of a lack of resources, a spokesman said Wednesday. The Pentagon's Defense Criminal Investigative Service will review 264 cases, according to spokesman Gary Comerford.
NPR: Iraq Veteran's Body Is Exhumed At Arlington
An Ohio couple, worried that their son's grave had been misidentified at Arlington National Cemetery, came to Washington Wednesday to have his body removed. They wanted to make sure it was really him. Melissa and Scott Warner were upset in the wake of the Army inspector general's report in June that found that as many as 211 graves at Arlington were unmarked or misidentified. One Senate subcommittee investigation suggests that up to 6,600 burial sites could be affected.
Kansas City Star: Missouri governor was intended target of stabbing at MCC-Penn Valley
The student accused of stabbing a college dean in the neck Tuesday in Kansas City actually wanted to stab Missouri Gov. Jay Nixon, according to sources close to the investigation. In fact, Casey Brezik thought he had stabbed Nixon — until police told him otherwise while interrogating him Tuesday night, the sources said.
Newark Star Ledger: Judge rules imam must prove buildings violations are being addressed
A Supreme Court judge denied Union City's request for custodial receivership of two apartment buildings owned by Feisal Abdul Rauf on Wednesday, but demanded that the imam to show documentation that safety and health code violations issued against the buildings are being addressed.
INTERNATIONAL
For the latest international news: http://edition.cnn.com
CNN: Anger awaits pope on landmark UK visit
Pope Benedict XVI arrives in Britain this week amid criticism over the landmark visit's cost to taxpayers and anger over the Vatican's record on child abuse and human rights. A huge security operation is being mounted to protect the pontiff during his four-day tour - the first papal state visit to Britain - bumping estimated costs beyond £20 million ($31 million), with over half coming from government funds.
New York Times: Dozens Injured in Anti-American Protests in Kabul
A clash between anti-American protesters and the Afghan police injured 35 police officers and 12 civilians here on Wednesday, as each side accused the other of indiscriminately firing shots. It was still unclear whether anyone had died in the violence, the latest in a series of outbursts around the country protesting the plan of an American pastor, later canceled, to burn copies of the Koran last week.
USA Today: Threats loom over Afghan elections
A military commander said Wednesday that he expects insurgents to try to disrupt Saturday's parliamentary elections as U.S. troops began moving farther into this long-time stronghold of the Taliban. British Maj. Gen. Nick Carter, commander of coalition forces in the south of Afghanistan, said the mark of a successful election day Saturday would be "a less violent outcome than we had last year" during the presidential election.
McClatchy: U.S.-led forces meet little resistance in Kandahar operation
U.S.-led forces began a key operation Wednesday in the 9-year-old war in Afghanistan, meeting surprisingly little initial resistance in the district in the south of the country that gave birth to the Taliban. The offensive to secure Zhari, just west of Kandahar city, is part of efforts attempting to stabilize Kandahar Province by the end of the year.
BUSINESS
For the latest business news:  www.CNNMoney.com
Bloomberg: U.S. Home Prices Face 3-Year Drop as Inventory Surge Looms
The slide in U.S. home prices may have another three years to go as sellers add as many as 12 million more properties to the market. Shadow inventory - the supply of homes in default or foreclosure that may be offered for sale - is preventing prices from bottoming after a 28 percent plunge from 2006, according to analysts from Moody's Analytics Inc., Fannie Mae, Morgan Stanley and Barclays Plc. Those properties are in addition to houses that are vacant or that may soon be put on the market by owners.
BBC: Oil price falls for third day
The Energy Information Administration (EIA) said on Wednesday that despite falling by 2.5 million barrels last week, US crude stocks are still 7.4% above last year's levels. US crude for October delivery fell 76 cents to $75.26 a barrel in Asia. News that a key pipeline is expected to reopen after a week-long shutdown also weighed on prices.
In Case You Missed It
CNN's Dana Bash and Gloria Borger discuss how the GOP is handling victory of Tea Party favorite Christine O'Donnell's.
http://www.cnn.com/video/#/video/politics/2010/09/16/ac.gop.and.tea.party.cnn
Supreme Court Justice Stephen Breyer discusses the challenges of making tough decisions as a member of the highest court.
http://www.cnn.com/video/#/video/bestoftv/2010/09/15/lkl.breyer.head.vs.heart.cnn
Subscribe to the CNN=Politics DAILY podcast at http://www.cnn.com/politicalpodcast
And now stay posted on the latest from the campaign trail by downloading the CNN=Politics SCREENSAVER at http://www.CNN.com/situationroom