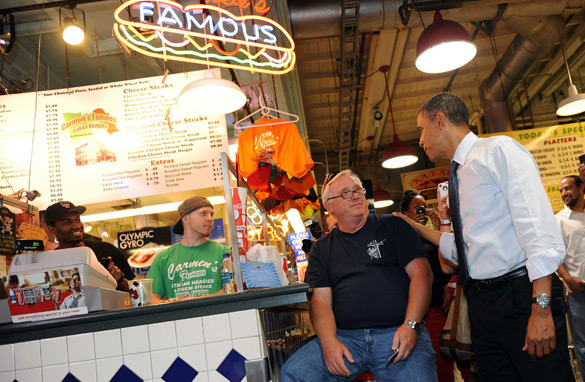 President Obama made a quick stop to order cheesesteaks while stumping in Philadelphia. (PHOTO CREDIT: Getty Images/AFP)
Phildadelphia (CNN) - If there's one thing a politician must eat when he's in Philadelphia, it's a cheese steak.
And true to form, President Obama made a quick stop to order four Monday at an unannounced stop at a farmer's market. Not exactly keeping with the first lady's healthy eating initiative but everyone needs some protein and fat.
Obama ordered four Philly cheese steaks topped with sweet peppers and mushrooms, at the Reading Terminal Market which is a meat and produce market in downtown Philadelphia.
After shaking hands with some of the crowd, he ordered the steaks and handed over $1. His personal aide, Reggie Love, had to step in to pay the rest of the tab to the vendor, according to pool reporters on the scene.

At one point, a fruit vendor yelled "President Obama how about an apple? Something healthy too!" In his remarks later, he reported that he bought some apples so that "Michelle would feel like I'm eating healthy".
But he also ordered a small mint chocolate chip ice cream cone to go as he headed on to give his campaign speech.
He traveled to Philadelphia on Monday to give remarks for two fundraisers for Rep. Joe Sestak who is the Democrat running for Senate in the commonwealth of Pennsylvania.