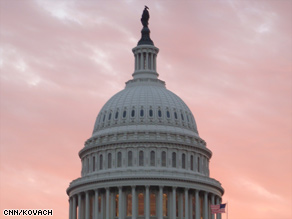 The CNN Washington Bureau's morning speed read of the top stories making news from around the country and the world.
Compiled by Greg Clary
WASHINGTON/POLITICAL
For the latest political news:  www.CNNPolitics.com
CNN: Obama to headline DNC fundraiser Monday
President Barack Obama heads to Philadelphia on Monday to not only try and keep the state's open Senate seat in Democratic hands but to also raise funds for his party. CNN learned Friday that Obama will be the main attraction at a fundraiser for the Democratic National Committee. The DNC has committed to spending $50 million to help Democratic candidates running in this year's midterm elections.
CNN: Inner-GOP sniping increases in wake of Tea Party successes
Tea Party euphoria confronted reality Sunday, with Delaware Senate primary winner Christine O'Donnell backing out of scheduled talk show appearances amid talk of possible civil war among Republicans over the conservative movement. Alaska Sen. Lisa Murkowski accused the Tea Party Express of infusing money and lies into her Republican primary to swing it against her. Now waging a write-in campaign to retain her seat, against the wishes of mainstream Republicans, Murkowski told CNN that fellow party members were inciting inner-GOP conflict.
CNN Money: Economists: Extend Bush tax cuts for everyone
With income tax rates set to go up on Dec. 31, Congress is hotly debating what to do next. But most economists agree: Keep them where they are. One option, to let the tax cuts passed during the Bush administration expire for only the richest 3% of taxpayers while renewing them for everyone else, is popular among Democrats and the choice of the Obama administration. But a panel of leading economists surveyed by CNNMoney.com disagreed.
CQ Politics: Tea Party Class Would Test Boehner
Would-be Speaker John A. Boehner asserted last week that he can manage a strongly conservative, tea-party-inspired majority next year, but potential government shutdowns and efforts to terminate earmarks are already emerging as issues that could divide his party. Rep. Steve King (R-Iowa), one of the most outspoken conservatives in the House, said last week that he wants Boehner and other House leaders to sign a "blood oath" that they will include a repeal of health care reform in every appropriations bill next year, even if President Barack Obama vetoes the bills and a government shutdown occurs.
Wall Street Journal: GOP Aims to Erode White House Agenda
Eyeing a potential Congressional win in November, House Republicans are planning to chip away at the White House's legislative agenda—in particular the health-care law—by depriving the programs of cash. The emerging plan has been devised in part to highlight the policy differences between the two main parties, especially over legislative achievements of the Obama administration that have proven unpopular with voters.
CNN: Kaine says health care legislation helping Dems
Several House Democrats who voted against the health care overhaul earlier this year are now touting their "no" vote back home, but Democratic National Committee Chairman Tim Kaine said the legislation is beneficial to the party's chances this November as a whole."I travel all over the country. I guess I've been in about 42 states, and most Democrats that I see on the trail are very proud of the accomplishment and they're talking about it," he said on CNN's "State of The Union" with Candy Crowley Sunday.
New York Times: Obama Aides Weigh Bid to Tie the G.O.P. to the Tea Party
President Obama's political advisers, looking for ways to help Democrats and alter the course of the midterm elections in the final weeks, are considering a range of ideas, including national advertisements, to cast the Republican Party as all but taken over by Tea Party extremists, people involved in the discussion said. White House and Congressional Democratic strategists are trying to energize dispirited Democratic voters over the coming six weeks, in hopes of limiting the party's losses and keeping control of the House and Senate.
The Hill: Social conservatives confident views will be in new GOP contract
Social conservatives are confident that their issues will be included in the anticipated new House GOP Contract with America. According to key anti-abortion lawmaker Rep. Joseph Pitts (R-Pa.), GOP leadership gave their reassurances that lighting-rod issues related to abortion would be addressed in the final, yet-to-be-seen "governing agenda."
Politico: Sarah Palin, Mike Huckabee bid for conservative base
Throughout the primary election season, Sarah Palin and Mike Huckabee have made different — and often rival — bets on candidates in a wide variety of races. It's a happenstance that has some Republicans wondering if there is more to the rivalry than meets the eye, since the two former governors share a similar ideological space within the party. Both camps downplay the idea that there is a low-intensity conflict taking place and deny that any animosity exists. Publicly, the two rarely talk about each other. Still, it's hard not to notice how frequently the two outside-the-establishment presidential prospects have lined up against each other this year.
CNN: For first time in months, President Obama attends church publicly
President Obama publicly attended church Sunday morning for the first time in nearly six months, and shortly after a major survey showed that only a third of Americans can correctly identify Obama's faith as Christian.The first family attended the 9 a.m. service at St. John's Church Lafayette Square, an Episcopal congregation about a block from the White House.
CNN: Lady Gaga leading rally against military's 'don't ask, don't tell'
Pop star Lady Gaga will headline a rally in Portland, Maine, Monday calling on the state's two Republican senators to vote yes on taking up a defense bill that includes authorization to repeal the military's "don't ask, don't tell" policy toward gay and lesbian servicemembers. A crucial Senate vote is scheduled for Tuesday afternoon, and supporters of the repeal say that as of now, they do not have the 60 votes needed to overcome a GOP filibuster blocking the bill. Maine Republicans Susan Collins and Olympia Snowe are publicly undecided, and could each potentially provide Democrats the votes they need to bring the issue before the Senate.
NATIONAL
For the latest national news:  www.CNN.com
CNN: Gulf well permanently plugged, U.S. says
US. officials formally declared an end to the worst oil spill in U.S. history Sunday, a milestone that followed nearly five months of dashed hopes and blistering criticism of nearly everyone involved. After a weekend of pouring cement into the base of the ruptured well in the Gulf of Mexico, pressure tests conducted early Sunday confirmed the seal was holding, former Coast Guard Adm. Thad Allen said announced. The Interior Department agency that regulates offshore drilling pronounced the well dead at 5:54 a.m. (6:54 a.m. ET), Allen said in a written statement.
CNN: American detained more than a year in Iran arrives in United States
Sarah Shourd, the American hiker released from an Iranian prison, told reporters Sunday that doctors in Oman have assured her that she is "physically well." Reading from a prepared statement, Shourd expressed thanks to Iranian government and religious leaders, including Ayatollah Ali Khamenei and President Mahmoud Ahmadinejad, for her release after 410 days.
CNN: FDA to consider OK of genetically engineered salmon
The U.S. Food and Drug Administration will hold a hearing Monday as it mulls whether to approve genetically engineered salmon for human consumption. If OK'd it would be the first genetically modified animal permitted by the food safety agency.
Washington Post: Sickle cell testing of athletes stirs discrimination fears
U.S. colleges and universities for the first time are requiring top student athletes to submit to testing for the gene for sickle cell anemia, a mandate aimed at preventing sudden deaths of promising young players but stirring deep fears about reviving dangerous old prejudices.
INTERNATIONAL
For the latest international news:  http://edition.cnn.com
CNN: Pinera visits Chilean mine, speaks with trapped miners
Chilean President Sebastian Pinera on Sunday paid a visit to a Chilean mine where 33 miners have spent more than a month about 700 meters (2,300 feet) underground following a mine collapse. "We have done everything possible, and we have done our best to rescue them alive," Pinera said, speaking in English. "We will succeed in this tremendous effort. When we do not know, but it will be sooner than what you expect."
BBC: Afghan poll workers' bodies found
The bodies of three members of Afghanistan's Independent Election Commission (IEC) kidnapped in Balkh province during voting on Saturday have been found. Taliban militants had vowed to disrupt the vote for the lower houses of parliament. The discovery of the bodies means at least 17 people were killed on election day in about 445 violent incidents.
CNN: India train collision kills 12
A freight train collided head-on Monday with a passenger train waiting at a station in central India, officials said. Twelve people were killed and wounded 30 others in the crash in the state of Madhya Pradesh, said railway spokesman Anil Saxena.
CNN: Despite tensions, U.S. governors flock to China
In the midst of tense U.S. Congressional hearings on China's currency last week, four U.S. state governors - including California Governor Arnold Schwarzenegger and Minnesota Governor Tim Pawlenty - were in China hoping to cement business relations. More U.S. governors are looking to China for an international solution to local economic problems and unemployment, despite heightened trade and currency tensions between Beijing and Washington.
CNN: Igor passes just west of Bermuda as strong winds, rain lash island
The mammoth of a hurricane known as Igor has reached its closest point to Bermuda, CNN meteorologist Jacqui Jeras said, as winds and rain continued to pummel the island into Monday morning.As of late Sunday night, Igor's center was about 40 miles (65 kilometers) west of Bermuda and was moving north at about 14 mph (22 kph), according to the National Hurricane Center in Miami, Florida. The storm was a Category 1 hurricane, with maximum sustained winds of 75 mph (120 kph).
BUSINESS
For the latest business news:  www.CNNMoney.com
New York Times: For the Unemployed Over 50, Fears of Never Working Again
Patricia Reid is not in her 70s, an age when many Americans continue to work. She is not even in her 60s. She is just 57. But four years after losing her job she cannot, in her darkest moments, escape a nagging thought: she may never work again.
In Case You Missed It
CNN's Mark Preston has a preview of what is happening on the campaign trail this week.
http://www.cnn.com/video/#/video/politics/2010/09/20/nr.political.ticker.update.cnn
CNN's Don Lemon talks to R. Clarke Cooper of the Log Cabin Republicans about GOP policies towards gays.
http://www.cnn.com/video/#/video/bestoftv/2010/09/19/nr.r.clark.cooper.cnn
Subscribe to the CNN=Politics DAILY podcast at http://www.cnn.com/politicalpodcast
And now stay posted on the latest from the campaign trail by downloading the CNN=Politics SCREENSAVER at http://www.CNN.com/situationroom