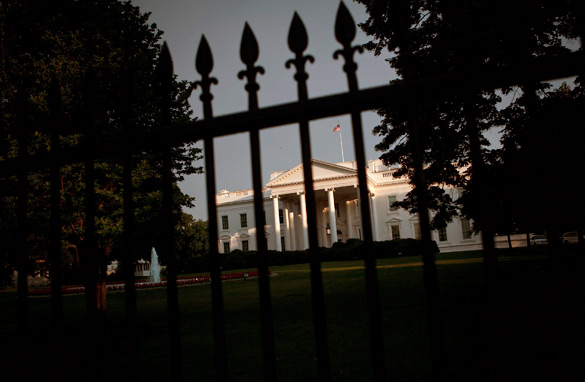 A White House official is denying a report that claims the Obama administration considered a Tea-Party focused ad campaign. (PHOTO CREDIT: Getty Images/File)

Washington (CNN) - A top White House official sharply denied a report that claims President Obama's political advisers are weighing a national television advertising campaign that would portray the Republican Party as dominated by Tea Party activists.
The article, published online in the New York Times on Sunday, says strategists are looking to capitalize on the inner-GOP sniping that has increased with the Tea Party's recent primary wins.
The tension was on full display over the weekend, with Delaware Senate primary winner Christine O'Donnell backing out of scheduled talk show appearances, and Alaska Sen. Lisa Murkowski accusing the Tea Party Express of infusing money and lies into her Republican primary to swing it against her.

The White House official says it "is simply not true" that such an ad campaign is under consideration. Such a move would be controversial because it would further nationalize the midterm elections, a risky strategy for Democrats given the shaky economy that has already put them on the defense.
A second Democratic official involved in Congressional campaigns backed up the White House account that while some strategists may be speculating about the merits of such an ad campaign, such a move has not gotten heavy consideration by top party officials.
The Democratic official added that Congressional leaders would much prefer that the Democratic National Committee and other entities pour their resources into ads in key individual races tailored to issues impacting pivotal Congressional districts instead of a national ad campaign.
The DNC has committed to spending $50 million to help Democratic candidates running in the midterm elections. Obama is expected to headline a DNC fundraiser in Philadelphia on Monday.
This Democratic official said lawmakers in tough races are particularly concerned about an approximate $11.5 million pouring into individual races in the final weeks from independent groups affiliated with Republicans.
Lawmakers on both sides of the aisle have been distancing themselves from Washington in their ad campaigns. Republicans have used Obama in hundreds of ads this year, trying to tie their Democratic opponents to the president.