From Wolf Blitzer, Anchor of CNN's "The Situation Room"
Washington (CNN) - It's amazing how formidable Bill Clinton remains. He's very much a political force in the country. He will be deeply involved in helping Democrats in the weeks leading up to the November 2 elections.
Clinton can certainly raise money for candidates but, more importantly, he can help deliver votes. I think it's fair to say many - not all, but many - Democrats in deep trouble right now would welcome some help from him. They might even prefer him over President Obama in their districts.
I've been thinking about him because I will be in New York Tuesday at his Clinton Global Initiative to interview him. It will be my third interview with him this year. I spent some time with him in Washington on the 15th anniversary of the Oklahoma City bombing and, more recently, at the Fortune-Time-CNN Global Forum in Cape Town, South Africa.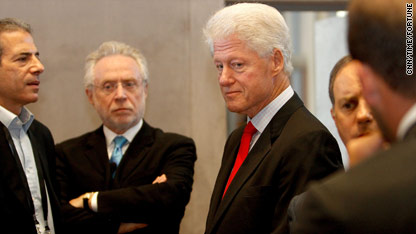 As CNN's senior White House correspondent during his presidency, I spent a lot of time covering him. For a journalist, it was a great story. He packed so much into those years, and I had a front-row seat. And in the years since, he really hasn't slowed down – whether in Haiti, Indonesia or Rwanda. He remains a global force – thanks to his Clinton Global Initiative.
He's recently lost nearly 30 pounds and his daughter got married. His wife is the secretary of state. I have lots of questions for him, but would be happy to hear what you would ask him.
The interview will air Tuesday in "The Situation Room" from 5 to 7 p.m. ET.