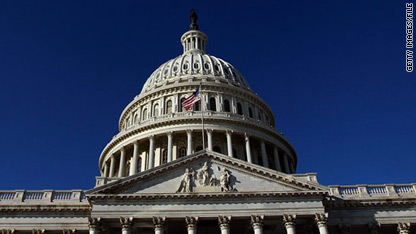 Washington (CNN) - The Senate will vote Thursday whether to take up a hot-button campaign finance reform bill. The measure is designed to bring more transparency to campaign ad spending by corporations, unions and other independent groups.
Republicans unanimously blocked a similar effort just over a month ago and a top Senate GOP leadership aide said Wednesday he doesn't expect any Republican defections this time.
Known as the DISCLOSE Act, the Democratic bill is a response to a U.S. Supreme Court ruling earlier this year that lifted decades-old restrictions on corporate and union political ad spending. The bill requires entities that pay for political advertising to indentify themselves in the ads.
Senate Republican Leader Mitch McConnell accused Democrats of playing politics by scheduling the vote in the waning days of the Senate session and just weeks before the midterm elections.
"In the middle of the worst recession in memory, the Democrat leadership has decided to spend the next two days on the same failed, partisan campaign spending bill aimed at giving Democrats a political edge," said McConnell.
McConnell and other Republicans also argue the bill would violate free speech rights.
Senate Majority Leader Harry Reid said that when the Supreme Court ruled in the Citizens United vs. FEC case, it "changed 100 years of precedents in the United States which in the past had totally prevented corporations from being involved in federal elections."
Sen. Chuck Schumer, D-NY, the author of the bill, said Wednesday Democrats would make changes to the measure to attract GOP support. Schumer said Democrats would agree to push back the implementation date so it doesn't impact the current campaign cycle.