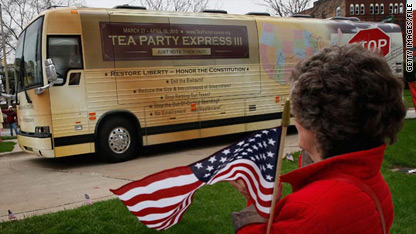 The Tea Party Express is setting out for another bus tour culminating on Election Day. (PHOTO CREDIT: Getty Images/File)

(CNN) - Get ready for a fourth cross-country bus tour from the Tea Party Express.
The national Tea Party organization, best known for its three cross country caravans, and for recently helping conservative candidates such as Joe Miller in Alaska and Christine O'Donnell in Delaware, scored upsets in Republican Senate primaries over establishment GOP candidates, says it will make a "major announcement" Monday about its upcoming tour.
But the press release Wednesday from the group did reveal the name of the trip: "Tea Party Express IV: Liberty At the Ballot Box."

A source with knowledge of the upcoming tour tells CNN that the bus trip will last approximately two weeks and will culminate on November 2, which is Election Day. The source says that the tour will end in Nevada, homestate to Sen. Majority Leader Harry Reid, who faces a challenging re-election this year. Tea Party Express has targeted Reid in its previous tours.
The Tea Party Express launched its first tour in late August of last year. That trip ended in nation's capitol as part of a large anti-tax "March on D.C." event that attracted Tea Party activists from across the country. The group held a second bus tour last autumn and launched their third in March with a large rally headlined by Sarah Palin in Searchlight, Nevada, Reid's hometown.
Earlier this year, Tea Party Express, which is based in Sacramento, California, also spent hundreds of thousands of dollars on ads to help Republican Senate candidate Scott Brown in Massachusetts, who upset Democrat Martha Coakley in a January special election to fill the late Sen. Ted Kennedy's seat.
This summer, the organization helped the little-known Sharron Angle win the Republican primary in Nevada, endorsing her and spending about a half-million dollars on ads.
But not all the news for the Tea Party Express has been positive. Earlier this summer, the National Tea Party Federation, which seeks to represent the Tea Party political movement around the country, expelled the Tea Party Express because of an inflammatory blog post one of its leaders, Mark Williams, wrote responding to criticism of the Tea Party movement from the NAACP. The story made national headlines and Williams later stepped down as spokesman for Tea Party Express.
–Follow Paul Steinhauser on Twitter: @psteinhausercnn