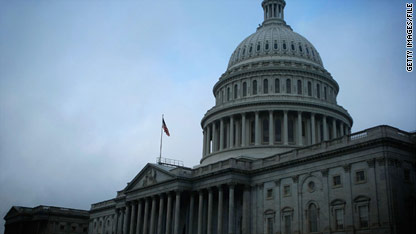 Editor's Note: In the final 100 days before Election Day, CNN has been profiling one race at random each day from among the nation's top 100 House races, which we've dubbed "The CNN 100." Read the full list here. Today's featured district is:
North Dakota At-Large: Rep. Earl Pomeroy (D) is seeking a 10th term
Primary: June 8, 2010
Location: North Dakota
Days until the election: 39
(CNN) - North Dakota has not elected a Republican to represent the state in Congress since 1980. This year, the GOP is looking to reverse that trend, leaving Democratic Representative Earl Pomeroy in the political fight of his career.
First elected in 1992, Pomeroy represents the entire state in the House. A member of the fiscally conservative Blue Dog Coalition, he serves on the Agriculture and powerful Ways and Means committees. His message: he advocates for farmers, rural health care, the growing energy industry, and supports a "pay-as-you-go" law for the government – all popular issues in his home state. In 2008, he won reelection with 62 percent of the vote, almost ten points more than Republican presidential candidate John McCain's victory there. None of this guarantees him a tenth term though, which is why Pomeroy is campaigning hard this year.
Republicans are seizing the opportunity to switch the state's lone House seat over to their side. State Representative Rick Berg, a former House speaker and majority leader who has represented Fargo for over 25 years and now challenging Pomeroy, was named a "Young Gun" by the National Republican Congressional Committee. The "Young Guns" are the committee's highest priority candidates, giving them access to funds and political support. Prominent Republicans like John Thune, the South Dakota senator and potential 2012 Republican presidential candidate, also attended a fundraiser for Berg in August.
One significant advantage Berg holds over Pomeroy is the state's Senate race. With the retirement of Democratic Senator Byron Dorgan, the seat is almost guaranteed to Republican Gov. John Hoeven – the popular governor leads his opponent with a double-digit advantage in recent polls. Hoeven's popularity, cash advantage, and name recognition could sway North Dakota residents to vote Republican down the ballot.
In another ominous sign for Pomeroy, the Democratic Congressional Campaign Committee, which had pledged to support Pomeroy, recently pulled two weeks worth of ads set to begin airing next week. This move leaves Pomeroy with fewer defenses at his disposal in the remaining weeks of the election.
Don't count Pomeroy out yet, however. His campaign recently released internal polling showing them tied for the seat, and argues that he's faced tough elections before and has no plans to cede this one. In the first half of the year, he significantly led Berg in the race for cash by more than double. Pomeroy also brought in big support to help with fundraising. Agriculture Secretary Tom Vilsack visited North Dakota for the first time as Secretary last week, attending a public event a private fundraiser with the congressman.
Most analyses of the race call it a "toss-up" or "leans Republican." This competitive race will continue to heat up through Election Day.