CNN's GUT CHECK | for April 13, 2012 | 5 p.m.
– n. a pause to assess the state, progress or condition of the political news cycle
BREAKING… THE CHOICE IS ON: Mitt Romney, speaking to the National Rifle Association: "We need a President who will stand up for the rights of hunters, sportsmen, and those seeking to protect their homes and their families. President Obama has not; I will. And if we are going to safeguard our Second Amendment, it is time to elect a president who will defend the rights President Obama ignores or minimizes. I will. We've seen enough of President Obama over the last three years to know that we don't need another four."
President Obama, in Tampa: "So this initiative is going to help our small businesses, Latino- owned businesses, women-owned businesses, African-American-owned businesses. We want every business to be able to access these new markets, start exporting to these countries… We can either settle for a country where a shrinking number of people do really, really well while a growing number are struggling to get by or we can build an economy where everybody gets a fair shot."
TRAIL TRIVIA
(Answer below)
What former Rhodes Scholar and popular politician also played football at Stanford University?
MARK (@PrestonCNN) & MICHELLE (@MJaconiCNN)
What caught our eye today in politics
On Fridays we at Gut Check like to reach out to the masters of the political class for their observations on the world of politics.
Still recovering from yesterday's whipsaw news cycle that started with an utterance on CNN and exploded with Ann Romney's Tweet, we reached out to Twitter's political lead Adam Sharp to ask him how social media is transforming political campaigns.
"The shift from a 24-hour news cycle to a 140-character one has dramatically reshaped the rapid-response game. The whole action-reaction-response cycle is compressed to mere minutes, and Twitter users have a front row seat to a back-and-forth that used to be witnessed only by the 'boys on the bus,'" Sharp says.
For proof, look at this staggering chart.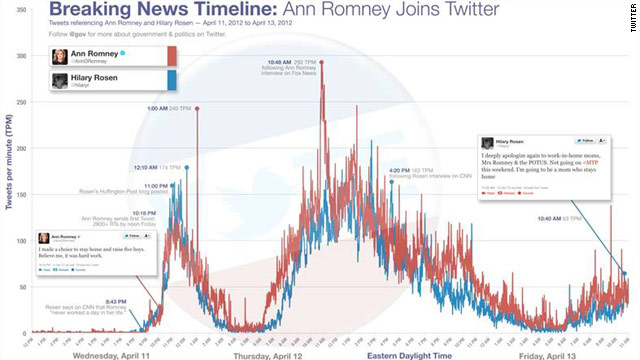 You can see the anatomy of a news cycle, and the spikes and amplifications that come with television appearances – first Hilary Rosen's appearance on CNN, then Ann Romney's appearance on Fox and Rosen's apology later on CNN's "Situation Room."
We asked our 'boy on the bus' and social media star CNN's Peter Hamby if he agreed with Sharp. He said, "It's absolutely true. Both the Obama and Romney campaigns watch reporter tweets like a hawk, not just to see what's happening at events but to weigh in and shape the 'narrative' as it develops in real time. Tweets are curated in Boston and Chicago and circulated in emails among top staffers, in the same way news clips are."
Sharp explains the immediacy of the social media spike: "Twitter's a virtual return to watching TV on the couch with friends and family, talking about what you're watching but scaling that conversation up to include the millions of others sharing the same communal experience."
the LEDE
Did you miss it?
Leading CNNPolitics: Romney NRA speech marks general election kickoff, advisers say
Mitt Romney's speech Friday to the National Rifle Association Annual Meeting in St. Louis will be mark the launch of the general election campaign against President Barack Obama, his advisers said Friday.
Leading Drudge: Obama doesn't qualify for 'Buffett Rule'
President Obama earned $789,674 in 2011, the White House announced on Friday. However, with this income, he does not qualify for the so-called Buffett Rule on income taxes that he has promoted relentlessly and the Senate will take up on Monday.
Leading HuffPo: Allen West Fundraises After Calling House Democrats Communists
Rep. Allen West, R-Florida, is hoping to make some money off the fact that he said up to 81 House Democrats are members of the Communist Party.
Leading Politico: The Draperizing of Mitt Romney
The Draperizing of Mitt Romney is under way. He may not drink or cheat, and he lacks the fictional ad-maker's charisma, but Democrats, despite the potential perils of such a strategy, remain determined to paint Romney as a throwback to the "Mad Men" era — a hopelessly retro figure who, on policy and in his personal life, is living in the past.
Leading New York Times: Obamas Paid 20.5% in Income Taxes, 2011 Returns Show
President Obama and his wife, Michelle, reported adjusted gross income of $789,674 in 2011 and paid just over 20 percent of it to the federal government in taxes.
TRAIL MOMENTS
The political bites of the day
- Gingrich goes positive -
NEWT GINGRICH SAID THIS AT A SPEECH TO THE NATIONAL RIFLE ASSOCIATION: "Let me start and say I want to first of all speak two positive words about the Obama administration. I know this is an unusual place to come and be positive about the Obama administration but I think the words `good bye' are very positive. And I think we need to focus our energy from now till November not just to say goodbye to Barack Obama and Joe Biden, but also to say goodbye to those liberals in the Senate who have been blocking passage of the right kind of legislation."
- Santorum: Bella Santorum, age 3, now a member of NRA -
RICK SANTORUM SAID THIS AT A SPEECH TO THE NATIONAL RIFLE ASSOCIATION: "Karen and I are life members of the NRA and we wanted to announce today that, I talked to Chris, now Bella is a life member of the NRA too and I hope it is a long life."
- Cosby: Martin controversy was more gun than race -
BILL COSBY SAID THIS TO CNN'S CANDY CROWLEY: "How are you going to solve a race issue when it becomes he said/she said or he said/he said? And the other question is, what is solved by saying he is a racist, that's why he shot the boy? What solves that? This (pantomimes a gun in his hand) and what is he doing with it, and who taught him and told him how to behave with this?
- The Fox Mole speaks out to CNN -
JOE MUTO SAID THIS TO CNN'S HOWARD KURTZ: "I believe everyone is aware of that at this point, Howard, that, yes. That's true. I broke the code. I broke the code of omertá that was within FOX News and I went public. I think their legal accusations are completely baseless, and they're trying to intimidate me into silence because I'm revealing unflattering information about the inner workings of the company."
TOP TWEETS
What stopped us in 140 characters or less
[tweet https://twitter.com/#!/DylanByers/status/190900417851437056%5D
[tweet https://twitter.com/#!/stevebruskCNN/status/190797750647001090%5D
[tweet https://twitter.com/#!/TPM/status/190796038397886464%5D
[tweet https://twitter.com/#!/adamplevycnn/status/190820660992421890%5D
[tweet https://twitter.com/#!/rschles/status/190829007976140802%5D
TRIVIA ANSWER
Mr. Cory Booker, the 42-year old mayor of Newark, New Jersey, is a man of many talents. He is athletic – Booker played football at Stanford University and was selected to the All-Pac 10 Academic team. He is smart - Booker received a Rhodes Scholarship after leaving Palo Alto and studied at The Queen's College in Oxford, England.
He campaigns effectively - Booker became the Newark mayor in 2006 after receiving 72 percent of the vote – the largest landslide victory in city history.
And, when he is not mayor, he moonlights as a firefighter – sort of.
Booker is in the news today because last night, after getting home from an interview, the mayor and his security detail came upon a burning house. Booker dashed into the building, helped save a trapped woman and was sent to the hospital for smoke inhalation.
The volunteer fireman described the rescue this morning to CNN's Soledad O'Brien. "As we were ascending the stairs, the last woman coming out was screaming that her daughter was still in the building," Booker said. "I ran up to the top of the steps with my security detail behind me. Something exploded and sent a lot of flames and my detail grabbed me and tried to drag me out of there. We got into a bit of an altercation. Unfortunately, I was able to convince them to let go of me and just jumped into the kitchen, which was on fire, and was able to make my way through there to a back bedroom where the woman was hiding, and it was a touch-and-go moment. I was able to grab her and get back through the kitchen. That's when she sustained some burns and I got some minor burns and got her out of the house."
Booker has been released from the hospital and the woman he saved is in stable condition.
GOT NEWS?
Our inbox awaits: gutcheck@cnn.com
Tips or comments? Send them to Michelle; send complaints to Preston, because he is already in a bad mood. We also want to give a shout out to Dan Merica, who runs our Twitter account @gutCheckCNN and enriches this product every single day.