CNN's GUT CHECK | for May 10, 2012 | 5 p.m.
– n. a pause to assess the state, progress or condition of the political news cycle
JUST IN: According to Twitter, President Obama's announcement that he supports same sex marriage generated more than 1.6 million tweets, peaking Wednesday at 3:22 p.m. ET. with more than 7,000 tweets per minute. Check out this eye-popping chart over how quickly news spreads and peaks.
Crimson Hexagon's social media analytical team studied 370,000 opinions and found:
31% were in support of President Obama and his position on marriage equality.
26% of the conversation was simply sharing news of the announcement.
17% were opining about President Obama's "evolution" from civil unions to same-sex marriage and were also discussing the importance of taking a stance.
9% disagreed with President Obama and his decision
8% of sentiments felt this was a move done for political gain.
4% felt that this will change voter preference in the coming election
4% felt this will not changing anything at all.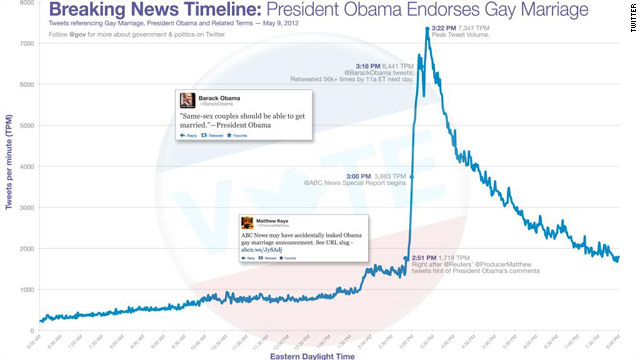 TRAIL TRIVIA
(Answer below)
How many presidents have been left-handed?
MARK (@PrestonCNN) & MICHELLE (@MJaconiCNN)
What caught our eye today in politics
Longtime centrist Sen. Dick Lugar, an Indiana Republican, lost his primary this week and now must begin packing 36 years of service into boxes. Centrist Sens. Ben Nelson, a Nebraska Democrat, and Olympia Snowe, a Maine Republican, each decided to retire instead of running for re-election this year.
The political right and the political left are encroaching on the center – once a powerful place in Congress where deals were cut and compromise embraced. Now, gridlock is the norm and compromise appears to be a foreign word on Capitol Hill.
"You could make the argument that there are two dysfunctional parties," former Virginia Rep. Tom Davis said this morning at a meeting with a handful of reporters.
Davis is a Republican, but he represents the center as the president and CEO of the Republican Main Street Partnership, an organization for fiscally conservative Republicans. He also happens to be one of the smartest political minds in town, who hired the likes of Carl Forti, Rob Jesmer and Steve Schmidt when he oversaw the House Republican re-election efforts as a congressman. For those of you who don't know these three names: Forti runs the pro-Mitt Romney Super PAC Restore Our Future, Jesmer is the executive director of the National Republican Senatorial Committee and Schmidt oversaw Sen. John McCain's 2008 presidential campaign.
When Davis talks politics, it's worth listening.
While the former congressman said he doesn't think moderates are dead, he did raise a very pointed concern that partisanship is overtaking Capitol Hill. He noted the influence of special interest money in elections, the regional focus of the two national political parties and divisive social issues as reasons why it has made it difficult for the two parties to come together. And Davis warned that liberal Republicans and conservative Democrats are a dying breed. It is these types of lawmakers who make up the center and often serve as the bridge between the two parties.
There are several reasons why Lugar lost – notably his failure to maintain ties to his home state. But Snowe, in February, said she decided to retire because she did "not realistically expect the partisanship of recent years in the Senate to change over the short term." Nelson, in December, urged his successor "to look for common ground and to work together in bipartisan ways to do what's best for the country, not just one political party."
Right now, finding common ground seems to be a difficult task in Congress. It's no wonder that in last month's CBS/New York Times Poll, a whopping 13% of Americans approved of how Congress was doing its job.
the LEDE
Did you miss it?
Leading CNNPolitics: Dispute over whether Biden floated trial balloon on same-sex marriage policy
Vice President Biden gave no indication the White House was planning to change its position on same sex marriage when he was asked about just weeks ago at an LGBT fundraiser in Los Angeles April 19, two attendees tell CNN's Jessica Yellin. Because it was an off the record event this participant did not want to be named, but tells CNN when Biden was asked about gay marriage he talked about his comfort with gay and lesbian couples raising families but added that the president sets the policy and offered no indication that there would be a shift in policy.
Leading Drudge: Party At George's House
For years, President Obama has largely been absent in Hollywood, a point of unhappiness with a community accustomed to the constant doting of Bill Clinton. But over the last few months, Mr. Obama and his representatives have held a series of meetings and telephone calls with some of the region's most influential donors and fund-raisers, reflecting Hollywood's new importance in the president's re-election campaign.
Leading HuffPo: Romney Apologizes For Bullying In Prep School, Says He Didn't Know Victim Was Gay
Mitt Romney made a surprise appearance on Fox host Brian Kilmeade's radio show Thursday morning to respond to a lengthy Washington Post story on his time as a prep-school prankster and occasional bully of closeted gay students.
Leading Politico: President Obama's seven states of grief over gay marriage
If there's been one constant over the course of President Barack Obama's evolution on gay marriage, it's this: The White House's keen awareness of the radioactive politics of the issue. Obama aides fretted that delay would dent his new-breed brand, and likewise that plunging in could weigh him down in battleground states.
Leading New York Times: While Obama Trumpets Gay Marriage, Foes Seek New Topic
President Obama's campaign sought on Thursday to capitalize on his new declaration of support for same-sex marriage to raise money while characterizing Mitt Romney as intolerant on the issue, even as top Republicans tried to shift the political conversation back to the economy.
Leading Washington Post: Mitt Romney's prep school classmates recall pranks, but also troubling incidents
John Lauber, a soft-spoken new student one year behind Romney, was perpetually teased for his nonconformity and presumed homosexuality. Now he was walking around the all-boys school with bleached-blond hair that draped over one eye, and Romney wasn't having it. "He can't look like that. That's wrong. Just look at him!" an incensed Romney told Matthew Friedemann.
TRAIL MOMENTS
The political bites of the day
- Romney: 'In high school I did some dumb things' -
MITT ROMNEY RESPONDS TO ACCUSATIONS THAT HE BULLIED PEOPLE IN HIGH SCHOOL ON FOX NEWS RADIO: "I'm not going to be too concerned about their piece. They talk about the fact that I played a lot of pranks in high school and they describe some where you just say to yourself back in high school I did some dumb things and if anybody was hurt by that or offended obviously I apologize but overall high school years were a long time ago and I'm glad I got some good friends from those years."
Gut Check DVR Note: The author of the piece the Romney is refering to, Jason Horowitz, will be on CNN's John King, USA at 6:00 p.m. E.T.
- Reid, Senate Dems would 'take a look' at repealing DOMA -
SENATE MAJORITY LEADER HARRY REID AT A CAPITOL HILL PRESS CONFERENCE: "If it gets on the floor, we'll be happy to do, take a look at it. It's an important piece of legislation. When it passed those many years ago, there wasn't a single state in the union that approved gay marriage and the law that was passed is not quite as simple as people think it is… We'll be happy to take a look at it. I just don't know where it is now and we have, we have other things to do."
- Jobs, not same-sex marriage, says Boehner -
SPEAKER OF THE HOUSE JOHN BOEHNER AT A HIS WEEKLY PRESS BRIEFING: "I believe that marriage is the union of one man and one woman and the President and the Democrats can talk about all this all they want but the fact is that the American people are focused on our economy and they're asking the question, 'Where are the jobs?'"
TOP TWEETS
What stopped us in 140 characters or less
[tweet https://twitter.com/#!/DanaBashCNN/status/200674775729848320%5D
[tweet https://twitter.com/#!/HotlineReid/status/200662933708095488%5D
[tweet https://twitter.com/#!/mlcalderone/status/200636260434452480%5D
[tweet https://twitter.com/#!/RyanLizza/status/200685440460783616%5D
[tweet https://twitter.com/#!/gabrielsherman/status/200641121733447680%5D
[tweet https://twitter.com/#!/jbendery/status/200600720045649924%5D
[tweet https://twitter.com/#!/kenvogel/status/200661821118615552%5D
[tweet https://twitter.com/#!/eliselabottcnn/status/200641150430887936%5D
TRIVIA ANSWER
Eight presidents have been southpaws: James A. Garfield, Herbert Hoover, Harry S. Truman, Gerald Ford, Ronald Reagan, George H.W. Bush, Bill Clinton and Barack Obama.
The number is strikingly disproportionate to the national average. According to statistics, around 10% of Americans are left-handed, while 8 out of 43, or 18% of U.S. presidents, have been lefties.
And even though three out of the last four presidents have been left-handed, that number would have remained the same even if the 2008 or 1992 elections had turned out differently.
"When Sens. Barack Obama and John McCain take the stage for the presidential debates, attentive viewers may notice both candidates scribbling notes with their left hands. Political junkies will remember that such a curiosity has occurred before: In 1992, all three contenders - George H.W. Bush, Bill Clinton and Ross Perot - were southpaws," wrote Sam Wang and Sandra Aamodt in the Washington Post. LINK
http://www.washingtonpost.com/wp-dyn/content/article/2008/07/03/AR2008070303202.html
According to Wang and Aamodt, authors of the book "Welcome to Your Brain," there may be some benefits to left-handedness.
"The benefits of being a lefty aren't only verbal. Many artists and great political thinkers were lefties - Pablo Picasso and Benjamin Franklin, for example," the authors wrote. "Lefties are overrepresented among the mathematically talented and are also more likely to find unexpected or counterintuitive solutions on problem-solving tests."
GOT NEWS?
Our inbox awaits: gutcheck@cnn.com
Anyone can sign up for Gut Check by emailing gutcheck@cnn.com
Tips or comments? Send them to Michelle; send complaints to Preston, because he is already in a bad mood. We also want to give a shout out to Dan Merica, who runs our Twitter account @gutCheckCNN and enriches this product every single day.
Normal
0
false
false
false
MicrosoftInternetExplorer4
/* Style Definitions */
table.MsoNormalTable
{mso-style-name:"Table Normal";
mso-tstyle-rowband-size:0;
mso-tstyle-colband-size:0;
mso-style-noshow:yes;
mso-style-parent:"";
mso-padding-alt:0in 5.4pt 0in 5.4pt;
mso-para-margin:0in;
mso-para-margin-bottom:.0001pt;
mso-pagination:widow-orphan;
font-size:10.0pt;
font-family:"Times New Roman";
mso-ansi-language:#0400;
mso-fareast-language:#0400;
mso-bidi-language:#0400;}
https://twitter.com/#!/DanaBashCNN/status/200674775729848320