CNN's GUT CHECK | for May 24, 2012 | 5 p.m.
– n. a pause to assess the state, progress or condition of the political news cycle
BREAKING: CHEN: 'MY SUFFERING WAS BEYOND IMAGINATION': Chinese dissident Chen Guangcheng talks about his "illegal detention" in an interview with CNN's Anderson Cooper that will air tonight on AC 360 at 8 ET: "I want to correct one thing here, when we talked about my situation in the future let's not use the world house arrest but instead let's use the term illegal detention. It's hard for me to describe what it was like during that time. But let's just say that my suffering was beyond imagination."LINK
Chen's interview with Cooper is his first since he arrived in the United States last week.
TRAIL TRIVIA
(Answer below)
Who was the first president to throw out the first pitch at a Major League Baseball game without having the ball bounce before home plate?
MARK (@PrestonCNN) & MICHELLE (@MJaconiCNN)
What caught our eye today in politics
Wisconsin undecided voters stopped us in our tracks today. Why? Because there are so few of them.
Milwaukee Mayor Tom Barrett recently joked to reporters, "I think there are approximately 37 undecided voters in the state," and he wasn't talking 37%.
With less than 12 days to go until the state's recall election, Barrett, a Democrat, is running 1 point behind Republican Gov. Scott Walker, who according to the latest Marquette University Law School Poll leads 48% – 47%. Only 3% are undecided.
Why so few? "Because Gov. Walker is so polarizing a figure; he has enormous support among Republicans and enormous opposition among Democrats," said Charles Franklin, director of the Marquette poll. "And this has really been a 16-month campaign – people have had an awful lot of time to make up their minds."
Sixteen-month campaign indeed: Ad spending in the state since November of last year has now passed $13.8 million, according to CMAG. The permanent campaign has served as a training ground for both parties. Remember that John Kerry won Wisconsin in 2004 with a margin of a mere 11,384 votes in a state where more than 2 million cast votes. (A fact often forgotten because the state four years later handed Barack Obama a whopping 14% victory over John McCain).
"We are holding the first general election this year – in June," Franklin said. "The first thing to realize is that Gov Walker is a unique polarizing figure in the state and not a proxy for Republicans in general, but that said, both sides have invested a lot in their get-out-the-vote efforts."
We can't wait to learn from it – and we are sure the campaign's field teams feel the same way.
the LEDE
Did you miss it?
Leading CNNPolitics: Filmmakers offered Navy SEAL access for bin Laden movie
Newly released documents have reignited the debate in Washington over whether Obama administration officials granted too much access to filmmakers making a movie about the raid that killed Osama bin Laden.
Leading Drudge: Lights Out, Detroit!
Detroit, whose 139 square miles contain 60 percent fewer residents than in 1950, will try to nudge them into a smaller living space by eliminating almost half its streetlights.
Leading HuffPo: Trans-Pacific Partnership: Key Senate Democrat Joins Bipartisan Trade Revolt Against Obama
Sen. Ron Wyden (D-Ore.) introduced legislation late Wednesday to protest the Obama administration's refusal to share information about controversial trade negotiations with the senator.
Leading Politico: Has recall made Walker a GOP hero?
Democrats leapt at the chance to use Wisconsin Gov. Scott Walker to send a message to all the budget-cutting, union-busting conservatives across the land: If you mess with Big Labor, there's a heavy price to pay. But if you shoot at the king, you'd better not miss.
Leading New York Times: Strategy on Rival's Career Holds Pitfalls for President
Last week, a few dozen hedge fund and investment executives arrived at the Park Avenue home of Hamilton E. James, president of the private equity firm Blackstone. Each had paid $35,800 to spend two hours at a fund-raiser with President Obama, but the timing proved awkward: A few hours earlier, Mr. Obama's campaign had begun a blistering attack on Mitt Romney's career in private equity, the same business in which Mr. James has earned his many millions.
TRAIL MOMENTS
The political bites of the day
- Romney defends his 6% unemployment pledge –
MITT ROMNEY IN AN INTERIVEW WITH FOX NEWS: ""Well, there are a number of things. You start off by saying, let's stop something that's hurting small business from creating jobs and that's 'Obamacare.' Get rid of it. Number two, have an energy strategy that takes advantage of our natural gas and oil and coal, as well as our renewables. Those low-cost energy fuels will ultimately mean jobs come back here, even manufacturing jobs that left here. And finally, get a handle on the deficit so that people understand if they invest in America, their dollars will be worth something in the future."
- I'm special, so special -
SEN. MARCO RUBIO IN AN INTERVIEW WTH FOX NEWS: "The truth is he's doing a great job advancing the cause for what the Republican Party should be about. He laid it out perfectly in his answer. This is exactly as much as anything else what his election is about, it's about our identity. Do we want to remain special or do we want to become like everybody else and I think Gov. Romney and his presidency is going to be about making and keeping America special."
- Only girls can be secretary of state, right? -
FORMER SECRETARY OF STATE MADELEINE ALBRIGHT AT A NATURALIZATION CEREMONY: "As evidence of how quickly things change I could mention a recent comment by my youngest granddaughter when she turned 7 two years ago. She said, "Well, what's the big deal about Grandma Maddie being secretary of state. Only girls are secretary of state."
- So that is the real reason Obama is out West -
JAY LENO JOKES ABOUT PRESIDENT OBAMA ON HIS LATE-NIGHT TALK SHOW: "Hey, did you see this? Police in South Dakota arrested a 52-year-old man formerly from Chicago who was trying to climb on Mount Rushmore. The guy is in his 50s, from Chicago, desperate to get on Mount Rushmore. Oh, my gosh, it's Obama. Oh, my gosh!"
TOP TWEETS
What stopped us in 140 characters or less
[tweet https://twitter.com/LisaMyersNBC/status/205756994982907904%5D
[tweet https://twitter.com/FixAaron/status/205673130746847232%5D
[tweet https://twitter.com/BarackObama/status/205699375840759809%5D
[tweet https://twitter.com/aburnspolitico/status/205684321305116673%5D
[tweet https://twitter.com/RyanODonnellPA/status/205679266791292930%5D
[tweet https://twitter.com/RAGreeneCNN/status/205664872694947840%5D
TRIVIA ANSWER
It wasn't until April 4, 2003, when President Bill Clinton threw out the first pitch on Opening Day at Oriole Park at Camden Yards, that a president had reached the catcher from the mound without having the ball bounce.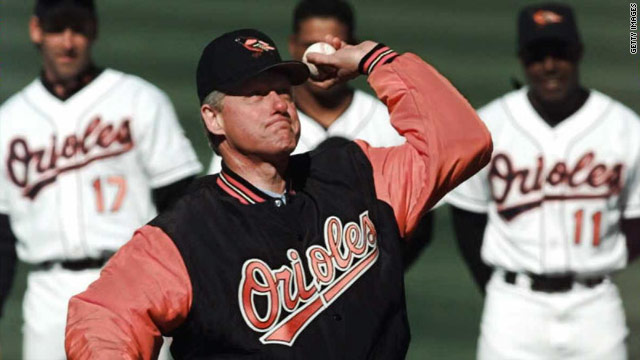 Baseball and the presidency have always had a close relationship. President William H. Taft, quite the baseball fan, was the first president to throw out the first pitch at a baseball game. Taft was also the first president to attend two baseball games in one day and the first president to attend a baseball game in his hometown (Cincinnati) while in office. In total, Taft attend 14 baseball games.
First pitches have always been symbolic. During the 2001 World Series, President George W. Bush threw out the first pitch at Yankee Stadium – the first time a World Series game was played in New York after the September 11 attacks. Bush wore a bulletproof vest and a Secret Service agent, disguised as an umpire, was on the field with Bush.
What president tossed the worst first pitch? In the running is President Franklin Delano Roosevelt's first pitch to the 1940 Washington Senators vs. Boston Red Sox game. Roosevelt's toss went so astray that it hit a Washington Post camera. President Obama also made headlines when he wore a White Sox cap for his first pitch – a slow, soaring pitch outside the batters box – at Nationals Park in 2010.
The worst ceremonial first pitch of all time is obvious though – it is Cincinnati Mayor Mark Mallory in 2007. Seriously, it is bad.
CNN'S iREPORTERS HAVE SPOKEN
The economy tops the list of issues in the 2012 election, according to an unscientific survey done of CNN iReporters, followed by health care and the national debt. Here is the full list, in order:
Economy
Health care
National Debt
Education
Taxes
Help the middle class
Government reform
Energy and environment
State of politics
Social Security
What do you think? Did the iReporters miss an issue? Tweet us your thoughts at @GutCheckCNN.
GOT NEWS?
Our inbox awaits: gutcheck@cnn.com
Anyone can sign up for Gut Check by emailing gutcheck@cnn.com
Tips or comments? Send them to Michelle; send complaints to Preston, because he is already in a bad mood. We also want to give a shout out to Dan Merica, who runs our Twitter account @gutCheckCNN and enriches this product every single day.